This post may contain affiliate links. Please read my disclosure policy.
This hearty vegan spelt cornbread is sweet, moist, and made with nutritious spelt flour. Perfect to serve with winter soup or chili!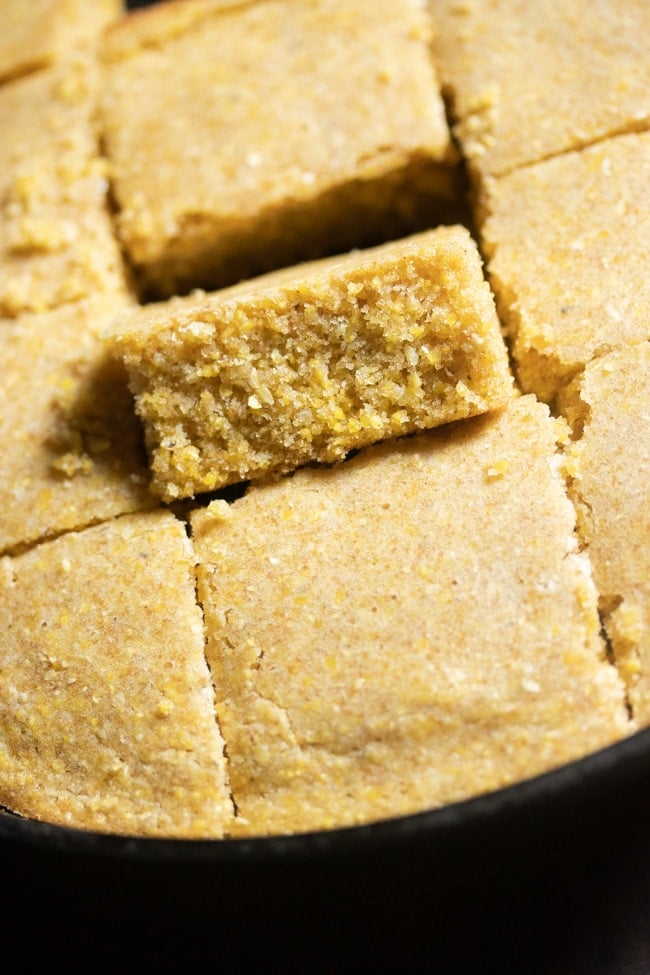 Here at Vegan With Curves, we "thick like cornbread" and love to make it too! LOL
My buttermilk dairy free cornbread recipe is perfect for vegan cornbread dressing. But this recipe is for those that like their cornbread on the sweet side!
I love eating this cornbread with some red beans and quinoa or my healthy plant based soup recipe!
The Benefits of Using Spelt Flour
Spelt in general is often something highly used in the alkaline vegan community and a great food for healthy vegan alkaline weight gain as it is high protein.
Spelt flour is considered an ancient grain believe to have been first used over 7,000 years ago (Source: 8 Surprising Benefits of Spelt) It's my favorite grain to use for baking because of its nutty texture and earthy flavor.
It does contain gluten but in lower amounts making it easier to digest than modern day hybrid wheat flour or refined white flour. Still if you have a serious gluten intolerance or Celiac disease, it's best to avoid altogether.
How to Make Spelt Vegan Cornbread
*Please read detailed and printable recipe card below for full ingredients and instructions.
SUBSTITUTION, COOK, & STORAGE TIPS
This recipe will store in your refrigerator in a air tight container for up to 5-7 days. You can store it in the freezer as well for up to 3 months.
For maximum freezer storage, portion your cornbread into slices and vacuum seal it.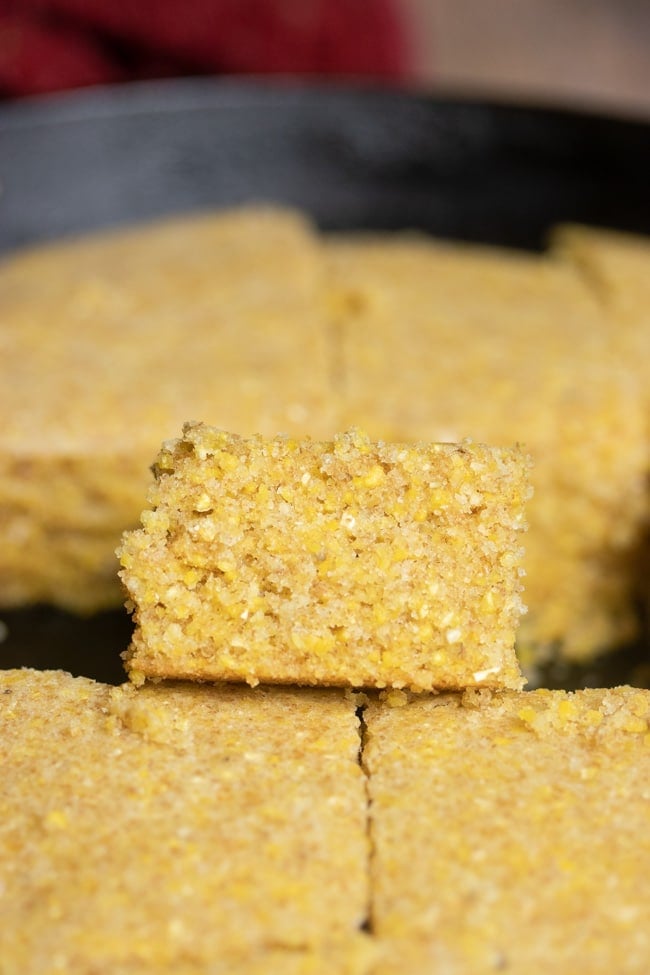 More Spelt Recipes You'll Love
WANT MORE? Subscribe to my NEWSLETTER and follow along on Pinterest, Facebook, and Tik Tok for the latest updates.
Update Notes: This post was originally published on February 24, 2018, but was republished with new photos, new ingredients, step by step instructions, tips, and a video on September 27, 2022.
As an Amazon Associate, I earn from qualifying purchases. Please read my full Affiliate Disclaimer.
© Gina Marie Hoskins. Vegan With Curves. All Rights Reserved. Unless noted otherwise, all images, recipes, & content are copyright protected and registered with the U.S. Copyright Office. My images and written content are NOT to be used without prior permission. Read full Copyright Disclosure.