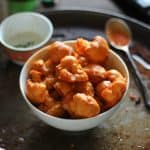 Print
Vegan Buffalo Cauliflower Bites
Spicy buffalo cauliflower bites that are baked so that you can enjoy your game day event without sabotaging your goals. Also gluten-free! Serve with vegan ranch as an appetizer for your upcoming Superbowl or All Star Weekend party!
Preheat oven to 350 degrees Fahrenheit. Grab a pan and line with parchment paper (this makes for a quicker clean up and helps prevents sticking of the cauliflower). Set aside

Mix flour,garlic powder, onion powder, and Himalayan pink salt together in a bowl large bowl. Mix together until batter is smooth. Pour water in slowly to get the right amount of thickness to the batter. You want it slightly runny but not to runny that it does not coat the cauliflower.

Add your cauliflower to batter fully coating each floret. Do this for all your cauliflower pieces and spread onto the baking sheet. Bake in oven for 20 minutes until lightly browned. (see photo above)

Once cauliflower is baked remove from oven but KEEP OVEN ON. Grab a small pot melt butter your vegan butter over medium high heat for a few seconds. Remove from heat and pour hot sauce into the pan until mixing with butter until fully combined.

Pour hot sauce butter mixture over cauliflower (see photo above) or for a more even coat, brush each piece with hot sauce mixture. Make sure you fully use all the sauce.

Put back in oven for about 10 more minutes until it starts to browned and sizzle (and smell good too!) . Remove baking sheet from oven and allow the cauliflower to cool for 5 to 10 minutes. Serve immediately with your favorite vegan ranch dressing!
Nutritional Information Per Serving
Calories 262
Fat 14 g
Carbohydrates 25 g
Fiber 6 g
Sugar 7 g
Protein 10 g
Substitutes and Additions:
Chickpea flour has a more thicker coating that I like on top of the adding protein content. If you have no gluten allergies substitute with spelt flour instead (or any flour of your choice). Any flour will do. Spelt flour gives it a more crisper coating. I have tried this recipe with both flours and like them both.
You can get creative with this adding breadcrumbs or no breading at all. I seen some even add cornflakes as a breading. 
Try this with barbecue sauce.