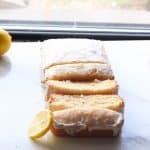 Print
Vegan Lemon Cake
This vegan lemon cake is sweet, moist, and gluten free with a lemon glaze that takes less than 1 minute to make. Perfect in time for Easter or whenever you're craving something "lemony" and sweet!
"Flaxseed Egg" Ingredients
Dry Ingredients
2

teaspoon

lemon zest

(zest from 2 Meyer Lemons)

1 ½

cup

all purpose gluten free flour

(Trader Joe's Brand or Bob's Red Mill - see notes below)

¼

teaspoon

sea salt

½

cup

organic cane sugar

1 ½

teaspoon

baking powder
Wet Ingredients
½

cup

plant based milk

(any non dairy milk will do)

2

teaspoons

apple cider vinegar

2-3

tablespoons

squeeze lemon juice

(from the 2 Meyer Lemons zested earlier)

½

cup

melted vegan butter

(the sticks work best for baking...1/2 would be one stick)

½

teaspoon

lemon extract

(optional)

Flaxseed Egg

(made earlier)
Make Your Flaxseed "Egg"
Preheat oven to 350 °F. Grab a 9 x 5 inch loaf pan and lightly grease it additional vegan butter. This helps the cake pop out easily once done.

Grab a can of chickpeas and drain the liquid from beans into a medium plastic container.

Measure out 6 tablespoons in a separate small bowl and add your ground flaxseed. Whisk together until fully combine and set aside. Mixture will thicken to an "egg" like consistency as it sits.

Store the remainder of your aquafaba in the refrigerator or freezer for later use or you can discard it.
Assemble Your Dry Ingredients
In a large mixing bowl add ALL your dry ingredients; all purpose gluten free flour, salt, organic cane sugar, and baking powder.

Grab 2 Meyer lemons and grate over bowl of dry ingredients. ONLY zest the outer yellow skin part NOT the white pith to prevent bitterness added to your dessert. Lightly stiff together all ingredients.
Assemble Your Wet Ingredients
From the 2 zested Meyer Lemons, squeeze lemon juice into a measuring cup making sure to remove any seeds. (Use a manual citrus squeezer for convenience.)

In a separate large bowl add all your wet ingredients; plant based milk, apple cider vinegar, squeeze lemon juice, melted vegan butter, flaxseed "egg", and lemon extract (optional). Whisk together until fully combined.
Putting it all Together
Pour the wet batter into the dry batter (in that order).

Stir until fully combined making sure NOT to over mix to prevent having a dense cake.

Pour batter into greased pan 9 x 5 inch loaf pan and baked for 40 minutes until fully cooked through. You will know it's done when you stick a toothpick through the cake and it comes up clean.

Remove from oven and let cool in pan for 10 mins. Then remove and transfer the cake to a wire rack to cool fully for 10 additional minutes before adding the icing.
Lemon Glaze Icing
Grab a medium size bowl and add in powdered sugar and lemon juice.

Whisked together until smooth and creamy. If you add to much lemon juice, the glaze will be too runny so 2 ½ tablespoons should be enough.

Spread over pound cake and allow to set for a few minutes before cutting. Serve and enjoy!
Aquafaba  is the liquid from cooked chickpeas. Do not skip this step. Aquafaba helps make vegan backed goods moist and fluffy (especially in gluten free vegan baking). 
If using an egg replacer, substitute that for the ground flaxseed. 
This could work with orange if you are not a fan of lemon.
Add blueberries or raspberries to your lemon cake to jazz it up!
Use Meyer Lemons because they juicer and sweeter than your every day lemons.
Trader Joes (The one I personally use for this recipe) or Bob's Red Mill all purpose gluten free flour is the ONLY ones I recommend for this recipe. 
If you are not gluten free, whole wheat flour or spelt flour will work for this.
Cake taste best when fresh.  Will store at room temperature cover with foil or plastic wrap for 24 hours. It will keep in the refrigerator for 5 - 7 days and in the freezer for 2 months. Always reheat in the microwave when refrigerated for best taste.
You can use coconut oil instead of vegan butter if you like.
Serving:
1
slice
|
Calories:
284
kcal
|
Carbohydrates:
45
g
|
Protein:
2
g
|
Fat:
12
g
|
Saturated Fat:
2
g
|
Sodium:
181
mg
|
Potassium:
94
mg
|
Fiber:
2
g
|
Sugar:
28
g
|
Vitamin C:
4.7
%
|
Calcium:
7.1
%
|
Iron:
5.4
%