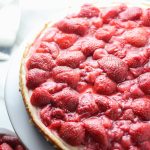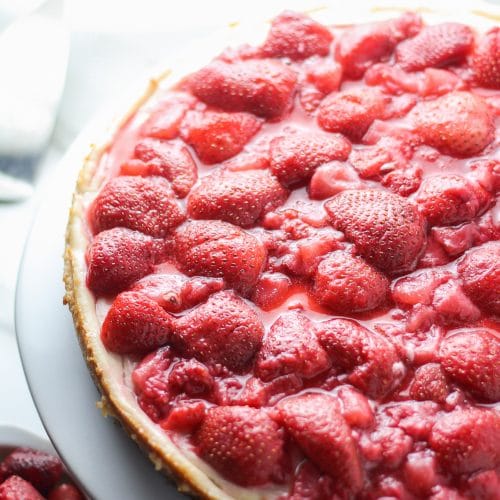 Print
Strawberry Vegan Cheesecake
Few things are better than a slice of cheesecake. The bigger the slice the better and you'll certainly want a generous serving of this strawberry vegan cheesecake!
Total Time
1
hour
10
minutes
Filling
24

ounces

room temperature vegan cream cheese

see notes

1 1/2

cup

vegan coconut yogurt

1

teaspoon

fresh squeeze lemon juice

1

tablespoon

vanilla extract

1

cup

organic cane sugar

6

teaspoons

corn starch or arrowroot flour/starch

I used cornstarch
Strawberry Topping
2

cups

fresh strawberries

you can also use frozen see notes

1-2

tablespoons

monfruit sugar

you can also use organic cane sugar

half

squeeze lime

optional depending on the sweetness of your strawberries
Preparation
Preheat oven to 350 degrees Fahrenheit.

Grab your 9 inch springform pan and either add parchment paper to the base and around the edges (Cut your parchment paper to fit the size of the spring form pan) OR you can lightly grease your pan with additional vegan butter.
Crust
Grab your food processor and add your graham crackers to the container. Be sure to break them apart in small pieces so that they all fit inside your food processor.

If you have a small food processor you will have to do this in batches. Process until very fine and transfer you graham cracker mixture to a large mixing bowl.

Melt your vegan butter and add it to your graham cracker mixture. Begin to mix together until fully combined and your graham cracker mixture becomes the consistency of wet sand.
Filling
Clean out your food processor (from the crust and ingredients) and add all your filling ingredients to the container and process until smooth and creamy.

Be sure to taste your filling and adjust the flavors to your liking. If you need more sweetness add more sugar. If you need a more tangy flavor add more lemon juice.

Pour your filling into the prepared crust. Smooth out the filling evenly and give it a little shake to get it even smoother.

Bake for 30 - 35 minutes. Please allow the cake to cook without opening the doors so that it can firm up like a traditional cheesecake and not crack.

When it's done baking turn off heat but LEAVE THE DOOR CLOSE for 10 additional minutes. Then gently remove the cake from the oven.

It should be slightly golden brown and it will jiggle slightly but fear not it's done! It now just needs time to firm up a bit. Allow it to cool a minimum of 20 minutes and then let it chill overnight in the refrigerator (or at least for 5 hours).
Strawberry Topping
Take one half of your strawberries and chopped in to small pieces. Take the other half of your strawberries and sliced them in half.

Place chopped strawberries, sugar, and squeeze lime juice in a small pot. Stir and then simmer over medium heat for about 10 minutes until strawberries break down and become thick like gel consistency.

Then add your halved strawberries and cook for 1 minute just enough to soften and incorporate into the mixture.

Remove from heat (turn off your stove) and allow it to cool for at least 30 minutes to an hour. (I pop mine in the refrigerator as I make this the same day as the cheesecake and once the cheesecake is set I spread it on top).

Spoon onto firmed up cheesecake evenly flipping strawberry halves facedown to make it look pretty! Store leftovers covered in the fridge 3-4 days, or freeze slices for up to 1 month. ENJOY!
I use Earth Balance brand vegan butter in the sticks. The sticks are made for baking so I highly recommend those kind.
Keeping your vegan cream cheese at room temperature makes it easier to process in a food processor.
I recommend using the Tofutti cream cheese brand (what I used in this recipe) because it doesn't have a weird after taste I have found in a lot of other brands. They come in 8 ounce containers so you will need 4 containers to make this.
You use different berries for the topping. (Try this with blueberries or even mixed berries! Yum!)
The cornstarch and vegan yogurt are needed as an egg replacement. It can be any kind of vegan yogurt you desire (and any flavor) but just be sure to add it to this dish. I use So Delicious Coconut Yogurt the vanilla kind for extra flavor. 
Serving:
8
slices
|
Calories:
427
kcal
|
Carbohydrates:
48
g
|
Protein:
4
g
|
Fat:
23
g
|
Saturated Fat:
11
g
|
Polyunsaturated Fat:
1
g
|
Monounsaturated Fat:
2
g
|
Cholesterol:
15
mg
|
Sodium:
482
mg
|
Potassium:
29
mg
|
Fiber:
1
g
|
Sugar:
31
g
|
Vitamin A:
2
%
|
Vitamin C:
4
%
|
Calcium:
2
%
|
Iron:
3
%