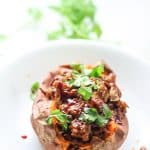 Print
BBQ Stuffed Sweet Potatoes
These BBQ Stuffed Sweet Potatoes are filled with oyster mushrooms, jackfruit, lentils, and topped with a homemade barbecue sauce! Eat as a light main or hearty side dish!
Cook Time
1
hour
20
minutes
Servings
4
stuffed potatoes
Bake Your Sweet Potatoes
Preheat the oven to 350ºF.

Puncture the sweet potatoes with a fork and wrap each potato individually in aluminum foil. Then place them in a baking dish.

Place them in your preheated oven and bake until soft, about 45 – 55 minutes depending on the size.
Prepare Your BBQ Stuffing
Meanwhile, prepare the stuffing. Drain your jackfruit from the can and begin to shred your jackfruit by hand in a bowl.

Next, clean your oyster mushrooms (a very lightly rinsand pat dry. Begin shredding your mushrooms by hands over the same bowl as your jackfruit. Mix together and set aside.

Grab a large pot and place over medium health. Add oil, onions, and garlic and be saute for about 3-5 minutes.

Next, add your shredded jackfruit and oyster mushrooms mixture along with garlic powder and cook lightly for 1 minute.

Turn down heat on low and pour in your lentils and Easy BBQ Sauce recipe. Stir to combine fully coating your filling mixture.

Add water to prevent the mixture from over-drying, and simmer for 15-20 minutes.  Once done, set aside until baked potatoes are done baking.
Stuff Your Sweet Potatoes
When the sweet potatoes are soft, remove them from the oven and let them cool for a few minutes.

Once cooled, transfer them to a plate, split them open with a sharp knife and spoon the barbecue mixture into the center.

Pour additional Easy BBQ Sauce over sweet potatoes and topped with cilantro. Serve immediately and enjoy!
You can chop your jackfruit and oyster mushrooms instead of shredding them.
Be sure to use the jackfruit in a can in BRINE NOT SYRUP.
Don't like lentils? Use chickpeas or even black beans!
Added kale or spinach would serve as a great healthy addition to your stuffed sweet potatoes. 
You can use squash instead of sweet potatoes if you like. 
You can totally omit the jackfruit and just use the oyster mushrooms or even king oyster mushrooms.
This recipe will last 3 to 4 days in the refrigerator. It does not freeze well. 
Serving:
1
stuffed potato
|
Calories:
300
kcal
|
Carbohydrates:
58
g
|
Protein:
12
g
|
Fat:
16
g
|
Saturated Fat:
1
g
|
Sodium:
800
mg
|
Potassium:
600
mg
|
Fiber:
19
g
|
Sugar:
30
g
|
Vitamin A:
74415
IU
|
Vitamin C:
20.1
mg
|
Calcium:
274
mg
|
Iron:
5
mg