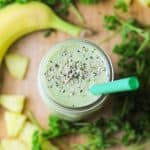 Print
"Curvy Girl" Parsley Smoothie
This Curvy Girl Parsley Smoothie is the perfect green smoothie to detox your body and instantly feel refreshed! It has just the right amount of calories to help with healthy vegan weight gain!
Rinse your parsley and add it to your high-speed blender along with all the remaining ingredients.

Blend until nice and smooth. Serve immediately for breakfast or as a snack!

You can keep in the refrigerator for 24 hours, max 48 hours. Freeze for up to 5 days. Thaw out in the fridge overnight and re-blend before consuming it.
GREENS: Both flat leaf and curly parsley will do. You can use cilantro instead if you like the taste. Add other greens if you like such as kale or spinach.
JUICE: If you can't find freshly squeezed orange juice, you can use whatever brand of orange juice you can find instead. You can also omit juice and replace it with nondairy milk. So instead of 1 cup of milk, you can just use 1 ½ cup of milk with no juice at all.
BANANAS: If not using frozen bananas add ice cubes. If you don't like the banana taste substitute with frozen mango, papaya, or ½ fresh avocado. Again use 2-3 ice cubes to keep it chilled. You can also use frozen mangos for this.
ADDITIONS & SUBSTITUTIONS: If you can't find monk fruit sugar, use 3-4 dates instead! (Make sure you take the pit out!) Hemp protein powder can sub for whole hemp seeds or omit altogether. (Just remember you will lose calories and protein if you do omit). Hemp seeds won't affect the taste but the protein powder will.
Serving:
1
smoothie
|
Calories:
501
kcal
|
Carbohydrates:
56
g
|
Protein:
21
g
|
Fat:
24
g
|
Saturated Fat:
2
g
|
Sodium:
329
mg
|
Potassium:
760
mg
|
Fiber:
6
g
|
Sugar:
33
g
|
Vitamin A:
641
IU
|
Vitamin C:
115
mg
|
Calcium:
387
mg
|
Iron:
7
mg