What if you could eat a vegan diet but still keep your curvy figure? Or possibly even gain healthy weight? Now you can!
(Ebook will be released Cyber Monday, November 26th at 12 p.m. your card will not be charged until that date)
---
Can you relate?
Have you been wondering how to become a vegan but afraid you will lose too much weight?
Are you tired of still feeling hungry after eating a vegan meal, but don't know how to make filling meals?
Are you already eating meatless but releasing more weight than you desire?
Are you stuck eating the same vegan meals, stuck in a food rut and want to shake things up?
Do you need an easy, healthy weight gain meal plan to fit with your busy schedule?
(Ebook will be released Cyber Monday, November 26th at 12 p.m. your card will not be charged until that date)
---
Gaining healthy weight as a vegan is easier than you think.
Vegan With Curves 28 Day Meal Plan is your step-by-step guide for learning how to eat high-calorie meatless meals in order to keep and/or gain curves. If you've ever wanted to gain healthy weight but still be healthy, this is the guide for you. This is the guide I wish I had when I first went on my vegan weight gain journey.
In this guide I'm going to help you: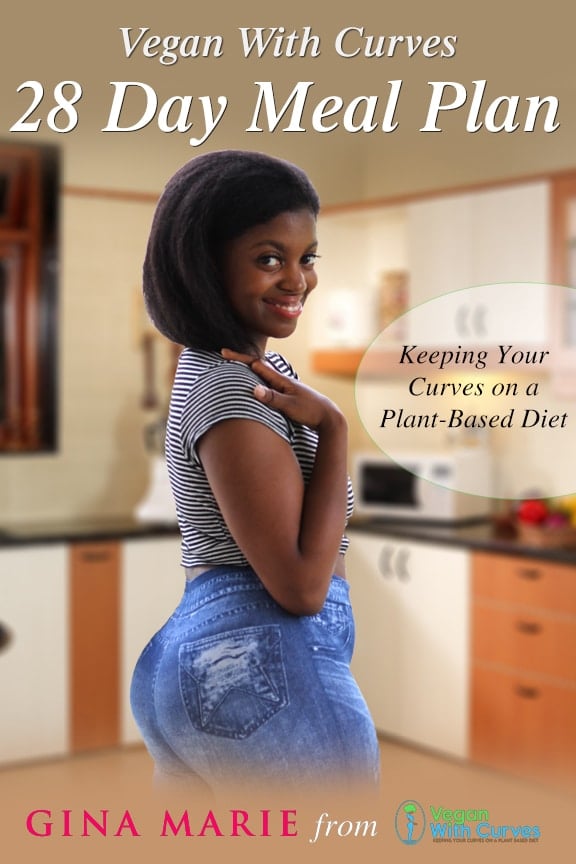 √ Increase the calories of your already meatless meals
√ Increase your vegan recipe catalog with meals that are filling
√ Feel confident in the kitchen in how to cook vegan meals
√ Improve your overall health by going from the Standard American Diet to a cruelty-free lifestyle.
√ Make healthy, nourishing high-calorie vegan food that you look forward to
√ Be able to prep high-calorie vegan meals for your entire week ahead of time
√ Sleep better, get clearer skin and gain healthy weight
(Ebook will be released Cyber Monday, November 26th at 12 p.m. your card will not be charged until that date)
What's Included:
√ Curvy vegan resources and honest straightforward information
√ My Story, of body transformation and how being a vegan help me have a positive body image.
√Information on getting your plant-based protein, "curvy" carbohydrates, and healthy fats on a vegan diet.
√ A fully detailed explanation of your curvy vegan pantry ingredients and kitchen tools
√ 20+ recipes, including brand new, never-before-seen recipes specifically created for this meal plan guide
√ A thorough 28-day meal prep guide with nutrition information ensuring you are getting enough calories
√ A grocery list guide for each week to get you started and take the guesswork out of grocery shopping
√ A Blank Grocery List and Meal Prep Printable Chart so you can print off and slot in your own recipes and ingredients
√ A quick guide to eating as a curvy vegan on a budget
√ SO MUCH MORE!
(Ebook will be released Cyber Monday, November 26th at 12 p.m. your card will not be charged until that date)
Who is Gina Marie?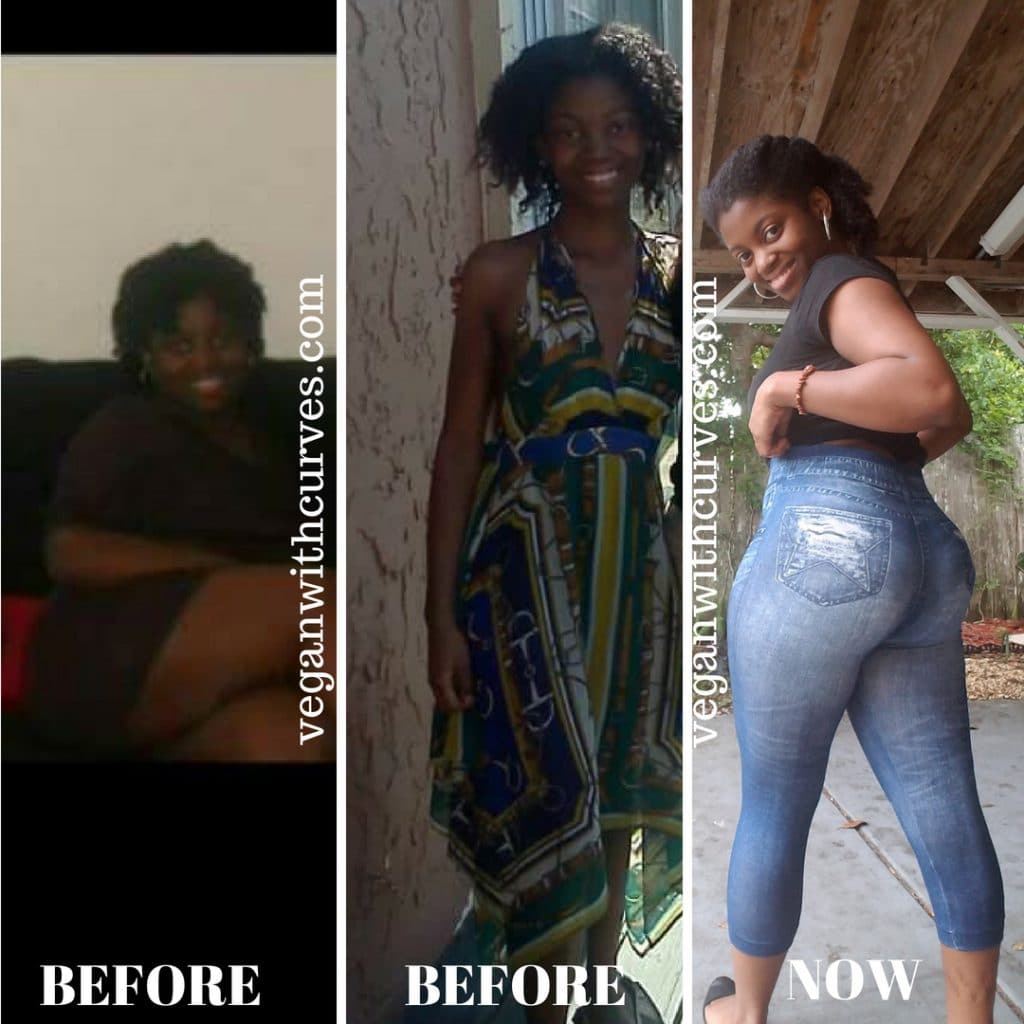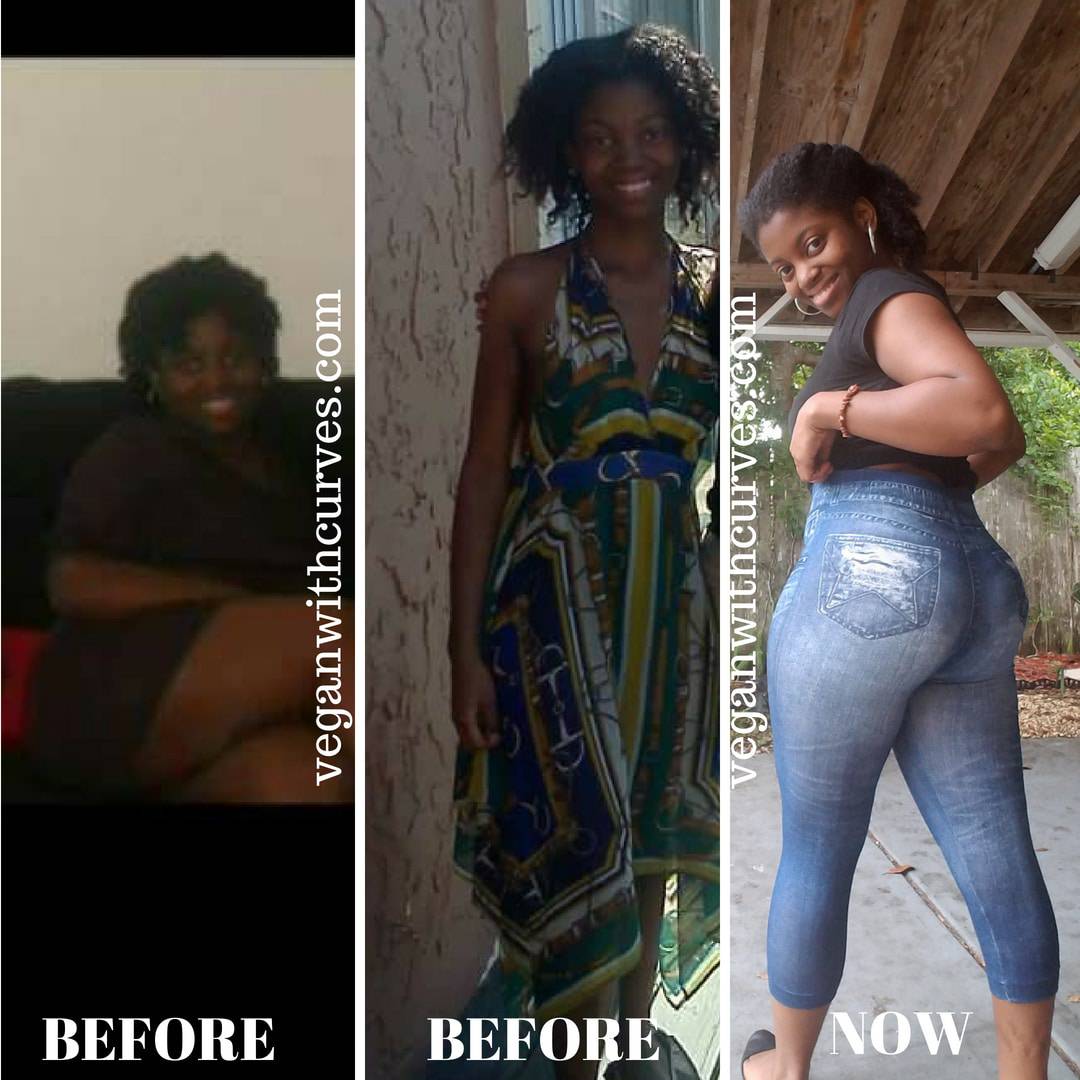 I've been a vegan for over 6 years. My journey started with my own body transformation
On the far left I was weighing 165 pounds. (I am only 5 feet). Here I was overweight (for my height) having trouble breathing while walking up the stairs. Desserts were my number one comfort foods that and fast food (especially KFC) Here I a smiling but I was miserable mentally, spiritually, and emotionally.
With the middle picture, I weighed between 98 pounds to 100 pounds.  I started to clean up my diet, became a plant-based eater eating a serving of meat only 3 times a week. My mental health got so much better because of the food I was consuming and I released a lot of weight.  While I was happier to be lighter at first, I began to become overly obsessed with weight loss and lost too much weight and lost my curves.
The right pictures show how I look today. I am a full vegan ( I eat a 100% vegan diet). I go from 130 pounds to 140 pounds and loving my new curvy and fit figure. I feel more balanced and I have found a happy medium with both my body and mental state.
This is how this website was born. I'm the owner and founder of Vegan With Curves, where I share my vegan recipes and curvy vegan tips with thousands of readers every single month. The emails and comments I get regularly from women who have enjoyed eating a vegan diet, enjoyed my recipes, and truly searching for help in sticking with this healthy lifestyle but gaining healthy weight have inspired me to write this book.  I know how you feel. I was so desperate at one point that I considered giving up the lifestyle and risking my health just to get the body I desired. Trust me you don't have to go back to your old eating habits in order to gain healthy weight. I am living proof. Along with a healthy vegan diet and good strength training program, healthy vegan weight gain is more than possible.
That's why I did all the hard work for you so you can get to change your life the second you open this guide.
Are you ready?
(Ebook will be released Cyber Monday, November 26th at 12 p.m. your card will not be charged until that date)
---
Still have questions? 
When will the book be released?
The book will be released Friday, November 16th at 12 p.m. Your card will NOT be charged until that date.
What is your refund policy?
Because this is a digital product all sales are final.
Can I pay with Paypal?
Yes! Just click the "pay with paypal" option in the upper righthand corner of the checkout screen.
Are these easy to find ingredients?
YES! There are so many more resources nowadays then there were back then! These are all ingredients that I find very easily and you can too!
Are these recipes gluten-free and soy-free? 
Some are gluten-free and most are soy free but every recipe that isn't gluten or soy free has adaptions
 Is there a photo for every recipe?
Yes
Are desserts part of the meal plan?
They are not but I added a few if you decide you want to have a sweet healthy vegan treat.
Do you offer a Hard Cover Version?
Sorry, but Vegan With Curves 28 Day Meal Plan Guide is only available as a digital download at this time.
(Ebook will be released Cyber Monday, November 26th at 12 p.m. your card will not be charged until that date)