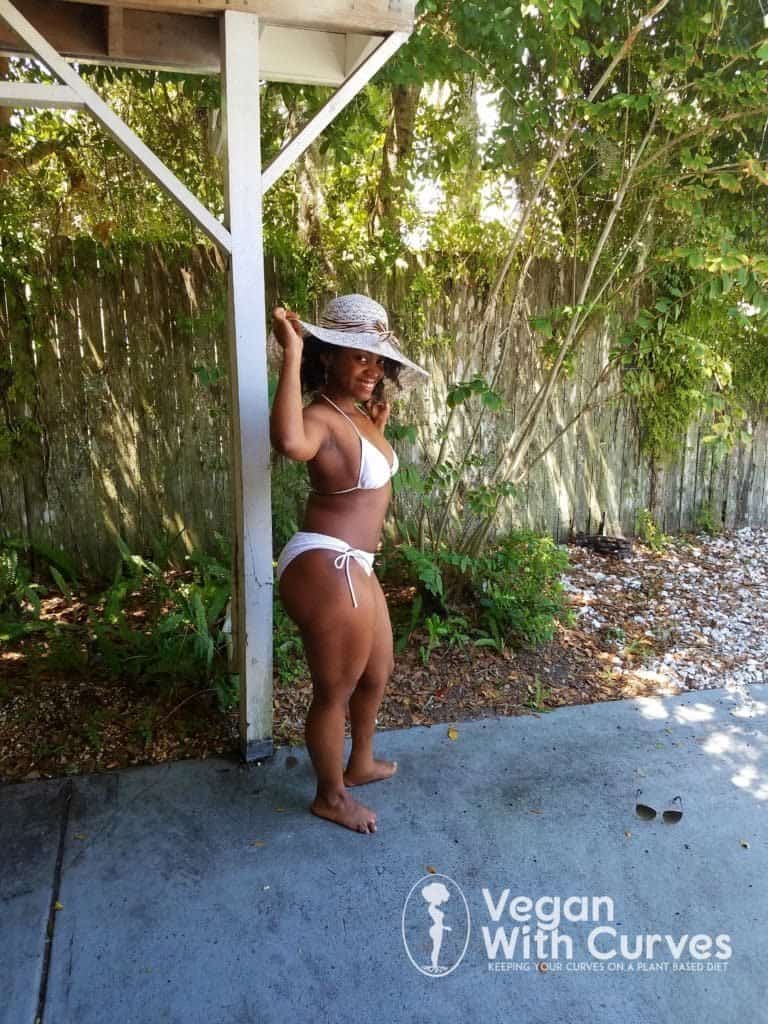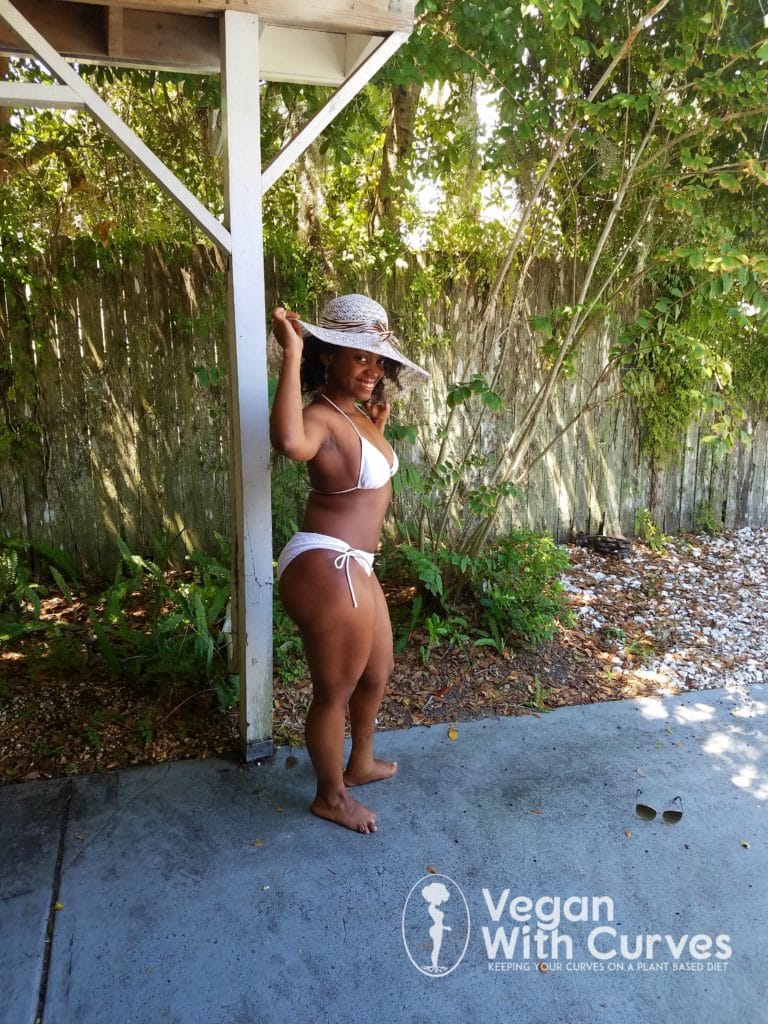 Vegan With Curves™, is a health and food blog dedicated to helping women embrace their unique curves while embracing a plant based and/or vegan diet. Here you will find tips on how to gain healthy weight as a vegan, lose weight without losing your curves on a vegan diet, recipe, vegan lifestyle tips, and overall health and healing inspiration.
Why Vegan With Curves?
There are tons of vegan and plant based websites. And there is also a lot of information on how to build muscle and put on healthy weight. But I created this website because there are virtually no websites geared toward woman that desire to gain healthy or keep a curvaceous figure while eating a vegan diet.
Initially I had no intention of creating a website. In fact I didn't even think I would be a vegan. . My story starts off me just desiring to be healthy which initially lead me to a lot of transformations in my body over the years.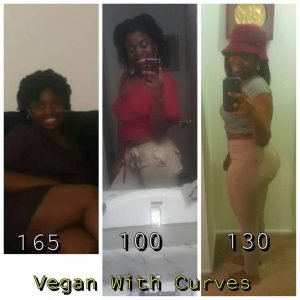 On the far left I was weighing 165 pounds. (I am only 5 feet) I was a full blown junk food fast food meat eater. KFC and Jack N Box was my second home. I was also highly addicted to sweets. Not only that, I was very depressed, lacked motivation, and had no physical energy. 
With the middle pictures I weighed between 100 pounds to 105 pounds.  I started to clean up my diet, became a plant based eater eating a serving of meat only 3 times a week. My mental health got so much better because of the food I was consuming and I released a lot of weight.  While I was happier to be lighter as well as physically and mentally healthier, I lost too much weight and lost my curves.
The right pictures show how I look today. I am a full vegan ( I eat an 100% vegan diet and live the lifestyle of a vegan). I go between 130 pounds to 140 pounds and loving my new curvy and fit figure!
Healthy Body Image (My Personal Journey)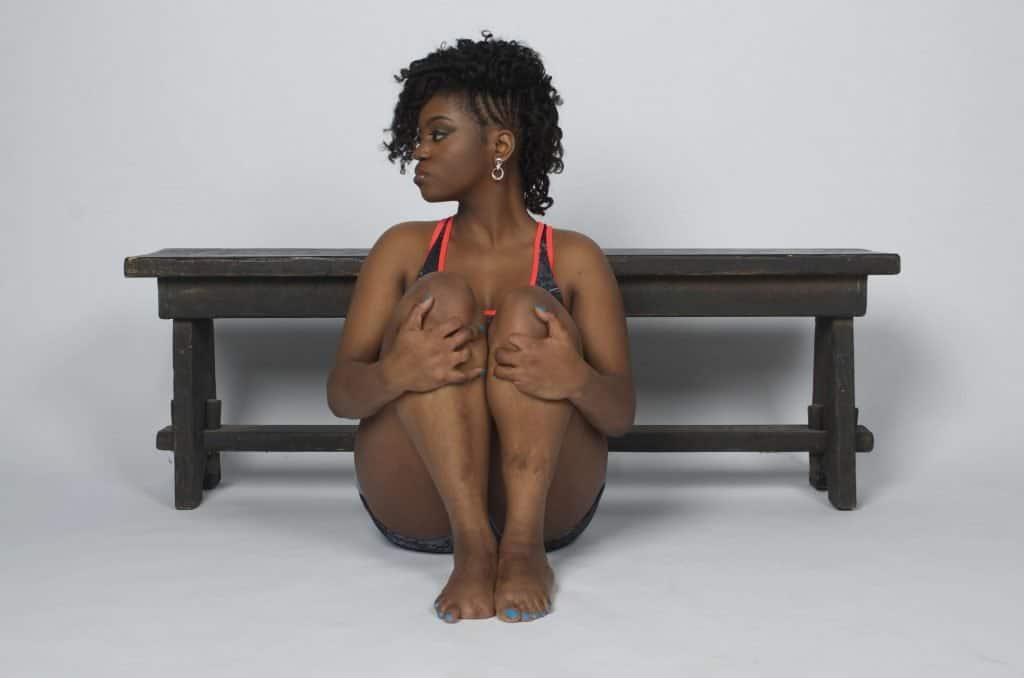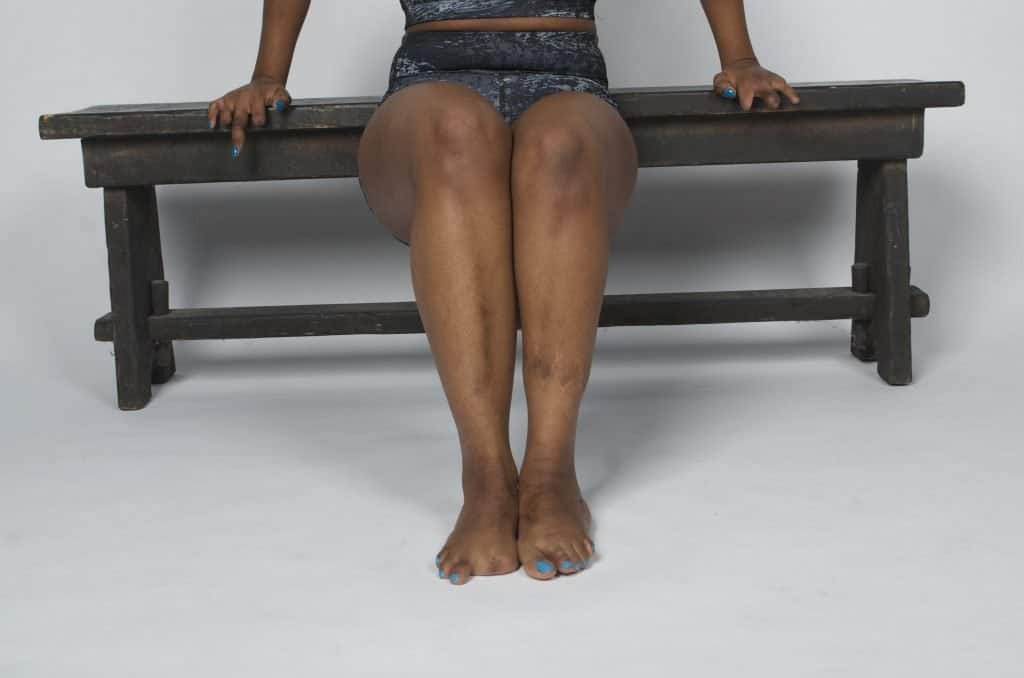 Growing up I've always struggled with body image issues I was born with a rare defect called amniotic band syndrome and what it does is the umbilical cord wraps around the fetus limbs causing a natural amputation and in my case it caused a natural amputation with my fingers and toes so growning up I already had this negative body image viewpoint about myself and as I got older it got even worse with social media and just a pressure to look a certain way
When I went vegan in a away, among other things, it help me become more body positive because the cleaner my diet got the more I was able to function better within this body that at first I thought was defective I had more energy and certain cramps and stuff that happen in my hands and foot went away…less inflammation. So I was able to function better physically. What makes a body healthy is not having a six pack or muscles what makes a body healthy is that your body is functioning to his Optimum level and a plant based vegan diet helps accomplishes that.
Be the Curvy Version of YOURSELF!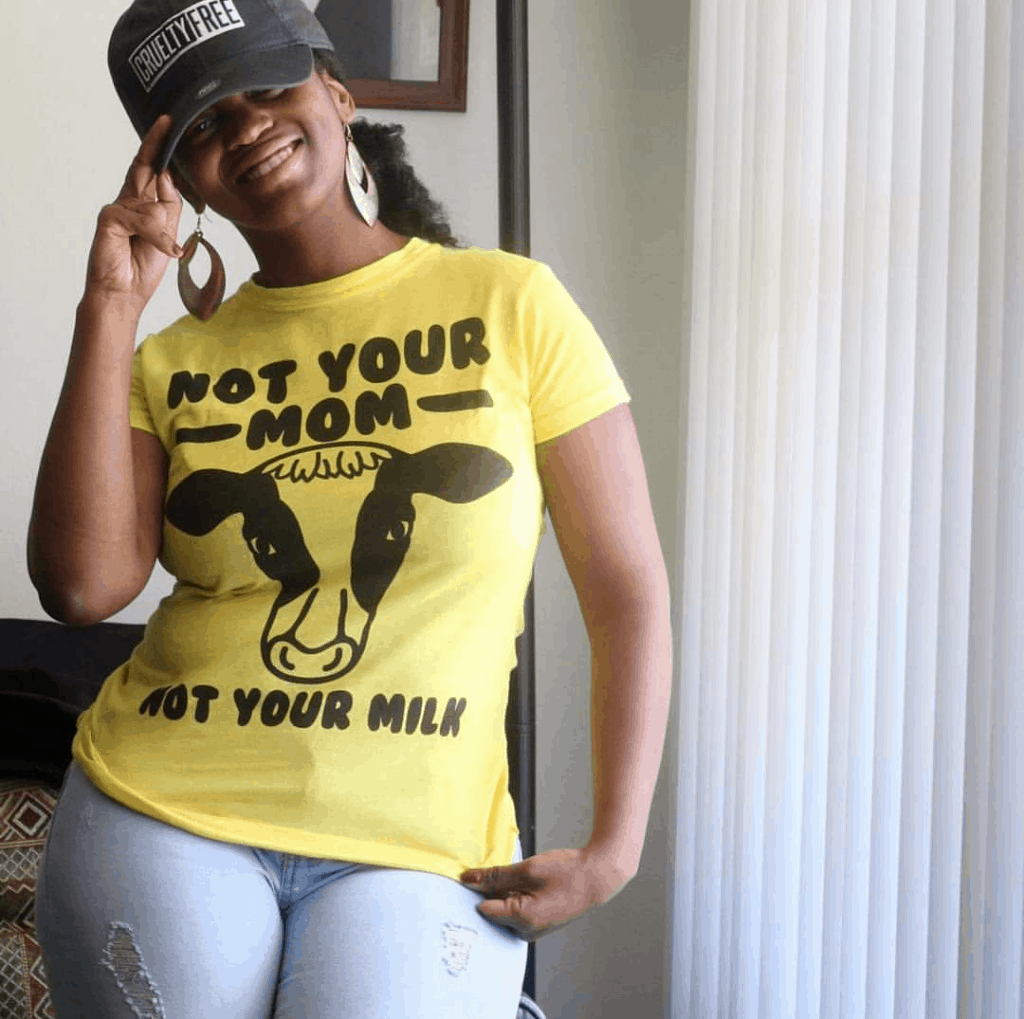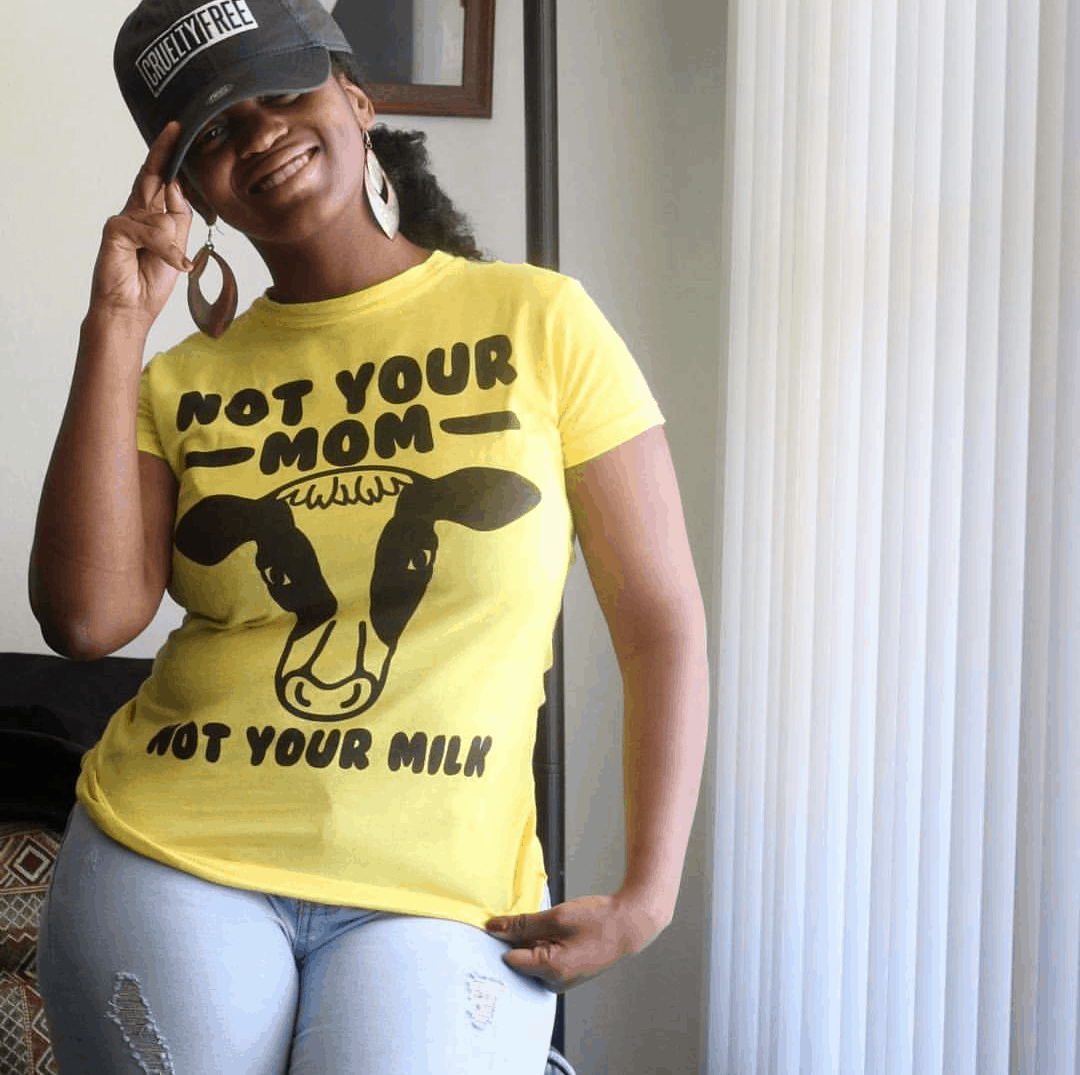 Body transformation is no different than transforming a career,  finances, or  relationships. Transformation is an internal process. It's much deeper and therapeutic than most people realize. It is important to NOT get caught up in thinking you have to look like everyone else. (That is actually kinda weird everyone with the exact same bodies ?). You can't hate yourself into a new body. Curves are relative to how YOUR body is shaped! Love who you are now as you seek to be grow into something else inside and out. Transformation in your body and in life takes strong purpose, consistency, discipline, sacrifice, and vision.⠀It's about being healthy and being the best version of YOU. Nothing wrong with wanting to improve your physique as long as you embrace improving YOUR physique instead of altering it to look like someone else. That is why my model is you have to be the CURVY VERSION OF YOURSELF.
So let us NOT try to all look alike but instead embrace our own unique curves which can be done through a healthy plant based diet and exercise. Yes you can build a butt with exercise. Yes you can gain healthy weight on a vegan diet. Yes you can transform and improve on your body. BUT you can NEVER look like anyone else and you should not seek that because you're YOU and that is enough. I can't look like you, and you can't look like me. We all have unique figures that should be embraced. Transform into the best version of YOUR body with a healthy calorie dense plant based diet  a good weight lifting regimen. ⠀
Email Me
Have questions, comments, or business inquires? Please email me at ginamarie at veganwithcurves dot com. (ginamarie@veganwithcurves.com) Be sure to include a subject when emailing. For please allow up to 5-7 days for a response.
Let's Get Social!
  Random Facts about Me
I was born and raised in St. Louis, Missouri. I'm an "Arch Vegan!"
I been blogging off and on since 2010. I have a personal blog I Am Gina Marie where I feature a lot of my thoughts on random topics and experiences I go through. It's very raw with no filter (I can be very outspoken and opinionated) so read at your own risk.
I am a poet. I wrote and self published my first poetry book Flowers In December.
I am a HUGE music lover and would love to record an album one day.
I LOVE CATS!!!!