This post may contain affiliate links. Please read my disclosure policy.
Addicting fried oyster mushrooms! Seasoned crispy outer crust with a tender meaty texture inside. Serve as an appetizer at your party or game day event; or even as part of a main course as it makes a great meat substitute for fried chicken!
If you never had fried oyster mushrooms, once you do you will be hooked! I cooked these for my dad while watching the game and my dad ate the entire bowl only leaving me with 3 pieces (hey I still love the guy!) Yes they are that good!
Addicting fried oyster mushrooms! Makes a great meat substitute for fried chicken!
Why Fry These Mushrooms?
You don't have to fry them at all you can saute them and add them to any dish calling for mushrooms. I occasionally fry these mushrooms because they have a very meaty and tender texture reminding you of fried chicken so it's makes a more natural meat substitute than using a mock meat vegan product. The are so delicious that even if you are not vegan you will find yourself craving these. I recommend using a cast iron or deep fryer for this like my stand by FryDaddy Electric Deep Fryer. Now I don't own an air fryer at the moment and I cannot make any guarantee that it will work but you are more than free to try it out and see for yourself! (NOTE: In the comment section someone mentioned they used this recipe in their air fryer and it worked out fine so feel free to test it out for yourself!)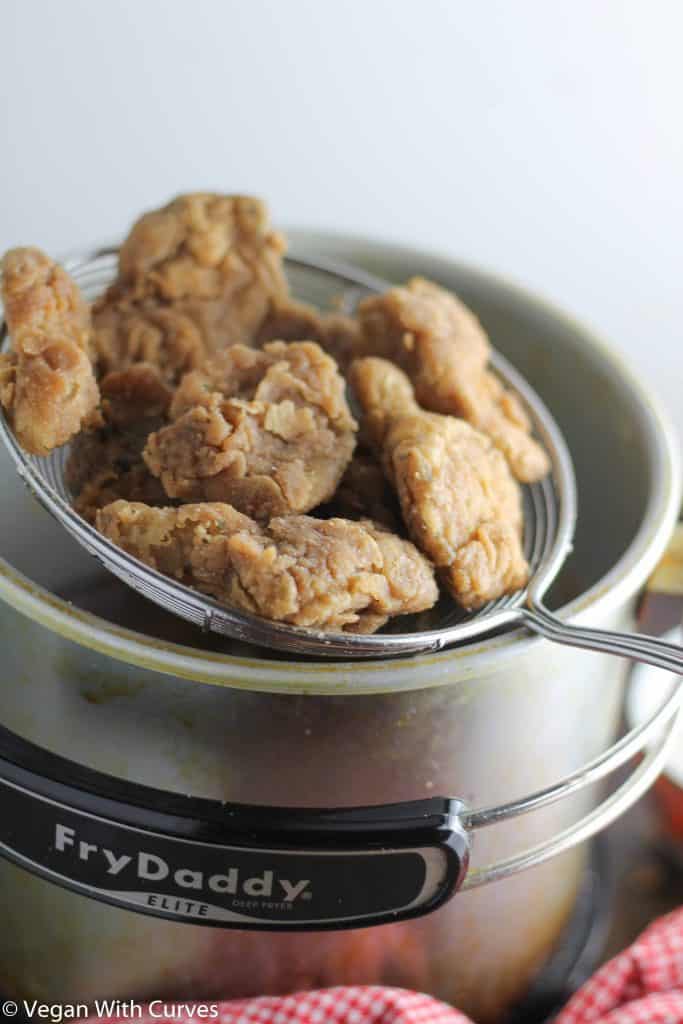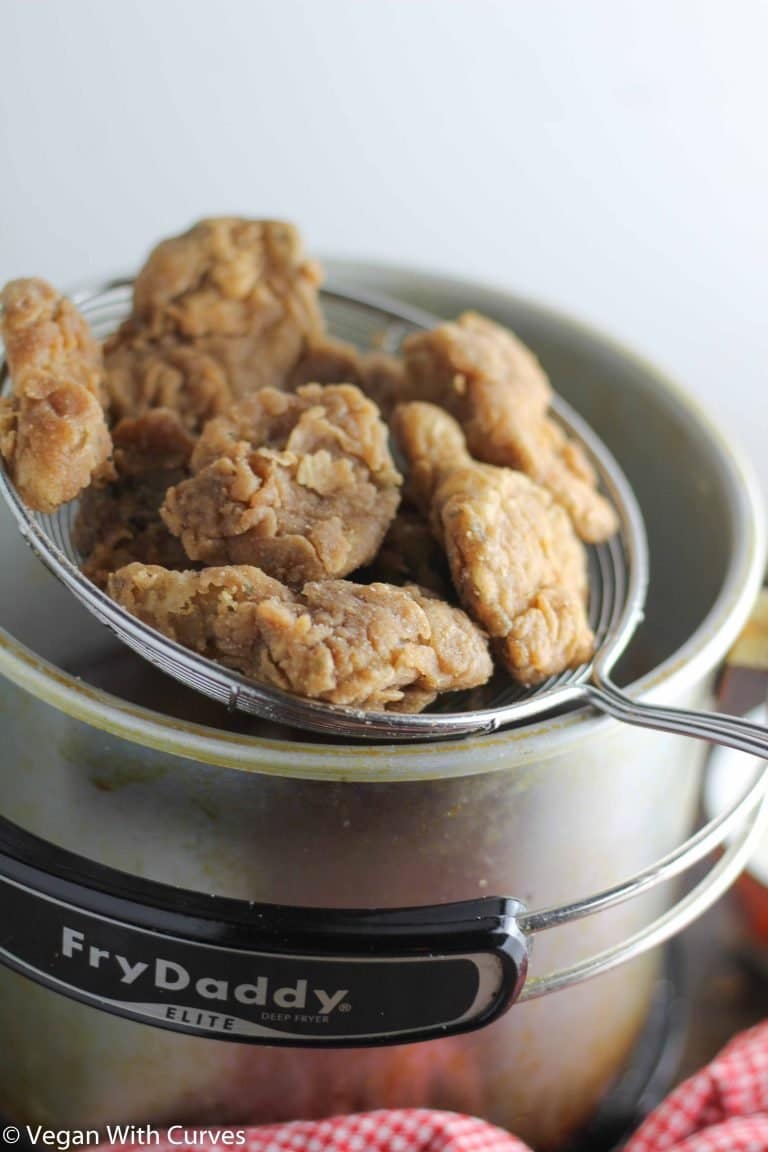 Why this recipe works?
Oyster Mushrooms:

As mentioned above oyster mushroom texture is what makes this fried mushroom recipe delicious. Sure you can use any mushroom for frying but then you won't get that same satisfying texture as you would with these mushrooms.

Oyster mushrooms are readily available and easily found at your local Asian market. Oyster mushrooms also contain good levels of zinc, folic acid, and niacin.

Spelt Flour: Spelt flour works really well with this recipe. This works with chickpea flour too but with chickpea flour you get a more crisper thicker coating when fried and a lighter color (think of Popyees chicken texture). With Spelt flour you get a crispy but thinner coating when fried an a rich dark brown color (think of my former favorite KFC). Spelt is not a gluten free flour so it is not recommended if you have Celiac Disease. (Use chickpea flour instead).
Multiple Uses! Craving a Po boy sandwich? Use these Fried Oyster Mushrooms. Miss fried chicken? Use these Fried Oyster Mushrooms. What a meatless finger food to go with your French fries? Use these Fried Oyster Mushrooms! You get the drift!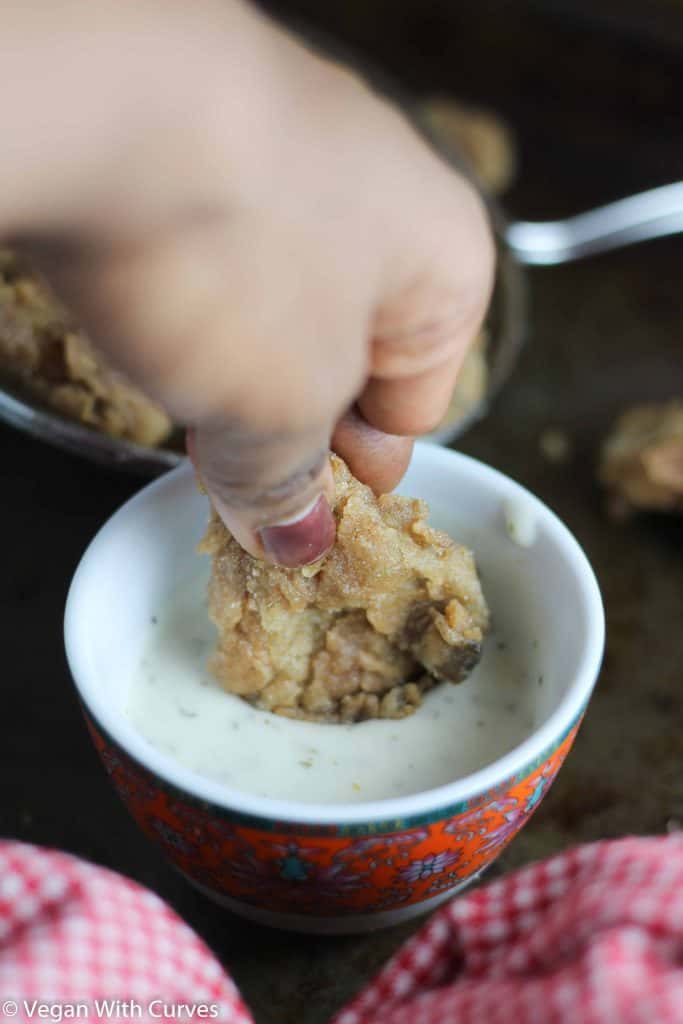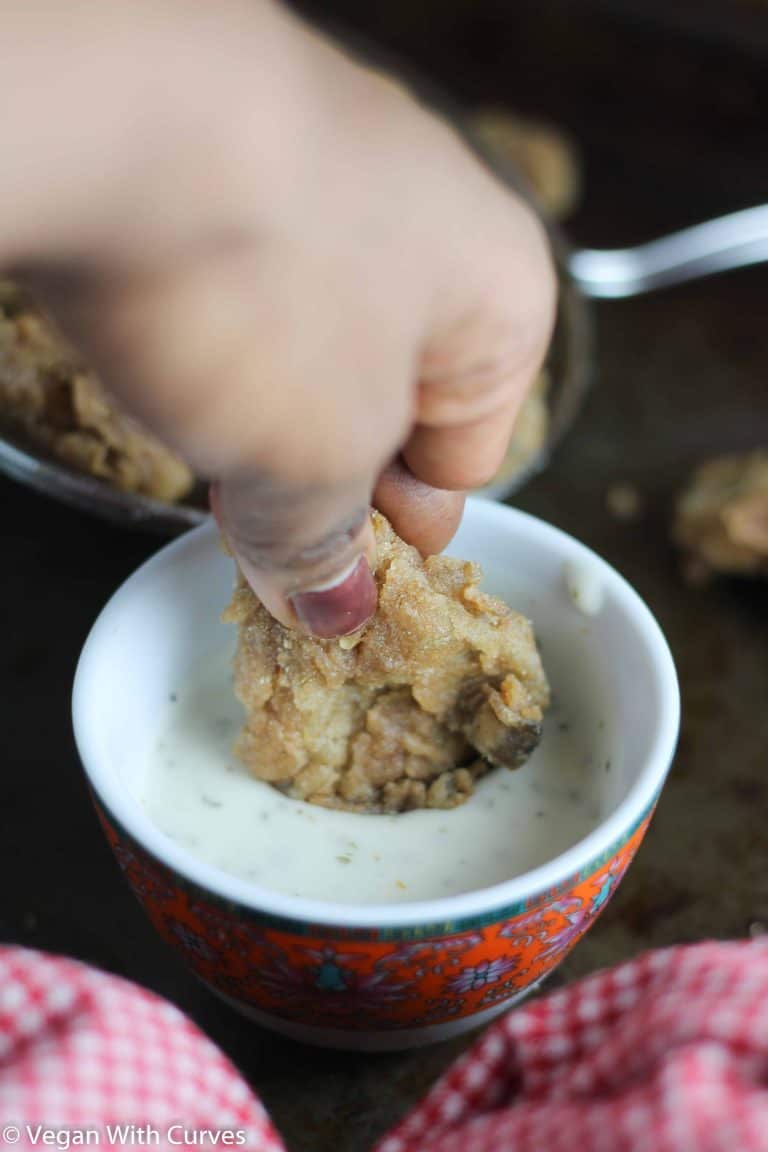 How to Make this Fun Finger Food! (READ FULL RECIPE CARD BELOW FOR FULL INSTRUCTIONS)
The key to frying these mushrooms is having both a wet and dry batter. My dad tried to do it on his own with just the dry batter and it didn't turn out to good (poor guy he didn't know lol). First you make your wet batter by adding your flour, seasonings and water to a bowl and mix well until completely combined.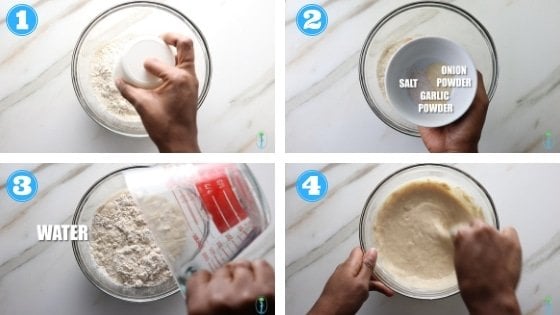 Next in a separate bowl make your dry batter by adding more flour and seasonings to a bowl and mix well until seasonings are fully incorporated into the flour.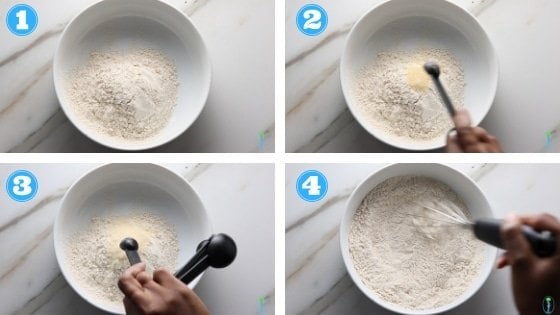 The you dip your mushrooms in your wet flour batter FIRST ONLY ONCE and then you coat them in your dry batter SECOND ONLY ONCE. Immediately add them to a hot oiled pan or deep fryer making sure not to over crowd them. Because this is not animal flesh, there will be no need to fry for more than 3 minutes until golden brown.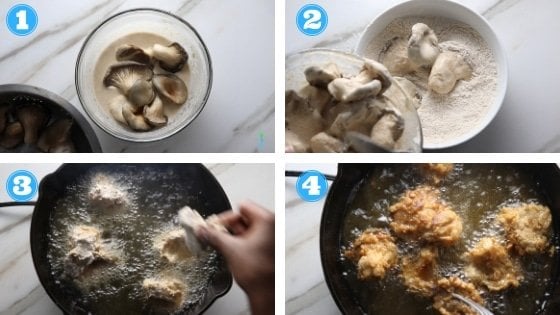 Vegan With Curves Star Ingredient
Spelt in general is often something highly used in the alkaline vegan community. One cup of spelt flour has 11 grams of protein! Read Spelt Flour Builds Strong Bones & Aids Circulation for full knowledge of the benefits of spelt flour.
How to make this Waste/Weight Release (Weight Loss) Friendly?
Well to fried food isn't something you think of when trying to release weight. However there is a way to occasionally enjoy these without completely going off you your goals.
Serve this over a salad instead of with French fries or a part of traditional starched filled fried chicken dinner
Don't fry them! These mushrooms are great in stir fries simply sauté' as you would regular mushrooms!
If you want them breaded you can try baking them with panko crumbs (I have not tried this myself but will in the future and report back to you how the have turned out!)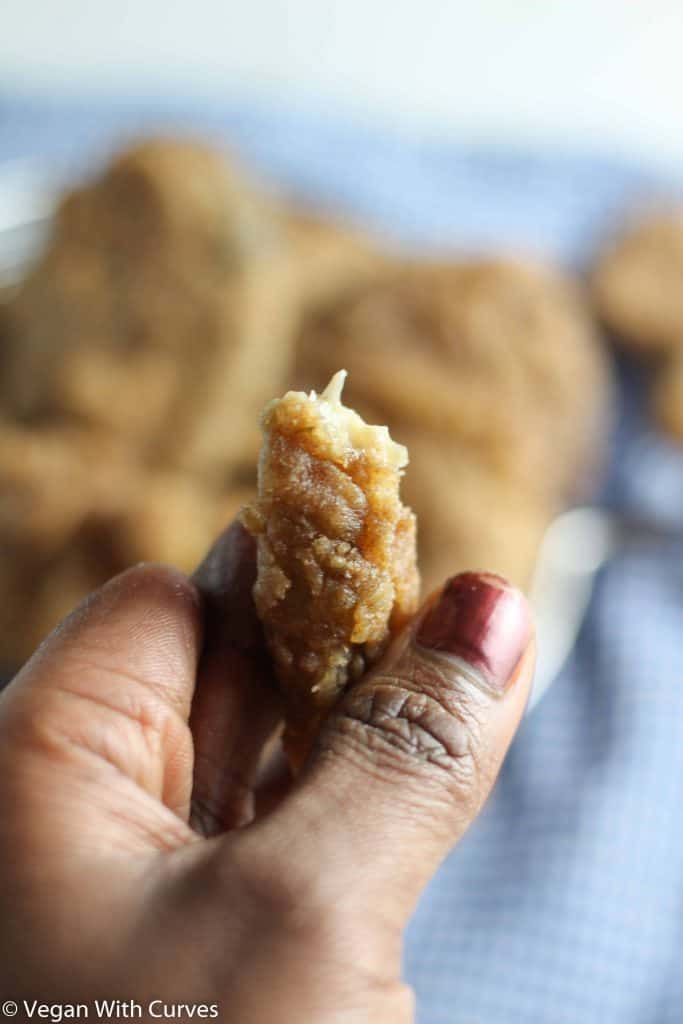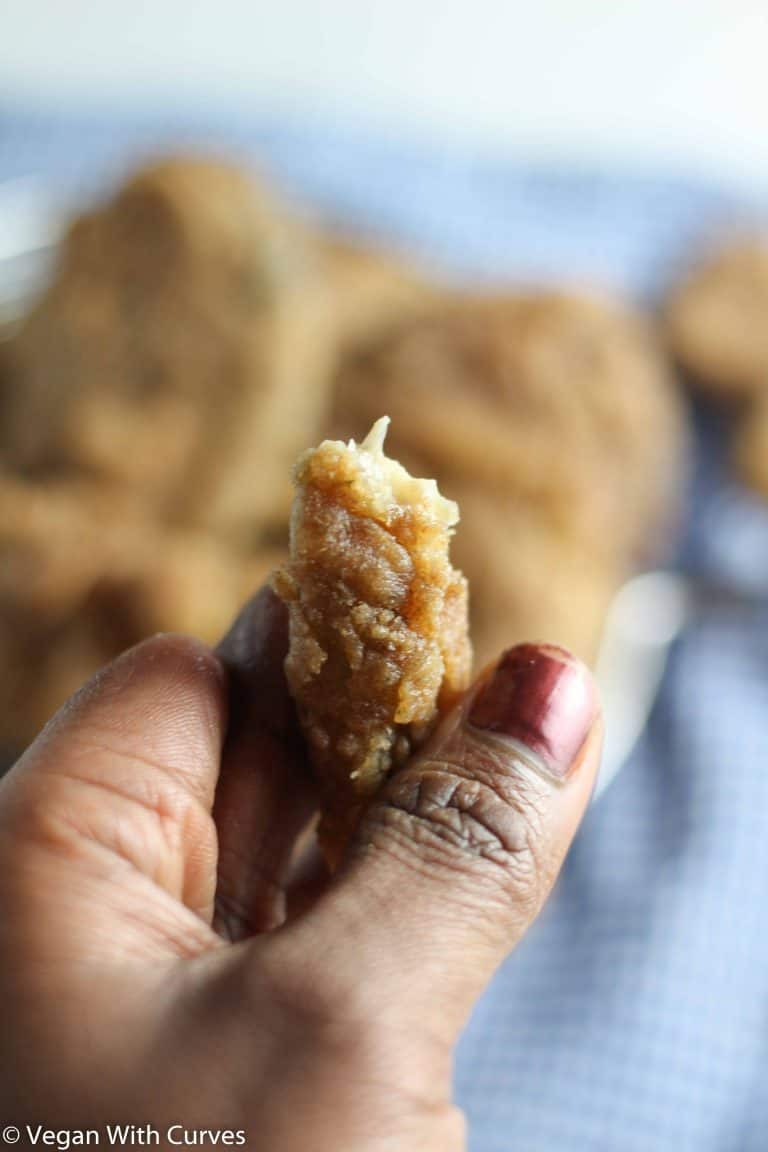 Curve builders, even though this recipe is high in calories, fried food is nothing something that is healthy that should be eaten daily. But it's nice to have as treat every blue moon. Enjoy!
DID YOU MAKE THIS RECIPE? Tell me how it turned out for you! Was it a hit or miss? Tell me about it. Leave a comment below, rate it, and PIN IT! Also tag a photo @_VeganWithCurves and hashtag #VeganWithCurves on Instagram so I can see it!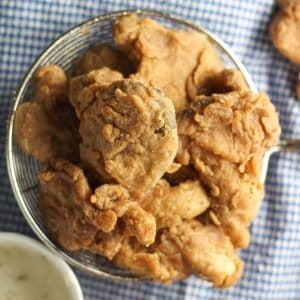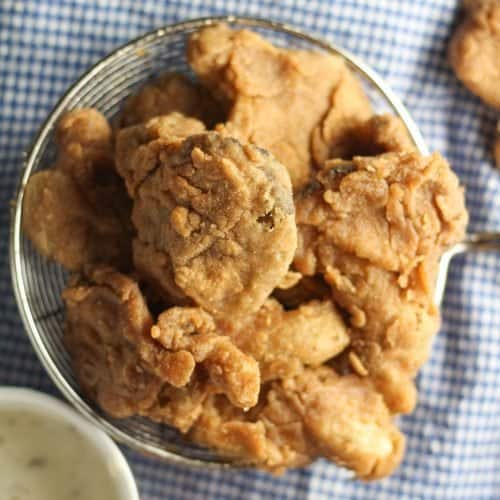 Fried Oyster Mushrooms
Addicting fried oyster mushrooms! Seasoned crispy outer crust with a tender meaty texture inside. Serve at as an appetizer at your party or game day event; or even as part of a main course!
Print
Pin
Rate
Servings:
5
(app 4 to 5 pieces per serving)
Ingredients
Wet Batter
1

cup

spelt flour

1

cup

water

more or less

1

teaspoon

onion powder

1

teaspoon

garlic powder

1

teaspoon

sea salt
Dry Batter
1

cup

spelt flour

1

teaspoon

onion powder

1

teaspoon

garlic powder
For Frying
32

ounce

vegetable oil

more or less for frying

1

package

oyster mushrooms

found in Asian stores, about a pound

additional sea salt

dried parsley

optional
Instructions
Take your oyster mushrooms out the package and place in a colander. Pull apart to desired size and rinse well.

Start making your wet batter. Place 1 cup of spelt flour in a large mixing bowl along with garlic powder, onion powder, and sea salt. Add in water and mixed. Batter should be the right consistency to coat mushrooms; not to thick and not to runny. Set aside.

Grab a bowl 1 cup of spelt flour, garlic powder, and onion powder and mix until fully combined. Set aside. NOTE: You could use a large Ziploc bag for this to easily add your mushrooms and shake to get an even coat of the dry batter on the mushrooms.

Next coat each oyster mushroom in the wet batter ONCE and place it in the the bowl and evenly coat with the dry batter ONCE. Do that for all pieces. NOTE: Using a Ziploc bag simply close the bag and shake vigorous until all mushroom are fully coated in dry batter. DO NOT GO BACK IN FORTH BETWEEN THE WET AND DRY BATTER TO PREVENT OVER BREADING IT WILL NOT TASTE WELL!

Plug up your Fry Daddy Electric Deep Fryer and allow oil to get hot. (Or if using a cast iron heat oil in your iron until hot). Carefully place mushrooms in oil allowing mushrooms to fry for about 2 to 3 minutes until evenly browned. With your fry basket remove done mushrooms from oil and place on plate cover with a paper towel. Sprinkle with additional sea salt and dried parsley (opt) NOTE: Make sure your oil is hot and DO NOT overcrowd your mushrooms in the deep fryer or cast iron. If you need, divide mushrooms in half to cook a handful at a time.

Serve with your favorite dipping sauces, on top of a salad, or along with your favorite sides for dinner!
Notes
Substitutes and Additions:
Feel free to use any flour of choice. I have tested this with only Spelt Flour an Chickpea Flour (a gluten free option) and the both work excellent for this recipe!
I have never tried this in an Air Fryer (I currently do not own one) but it could work. Try it and let me know!
You can try this with other mushrooms although I URGE you to use oyster. The texture of these mushrooms are unlike any other. You will not be disappointed!
DO NOT OVER BATTER!! Dip once in the wet batter and once in the dry batter and immediately fry. I can't stress this enough. If you keep going back and forth between wet and dry batter multiple times you will end up with a overly breaded mushroom that will NOT be good at all.
Nutrition
Nutrition Facts
Fried Oyster Mushrooms
Amount Per Serving
Calories 361
Calories from Fat 54
% Daily Value*
Fat 6g9%
Carbohydrates 63g21%
Protein 21g42%
* Percent Daily Values are based on a 2000 calorie diet.
DID YOU MAKE THIS RECIPE?
Be sure to PIN IT on Pinterest, leave a comment below, rate it, and mention @_VeganWithCurves using #veganwithcurves hashtag on Instagram so I can see it!
As an Amazon Associate I earn from qualifying purchases. Please read my full affiliate disclaimer HERE.
© VEGAN WITH CURVES. UNLESS NOTED OTHERWISE, ALL IMAGES, RECIPES, & CONTENT ARE COPYRIGHT PROTECTED AND REGISTERED WITH THE U.S. COPYRIGHT OFFICE. MY IMAGES AND WRITTEN CONTENT ARE NOT TO BE USED FOR ANY PURPOSE WITHOUT PRIOR PERMISSION. WHEN SHARING A RECIPE LINK BACK HERE TO THE ORIGINAL RECIPE. WHEN SHARING CONTENT FROM AN ARTICLE LINK BACK HERE TO THE ORIGINAL BLOG POST. READ FULL COPYRIGHT DISCLOSURE.