Addicting fried oyster mushrooms! Seasoned crispy outer crust with a tender meaty texture inside. Serve as an appetizer at your party or game day event; or even as part of a main course!
If you never had fried oyster mushrooms, once you do you will be hooked! I cooked these for my dad while watching the game and my dad ate the entire bowl only leaving me with 3 pieces (hey I still love the guy!) Yes they are that good!
Fried oyster mushrooms are so close to having a tender meaty texture that even if you are not vegan you will find yourself craving these. Now I don't do a lot of fried foods. One I hate the clean up and two it's friend anything is the healthiest thing in the world. But I couldn't resist adding this to the site. I had to share it with you gals (and guys!) I recommend using a deep fryer for this but a large deep skillet would work too. I broke out my FryDaddy Electric Deep Fryer.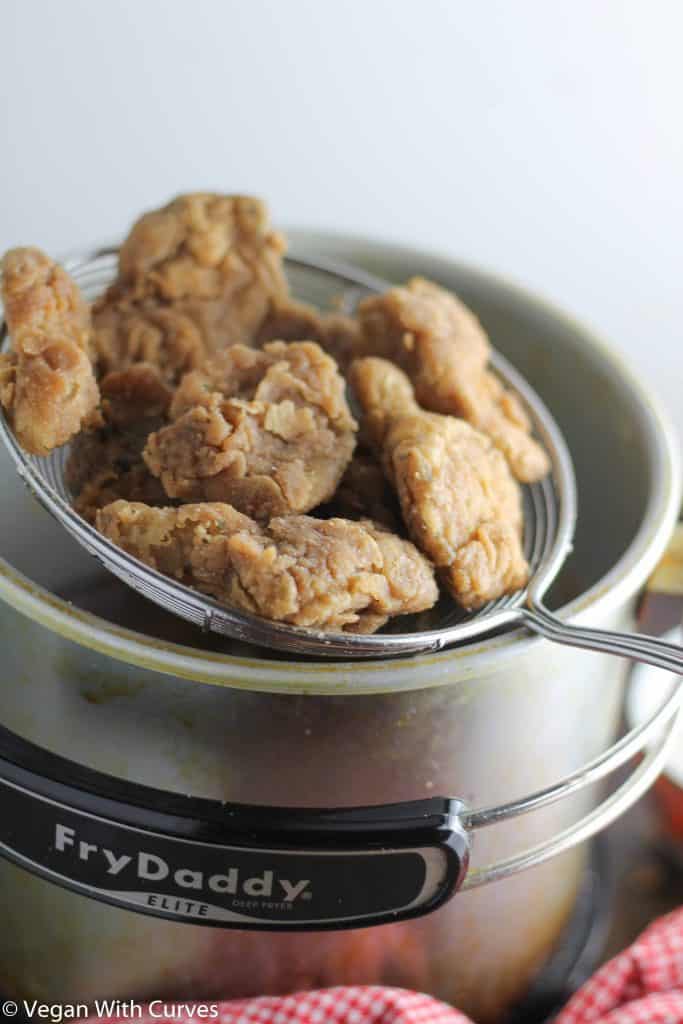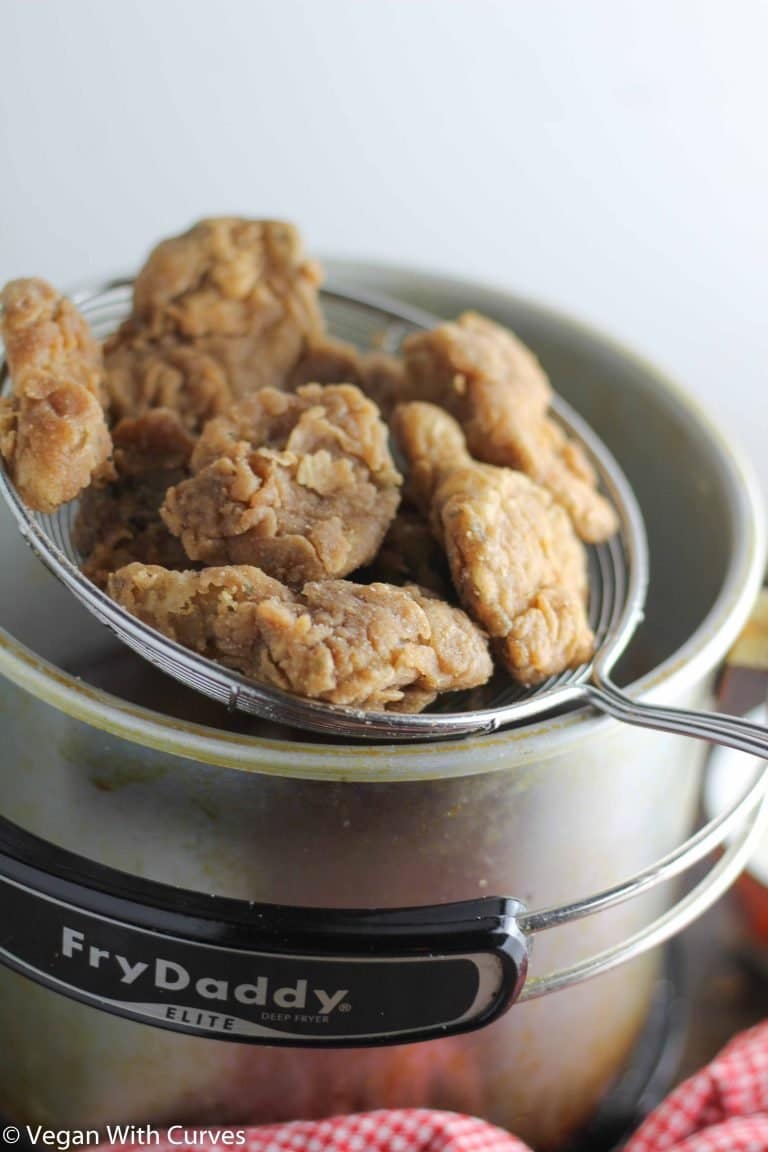 Vegan Curve Building  Ingredients
Oyster Mushrooms
Oyster mushrooms are readily available at your local Asian market though I have seen some in a few local groceries store chains in my area. Oyster mushrooms contain good levels of zinc, folic acid, and niacin.
There are really only a few flours I keep in my vegan pantry, spelt flour, chickpea flour, and all purpose gluten free flour. Not saying that other flours wouldn't work, I am just have a preference for these 3 the majority of the time (there are exceptions). Spelt is not a gluten free flour so it is not recommended if you have Celiac Disease. Spelt in general is often something highly used in the alkaline vegan community. One cup of spelt flour has 11 grams of protein! Read Spelt Flour Builds Strong Bones & Aids Circulation for  full knowledge of the benefits of spelt flour.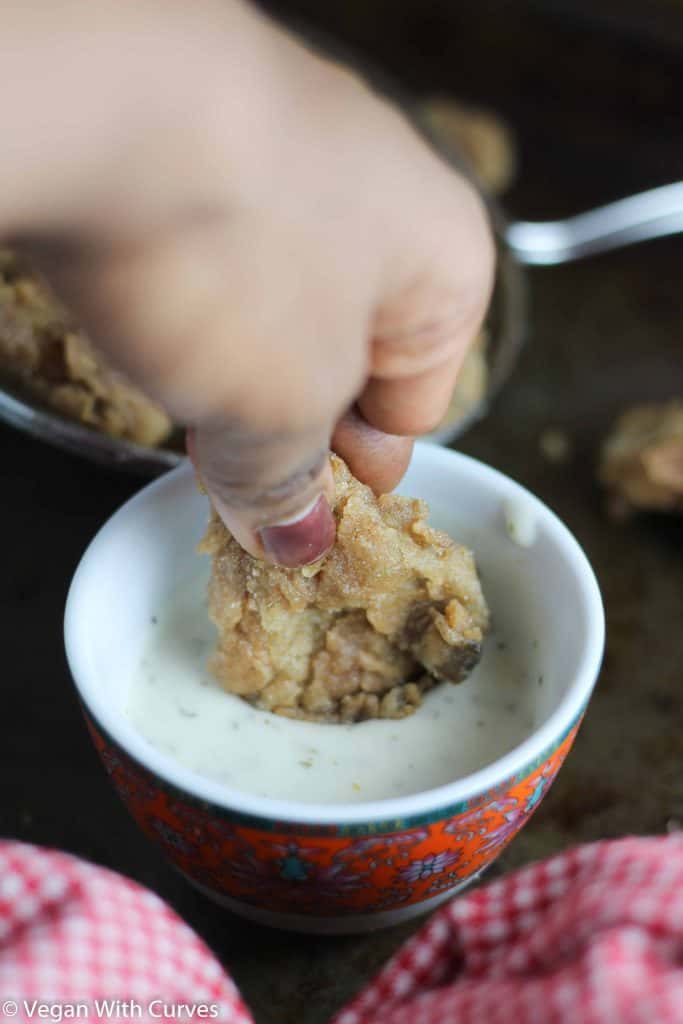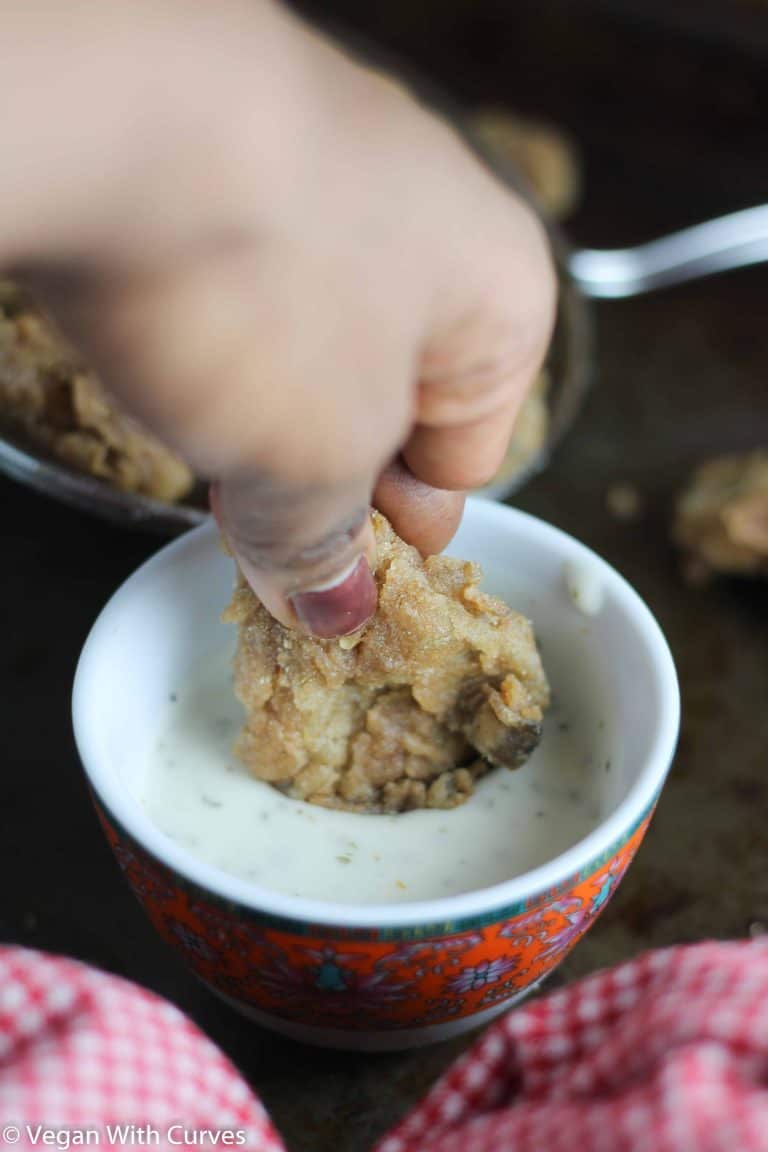 The key to frying  these mushrooms is having both a wet and dry batter. My dad tried to do it on his own with just the dry batter and it didn't turn out to good (poor guy he didn't know lol). You dip your mushrooms in your wet flour batter and then you coat them in your dry batter before frying. Because this is not animal flesh, there will be no need to fry for more than 3 minutes
Curve builders, even though this recipe is high in calories, fried food is nothing something that is healthy that should be eaten daily. But it's nice to have as treat every blue moon. Enjoy!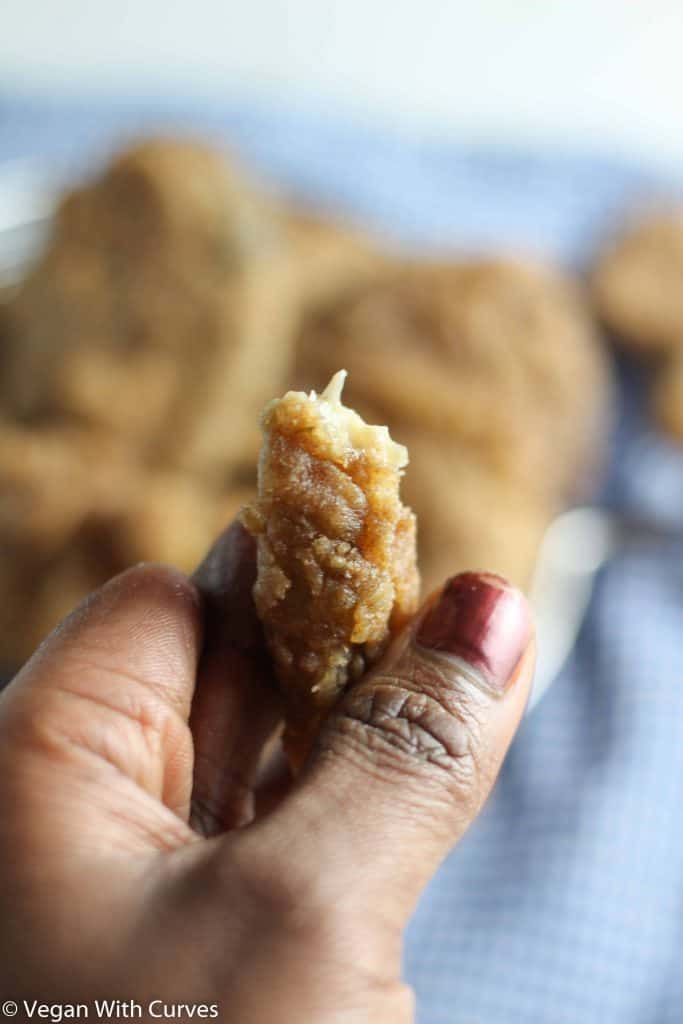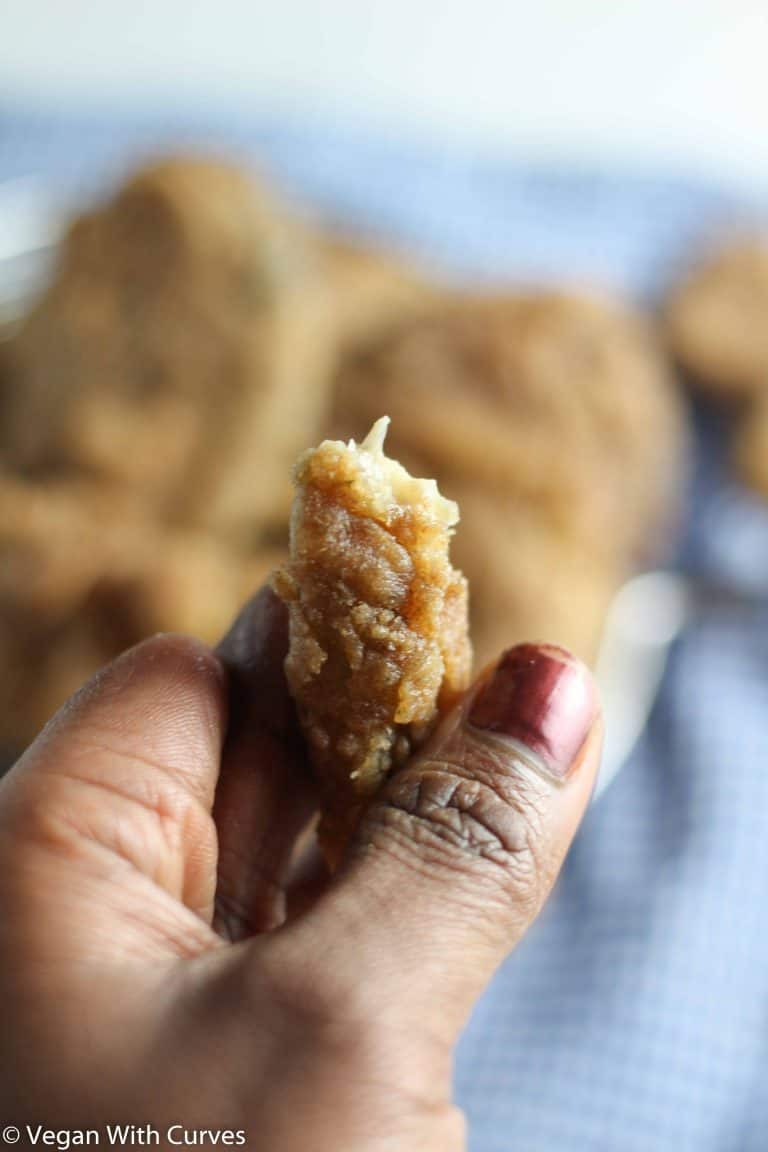 DID YOU MAKE THIS RECIPE? Tell me how it turned out for you! Was it a hit or miss? Do you enjoy fried mushrooms? What's your favorite type? Tell me about it. Leave a comment below, rate it, and PIN IT! Also tag a photo @_VeganWithCurves and hashtag #VeganWithCurves on Instagram so I can see it!
---
Appliances used in this recipe:
For more of my recommended cooking tools, visit the resource page at CURVY VEGAN KITCHEN.
Addicting fried oyster mushrooms! Outer crispness and tender meaty texture.
Click To Tweet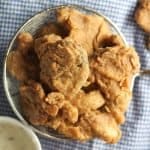 Fried Oyster Musrhooms
Addicting fried oyster mushrooms! Seasoned crispy outer crust with a tender meaty texture inside. Serve at as an appetizer at your party or game day event; or even as part of a main course!
Servings
5
(app 4 to 5 pieces per serving)
Ingredients
1

package

oyster mushrooms

(found in Asian stores, about a pound)

32

ounce

vegetable oil

(for frying)

For Wet Batter...

1

cups

spelt flour, divided

1

cup

water, more or less

1

teaspoon

onion powder

1

teaspoon

garlic powder

1

teaspoon

sea salt

1/2

teaspoons

liquid smoke

(optional)

1/2

teaspoon

kelp seasoning

(optional)

For Dry Batter...

1

cup

spelt flour

1

teaspoon

onion powder

1

teaspoon

garlic powder
Instructions
Take your oyster mushrooms out the package and place in a colander. Pull apart to desired size and rinse well.

Start making your wet batter. Place 1 cup of spelt flour in a large mixing bowl along with garlic powder, onion powder, salt, seasoning, kelp seasoning, and liquid smoke. Add in water and mixed. Batter should be the right consistency to coat mushrooms; not to thick and not to runny. Set aside.

Grab a large zip lock bag and pour in 1 cup of spelt flour, garlic powder and onion powder and shake gentle to mix. Set aside. This is to sha

Next coat each oyster mushroom in the wet batter and place it in the Ziploc bag inside the dry batter. Do that for all pieces. Close the bag and shake vigorous until all mushroom are fully coated in dry batter. NOTE: You can also have a bowl of dry batter and dip your mushroom into that after your wet batter one at a time if you like.

Plug up your fry daddy and allow oil to get hot. Carefully place mushrooms in oil allow mushrooms to fry for about 1 to 2 minutes until evenly browned. With your fry basket remove done mushrooms from oil and place on plate cover with a paper towel. Sprinkle with Himalayan Pink Sea Salt and Italian seasoning (opt) NOTE: DO NOT overcrowd your mushrooms in the deep fryer. If you need, divide mushrooms in half to cook a handful at a time.

Serve with your favorite dressing, on top of a salad, or along with your favorite sides for dinner!
Recipe Notes
Nutritional Information Per Serving
Calories 361
Fat  6 g
Carbohydrates  63 g
Fiber  16 g
Sugar  6 g
Protein  21 g
Substitutes and Additions:
Feel free to use any flour of choice
I have never tried this in an Air Fryer but it could work. Try it and let me know!
You can try this with other mushrooms although I URGE you to use oyster. The texture of these mushrooms are unlike any other. You will not be disappointed!
Nutrition Facts
Fried Oyster Musrhooms
Amount Per Serving
Calories 361
* Percent Daily Values are based on a 2000 calorie diet.
© VEGAN WITH CURVES. UNLESS NOTED OTHERWISE, ALL IMAGES, RECIPES, & CONTENT ARE COPYRIGHT PROTECTED AND REGISTERED WITH THE U.S. COPYRIGHT OFFICE. MY IMAGES AND WRITTEN CONTENT ARE NOT TO BE USED FOR ANY PURPOSE WITHOUT PRIOR PERMISSION. WHEN SHARING A RECIPE LINK BACK HERE TO THE ORIGINAL RECIPE. WHEN SHARING CONTENT FROM AN ARTICLE LINK BACK HERE TO THE ORIGINAL BLOG POST. READ FULL COPYRIGHT DISCLOSURE.