This post may contain affiliate links. Please read my disclosure policy.
Irish moss gel is made from Chondrus Crispus Sea Moss and is very high in minerals. You only need 3 ingredients to make this highly healthy vegan recipe!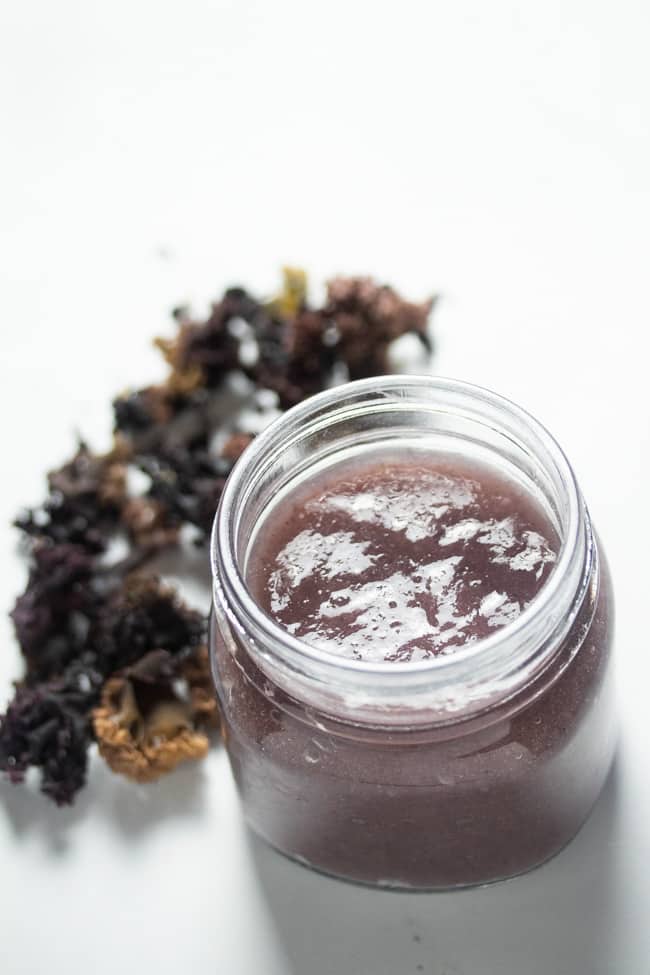 Irish Moss Gel vs Sea Moss Gel
You might land here and think, "Gina, don't you already have a Sea Moss Gel recipe?" Yes I do! However, that recipe is specifically for the Gracilaria (or even the Kappaphycus Alvarezii species). This recipe is a little bit different because it is made with the species Chondrus Crispus which makes it Irish Moss Gel.

I will briefly go through what Irish Moss is but for a deeper dive be sure to read Sea Moss vs Irish Moss blog post.
Back to Table of Contents
What is Irish Moss?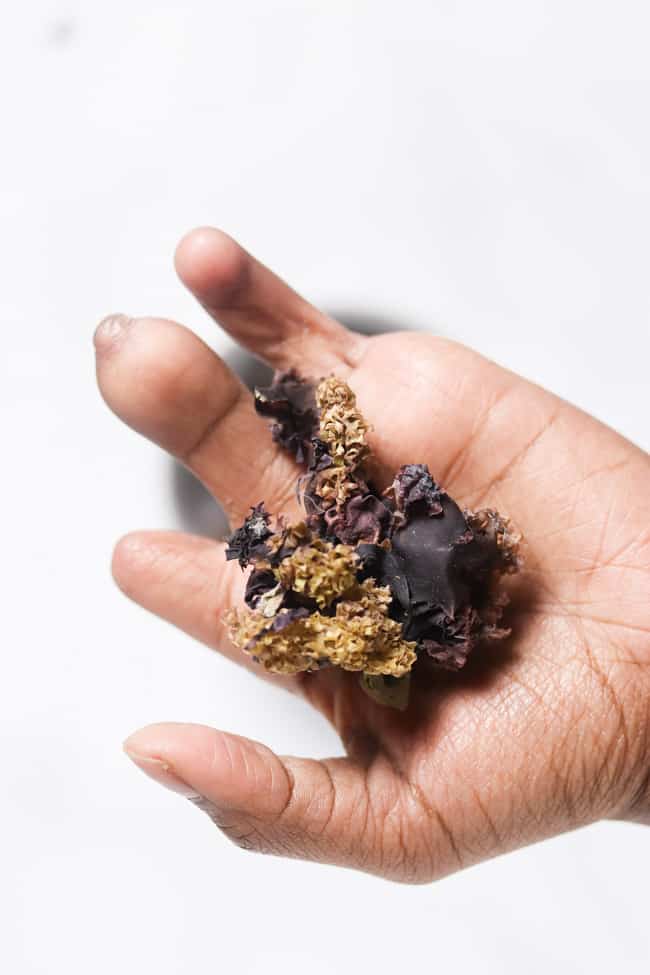 Remember sea moss in general is an umbrella term. It's a red seaweed (or algae) describing literally thousands of species. Most people come in contact with the Genus Gracilaria or Kappaphycus Alvarezii (old school name is Euchema Cottoni) species, which is commonly just called the umbrella term "sea moss" and has a thin finger like shape to it.
Irish Moss is the Chondrus Crispus species. I talk a lot about this in my Different Types of Sea Moss blog post but I will repeat it here; Chondrus Crispus is the REAL IRISH MOSS.
Again in my Sea Moss vs Irish Moss article, I go deep into this species and I link sources you can read on your own. The best way to learn about red algae is from marine sites.
Related: Sea Moss vs Irish Moss
Back to Table of Contents
What about Carrageenan?
Another name for Chondrus Crispus is also called Carrageenan Moss because carrageenan is what makes the Irish Moss "gel up." Now that name might be a cause of concern. But like I stated in my How to Make Sea Moss Gel article, there is a difference between an extract of carrageenan, and when it is contained inside a seaweed as part of the plant.
Anytime you isolate a compound from its source, it has the potential to create unbalanced issues in the body. Because nature designs things to be eaten as a whole.. This is the same principle with extracts like sugar and salt.
Some common popular carrageenan extracts, particularly popular in the vegan community, are agar agar and kappa carrageenan. These extracts more than likely won't cause too much harm if eaten sparingly, but they are devoid of nutrients and aren't optimal for everyday consumption.
Chondrus Crispus is a whole food and is okay to consume on a regular basis.
Back to Table of Contents
Chondrus Crispus Nutritional Benefits
Irish Moss is often promoted as having "92 minerals out of the 102 minerals that the body needs." This could be true or an over exaggeration. Because I haven't personally verified that, I can't say that is the case.
However, this seaweed is a powerhouse of nutrition most notably known for the following minerals (and vitamins):
Iron
Magnesium
Phosphorus
B Vitamins like Riboflavin (B2) and Folate (B9)
Potassium
Selenium
Calcium
Zinc
Other benefits include:
Boosts Immunity: It's been said that other species like Gracilaria are good for detoxing the body and Chondrus is good for building the body. More specifically with Irish Moss, due to it's high iron content, oxygen can be transported to damaged areas in the body making it easier for you to fight disease and infection.
Boosts Libido: So this is something I have personally experienced. Let's just say when you consume enough on a regular basis (along with an overall healthy diet), things tend to "wake up" a bit. What an awesome benefit!
Traditionally used to treat digestive and respiratory issues like stomach ulcers and bronchitis.
Like other seaweeds, it's a great source of iodine which is needed for proper thyroid function.
Back to Table of Contents
Where to Buy this Species?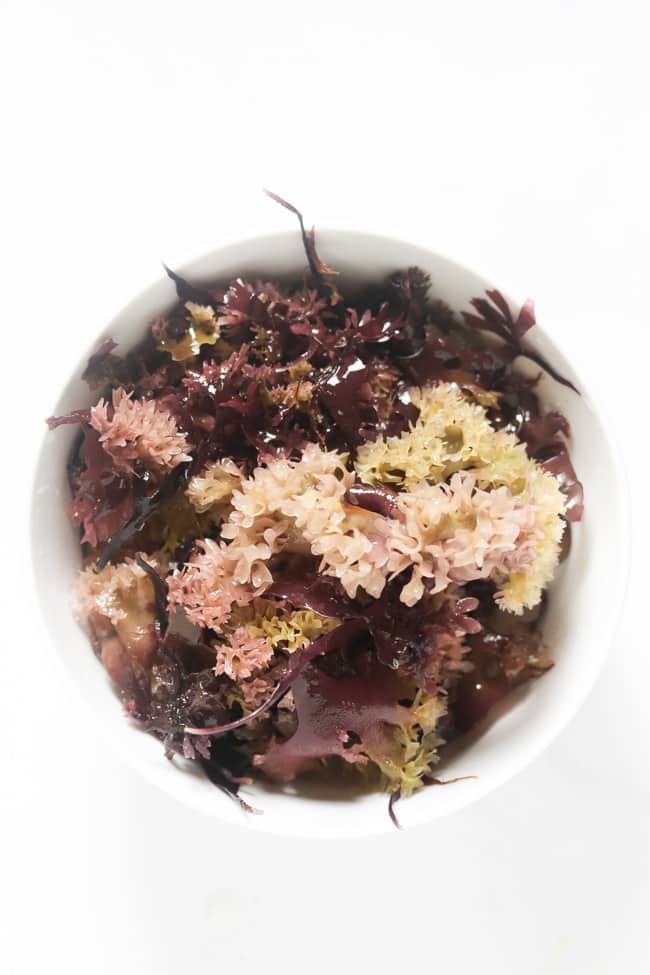 Most people don't sell this species but the few that do I have listed below. Keep in mind this is not a TOTAL LIST. These are just ones that I have purchased from so far. Like I say in ALL MY SEA MOSS ARTICLES:
This list will constantly change as I test more companies and get more updates. I strive to bring you the most accurate information I possibly can. NONE OF THESE COMPANIES ARE SPONSORING THIS POST. I'm spending my own money purchasing from companies (with the exception of one in which I was sent a sample to test) and constantly updating sources. Please do your own research when purchasing from ANY COMPANY. It is YOUR RESPONSIBILITY to make sure you are getting the best quality product as possible.
This is my main man! The ultimate PLUG for Chondrus Crispus! All the pictures you see in this article are from his product. He only takes orders via Facebook Messenger or email (as of this writing). Supplies are limited and sold in ½ pound and 1 pounds packages. He also sells pre made Chondrus Crispus gels.
They have the Chondrus Crispus variety but they sell out REALLY fast. There is a 3 lb limit per order. Send them an email to be notified when they are back in stock or check their website to see if they are in stock. Very good quality as well and you can find other seaweeds there too like kelp, dulse (my favorite), and wakame.
I have ordered from here too and the quality is good! He sells the Chondrus Crispus variety when in stock (in ounces not pounds) so you can get a small amount at a time to try it out! He also sells pre made Irish Moss gel. You can find other hard to find herbs there as well as things like key limes (with seeds) and burro bananas! You can order straight from the website until stock runs out.
I was contacted by the lovely owner Timothy F. Sheehan and sent a sample of his Chondrus Cripus along with bladderwrack and hard to find dulse seaweed! It was very potent! I decided to add it to my list because it's good quality and another option to obtain this species! Along with other seaweeds!
Back to Table of Contents
How to Make Irish Moss Gel (Blender Method)
*Please read detailed and printable recipe card below for full ingredients and instructions.
Clean Your Chondrus Crispus
Fill your bowl with fresh spring or filtered water and add dried Chondrus Crispus to it. Begin to clean your seaweed. (Photo 1 & 2)
Be sure to clean it THOROUGHLY 3 to 4 times until the bowl of water is no longer dirty. (Photo 3 & 4)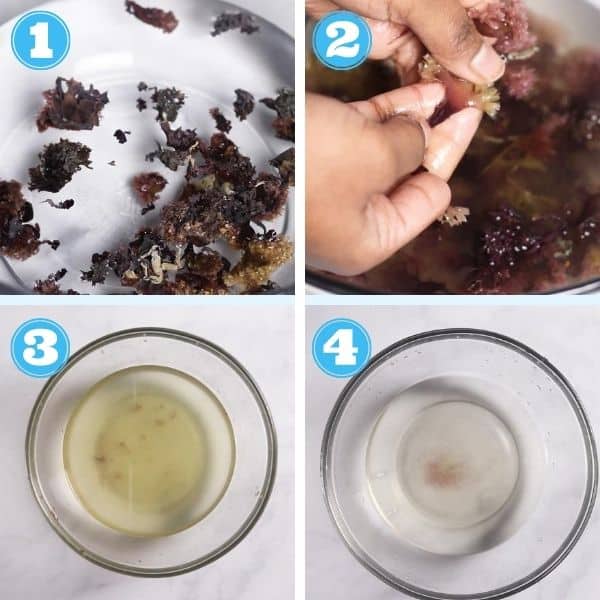 Making Your Irish Moss Gel
Soak your clean freshly clean sea moss and fresh bowl of filtered or spring water with limes, lemons, and/or oranges. Because this species has a very potent and strong aroma, adding the citrus fruit helps tone it down a bit. (Photo 1)
Once it's done soaking, remove from water and set aside. In a pot add filtered or spring water and bring to a boil. Remove from heat and allow it to cool for 5 minutes. (Photo 2 & 3)
Add your moss and cooled boiled water to a high speed blender and blend until completely smooth. Pour into a glass jar and place a breathable lid on top. Store in the refrigerator until it solidifies. (Photo 4, 5, & 6)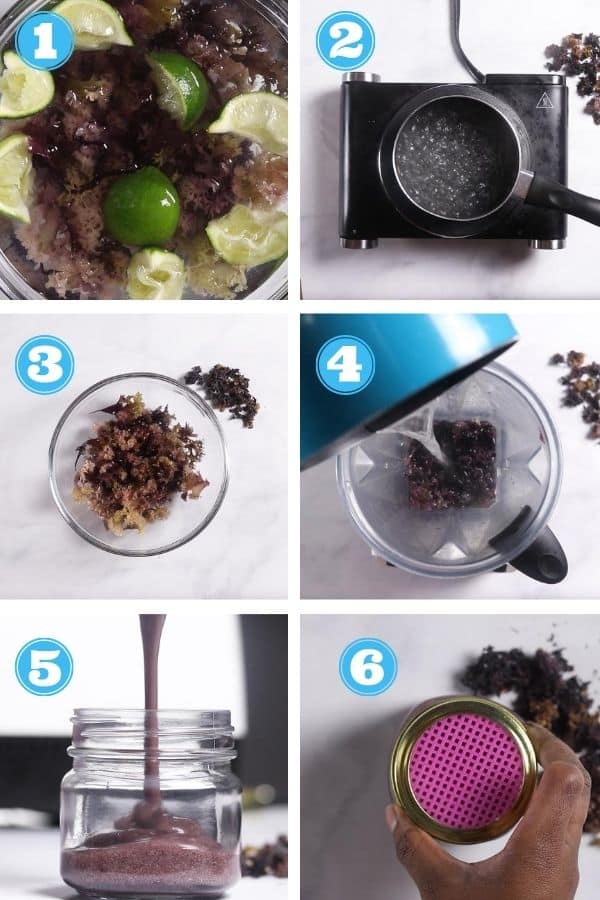 Back to Table of Contents
Irish Sea Moss Moss FAQ
1. Is Irish Moss Purple Sea Moss?
So color has nothing to do with the biological classification of Genus or Species. You could have purple Gracilaria or multi color Chondrus . I will say that from the multiple colored Chondrus, when blended, still turns to purple (or when heated it turns dark brown). But again color has nothing to do with the species or Genus classification. The color of your moss (whether Gracilaria or Chondrus), will depend on environmental factors.
2. Why do you blend it with hot water?
You can blend it with plain room temperature water if you desire; however I found that it breaks down easier into a gel when blended with hot water. This is especially helpful if you don't have a high speed blender. Unlike Gracilaria (which I do not use any heat to make my gel), Chondrus Crispus is tougher to break down.
3. Why don't you soak Chondrus Crispus Overnight?
Unlike most strains of Gracilaria (there are exceptions), Chondrus Crispus doesn't require overnight soaking (though you can soak overnight if you desire). It will hydrate by thoroughly cleaning it multiple times. I noticed when working with this species, soaking it too long caused the water to become gelatinous, which is more than likely an indication of water soluble nutrients being lost.
4. How do I store my dried Chondrus Crispus and how long does it keep?
Store in a dark cool place. It's pantry stable so you don't have to refrigerate dried Irish Moss. It can last from 1 - 3 years at minimum.
5. How do I store my gel?
Keep your gel in the refrigerator in a glass (not plastic) jar. With this species you will want to seal it with a sprout lid or cheese cloth (see photos below). Unlike Gracilaria, I personally find Chondrus Crispus gel lasts longer when it's allowed to "breathe".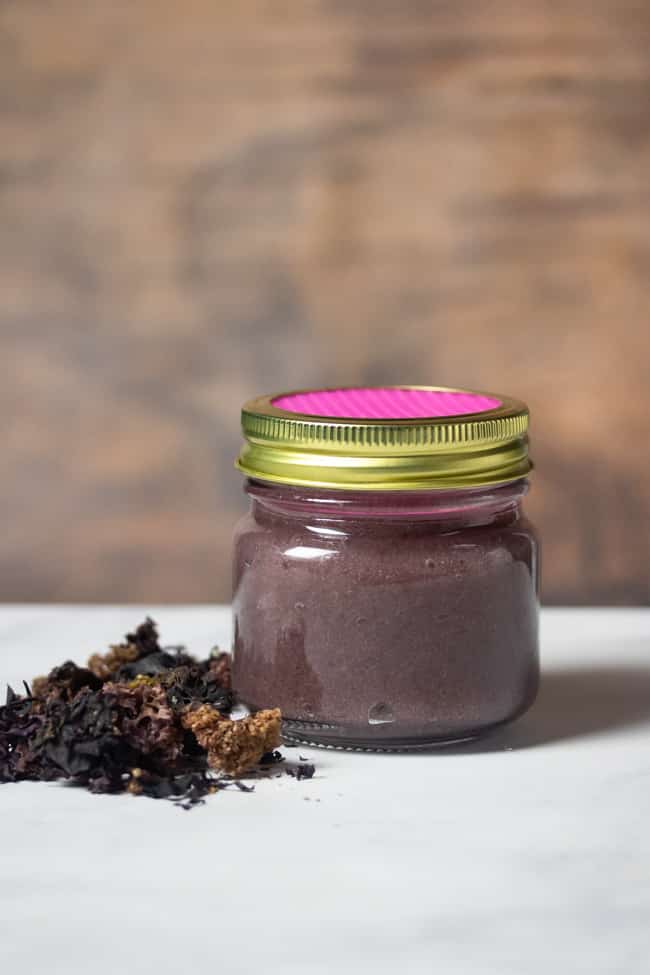 6. Can I freeze my gel?
Yes you can! I like freezing it in Easy Release Silicone Ice Cube Trays . It makes it easy to pop them in my daily smoothies.
7. How long does the gel stay fresh?
Irish Moss gel can stay fresh in the refrigerator for 3 to 4 weeks (sometimes longer). It will keep in the freezer for 3 to 6 months.
8. How much do I take?
I would recommend starting off with one tablespoon per day and examine how you feel. You can increase from there if you so choose. Keep in mind sea moss isn't a magic pill and your entire diet should consist of a whole healthy plant based foods. That way you aren't just relying on one thing to keep you healthy. If you have hyperthyroidism, please consult with a trusted health, naturopathic, or herbalist professional as seaweed is high in iodine. Also caution yourself in consuming if you have allergies with any type of shellfish or seafood. Again consult a trusted health professional.
9. What does the gel taste like?
So for me I don't find this gel has no taste, though it does have a very strong smell. Soaking it in limes calms down the smell (doesn't eliminate it) and it helps give it a somewhat citrus taste, but overall it's tasteless. If you want it to have a taste, you would need to blend it with some sort of natural flavored food or beverage.
Back to Table of Contents
How to Use and Consume Your Irish Moss Gel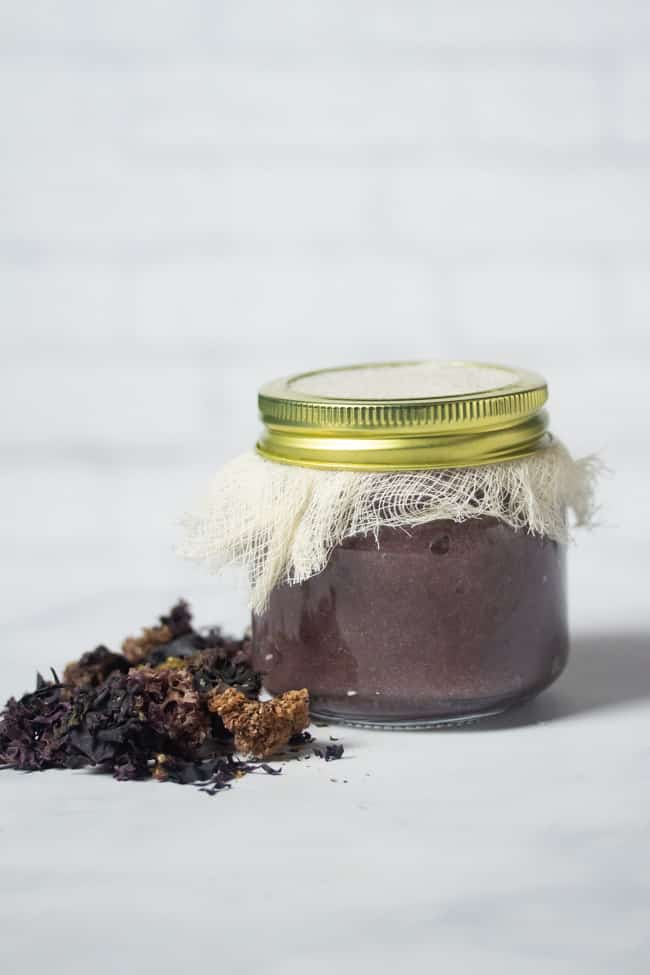 Take it as is
Add it to smoothies, homemade broths, homemade jams, and soups
Making a tea out of it
Adding it to homemade teas
Baking with it in vegan desserts and breads
Using it in homemade raw vegan desserts or homemade vegan cheeses
Applying it to your face and hair (I love deep conditioning with Irish Moss makes my hair nice and thick!)
Back to Table of Contents
Recipes that Uses Irish Moss Gel
Note any recipe that uses a different species of Sea Moss Gel, you can substitute with Irish Moss Gel.
Additional Sea Moss Information
WANT MORE? Subscribe to my NEWSLETTER and follow along on Pinterest, Facebook, and Tik Tok for the latest updates.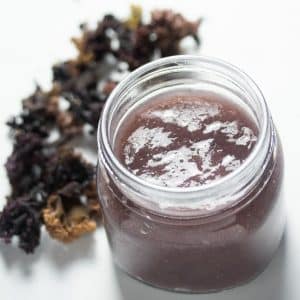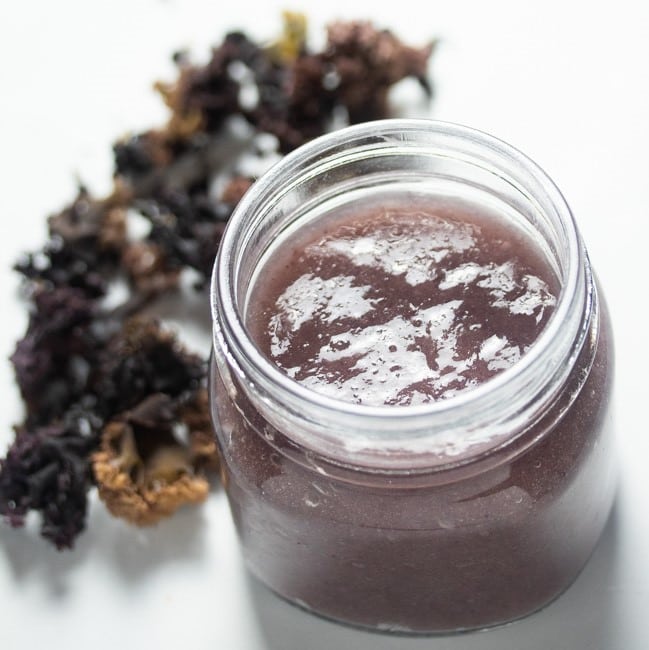 Irish Moss Gel Recipe
Irish Moss Gel is made with the powerhouse Chondrus Crispus! It's a potent seaweed great for boosting your immune system!
Print
Pin
Rate
Servings:
32
servings (approximately)
Ingredients
½

cup

dried Chondrus Crispus, packed

packed

spring or filtered water

you will need a least a 1 gallon give or take, for cleaning, soaking, and blending

4-5

key limes, sliced and unpeeled

(opt)
Instructions
Cleaning Your Irish Moss
In a large glass bowl add enough room temperature spring water at least ⅔ full. Measure out ½ cup dried Chondrus Crispus and add it to a bowl of water.

It will start to hydrate and expand. For 15 minutes, THOROUGHLY clean your moss. Scrap off any dirt, crustaceans, hidden shells, and rocks. Go through each leaf THOROUGHLY and do this. I can't stress this enough.

Once you thoroughly clean each strand, dump out the dirty water leaving the hydrated sea moss in the bowl.

Next we are going to clean it a second time. Fill your bowl of hydrated sea moss with more room temperature clean water and clean thoroughly again for additional 10 minutes. Again going through each leaf making sure each strain is cleaned from hidden shells, rocks, and bugs. Again, once you are done, dump out the dirty water leaving the hydrate sea moss in the bowl.

Do this cleaning process 1 to 2 more times for an additional 5 to 10 minutes each until you notice the water is no longer dark and dirty looking. This is the most tedious part of preparing this type of moss but it is important to clean it very well.

Drain the water after your last cleaning leaving the hydrated Chondrus Cripsus in your bowl ready for soaking.
Soaking Your Irish Moss
Fill your bowl of clean Irish Moss with more fresh room temperature water fully covering it. Squeeze the juice from the slice limes and then drop them into the bowl of sea moss. Let it soak for 1 to 2 hours. (I personally only soak it for 1 hour.)

I would not soak it for longer than 2 hours. The purpose of soaking is to calm down the smell a little which is why I recommend adding limes. The moss is already hydrated from cleaning so soaking it for long periods of time isn't necessary.
Making Your Irish Moss Gel
Once moss is finished soaking, drain water from the bowl and remove the limes. Add the soaked, clean moss to your high speed blender. You can squeeze some lime juice in there if you want for a better taste and discard the limes.

Measure 1 ¼ cup of water and add it to a pot over high heat. Bring water to a boil and turn off heat. Allow water to cool for 5 minutes.

Add hot water to your blender with your sea moss, and blend for 1-2 minutes until completely smooth.

Pour it into a glass jar and place a sprout lid or cheesecloth over your jar and store it in the refrigerator for 3 - 4 weeks until it becomes more into a solid gel. You can also pour your gel into silicone ice cubes and freeze it into 2-3 months.
Notes
WATER: The amount of water used will depend on how thick you want your gel to be. I use a 1 to 1 ratio of hydrated Irish Moss to Water. (½ cup dried Chondrus Crispus expands to about 1 ¼ cup hydrated moss). This gets me a relatively solid gel. If you want it to be very solid, use less water. If you want it more liquidity, use more water
HOT WATER: You can blend it with plain room temperature water if you desire; however I found that it breaks down easier into a gel when blended with hot water.
COOKING YOUR MOSS: Some heat their moss in a pot with water just before it boils and turn it off, allowing them to soak in hot water and then blend it. This creates more of a dark brown gel versus a purple colored one. This is not MY preferred method but if you prepare it that way (or you buy pre made gels that are prepared that way), that is totally fine.
Nutrition
Nutrition Facts
Irish Moss Gel Recipe
Amount Per Serving
Calories 3
Calories from Fat 9
% Daily Value*
Fat 1g2%
Sodium 1mg0%
Potassium 9mg0%
Carbohydrates 1g0%
Protein 1g2%
Vitamin A 6IU0%
Vitamin C 2mg2%
Calcium 4mg0%
Iron 1mg6%
* Percent Daily Values are based on a 2000 calorie diet.
DID YOU MAKE THIS RECIPE?
Be sure to PIN IT on Pinterest, leave a comment below, rate it, and mention @_VeganWithCurves using #veganwithcurves hashtag on Instagram so I can see it!
Medical Disclaimer: The following article is for educational purposes only and is not intended to prescribe or treat any type of medical condition or disease. It is not intended for people with eating disorders, pregnant women, women who are nursing, infants, or children. Please consult a qualified healthcare professional for personalized medical advice.
As an Amazon Associate, I earn from qualifying purchases. Please read my full Affiliate Disclaimer.
© Gina Marie Hoskins. Vegan With Curves. All Rights Reserved. Unless noted otherwise, all images, recipes, & content are copyright protected and registered with the U.S. Copyright Office. My images and written content are NOT to be used without prior permission. Read full Copyright Disclosure.
© Gina Marie Hoskins. Vegan With Curves. All Rights Reserved. Unless noted otherwise, all images, recipes, & content are copyright protected and registered with the U.S. Copyright Office. My images and written content are NOT to be used without prior permission. Read full Copyright Disclosure.