This post may contain affiliate links. Please read my disclosure policy.
Sea moss gel is a seaweed packed with essential minerals. It's simple to make and easy to add to your vegan meals!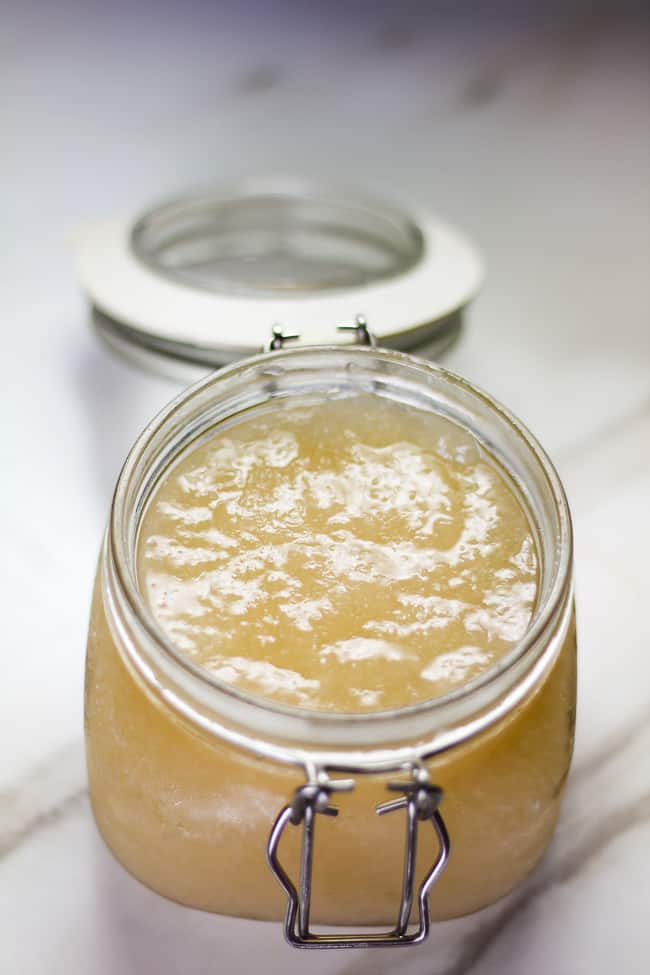 If you travel among the "Sebian Alkaline" Vegan circles, you probably have heard of Sea Moss before.
If not, this will be a great introduction to learning about this amazing seaweed and how to turn it into a gel for everyday use in your recipes!
What Is Sea Moss?
Sea Moss has a deceiving name. It's really a red seaweed (some say it's a red algae), not a moss. (Read The Difference Between Moss and Algae for more explanation). Sea Moss is currently trending from when I wrote this article 2 years ago however it's not new.
As mentioned above, if you been studying under Dr. Sebi, chances are you heard of this seaweed before. It has also been used for years in Jamaica and Ireland.
There are many varieties of sea moss however most can be broken down into two basic categories: Chondrus Crispus species and Genus Gracilaria.
In this guide, we will focus on how to make the Genus Gracilaria variety since it is the most popular and more widely available.
Chondrus Crispus vs Genus Gracilaria
Chondrus Crispus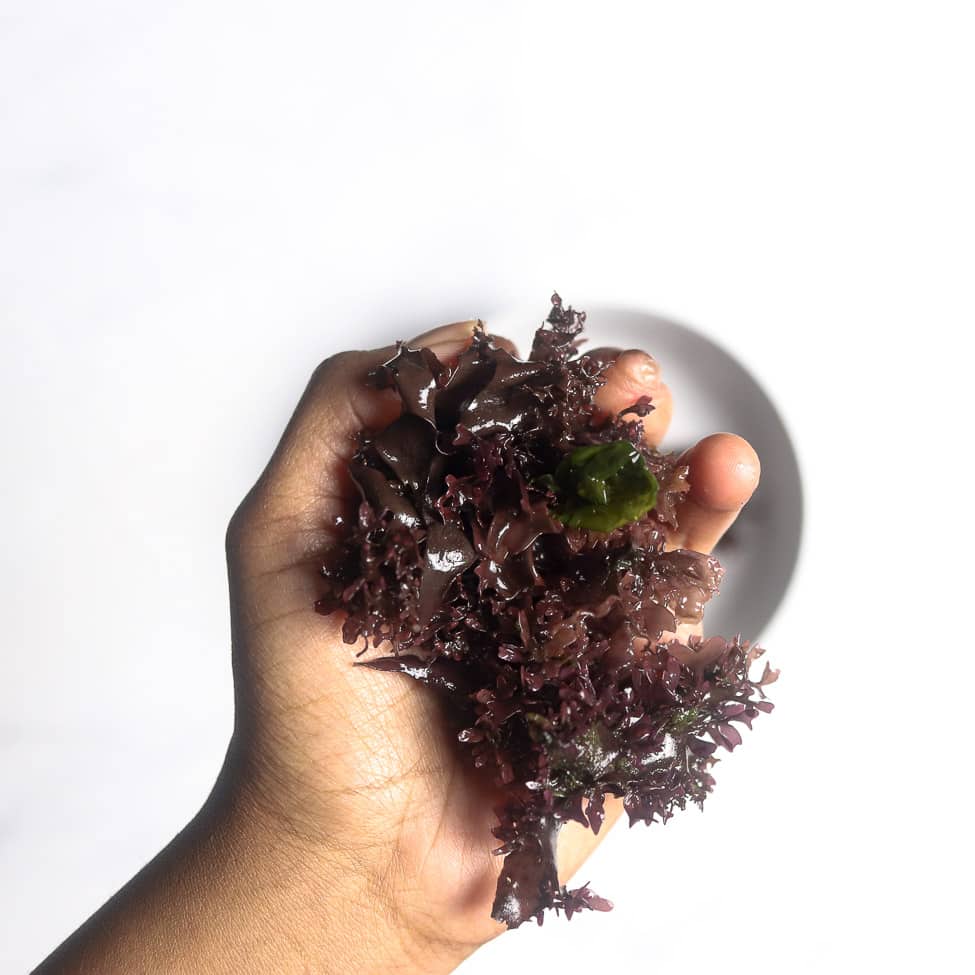 The ONE and ONLY Irish Sea Moss. Mistakenly people call the Genus Gracilia variety (which we will talk about below more) Chondrus Crispus or Irish Moss, but that is not accurate. This variety of what I'm holding in my hand (hydrated Irish Moss) is what Dr. Sebi was referring too. (He said "Chondrus Crispus" but was holding up Genus Gracilaria in one of his speeches. This is where the confusion comes from.)
Commonly grows

in cold water climates. It typically grows off the shores of Great Britain, Maine, Iceland, and Ireland (hence the name Irish Sea Moss or Irish Moss).
Typically a dark purple color but can vary in colors of dark yellow, red, or green. (As you can see some green spots in the picture of sea moss I'm holding above) They look like "leaves" in a sense, very flat fan-like wide shape tops. (It kind of reminds me of how dulse seaweed looks).
It's higher in nutrients. It has a strong fishy smell and produces a darker gel. It is said to be slightly (just a slight edge) superior to the Genus Gracilaria variety.
It can be more expensive and very difficult to source. It took me a while to find this kind as it's only harvested around the Summertime. Some people will have extra on hand before harvest for sale.
Genus Gracilaria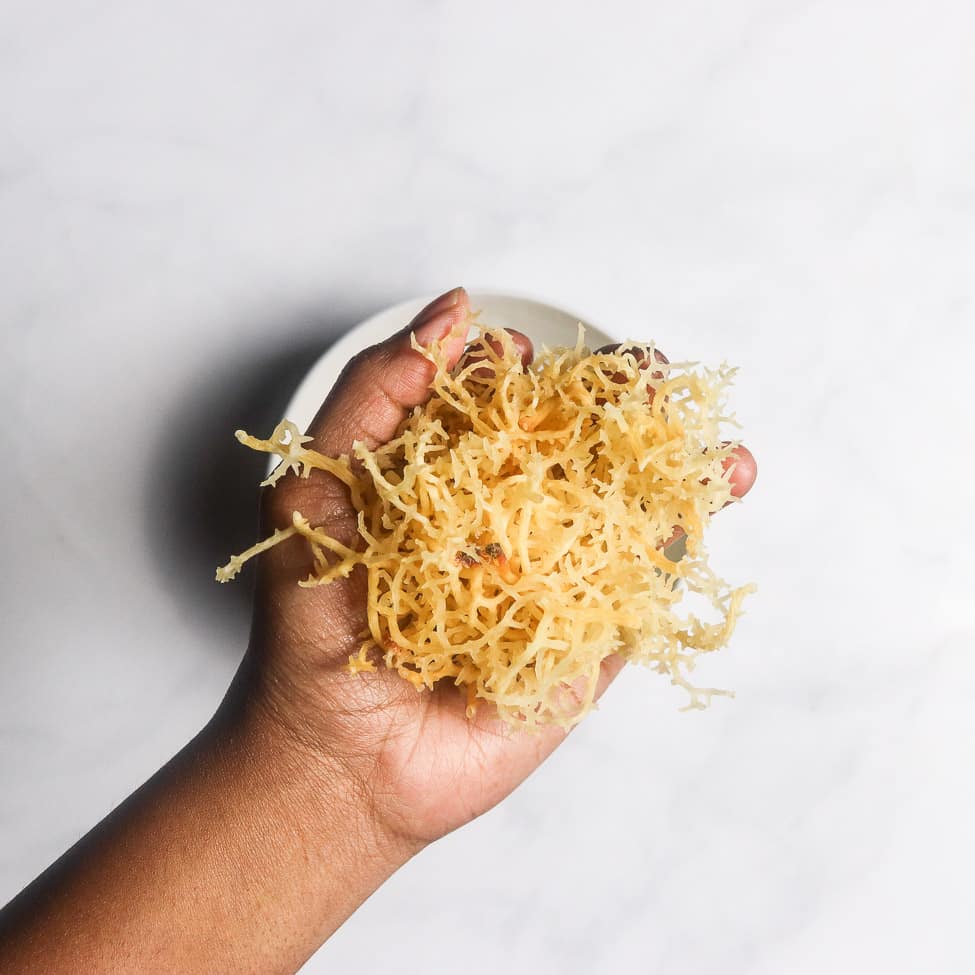 This what's known as "Jamaican Sea Moss." People innocently mistake this for Chondrus Crispus aka Irish Moss (mainly due to a speech Dr. Sebi gave holding up a strain of Genus Gracilara he said the name Chondrus) but as shown above, Chondrus Crispus has a totally different structure.
Commonly grown in warm water climates.

So this variety typically comes from places like South America, the Caribbean (St. Lucia and Jamaica), and Africa.

Typically a Golden Color.

Normally this sea moss is typically golden (due to being naturally dried in the sun) but can also vary in color like purple (known as purple sea moss) The structure of this sea moss has a thin "rubbery" fingered string like tops

like the hydrated Genus Gracileria I'm holding in my hand via the picture above.
It's still very high in minerals and nutrients. Tho Irish Moss (Chondrus Crispus) is said to be higher in nutrients, Genus Gracilaria is virtually neck and neck with Irish Moss. This sea moss has a fresh seawater smell (not as fishy) and produces a lighter gel.
Typically less expensive and easier to find. You will see more videos of companies and people selling and using this variety of sea moss because it's easier to source since (from my current knowledge) it's not limited to just one season.
Natural Source of Carrageenan
Carrageenan makes up approximately 55% of its volume in Sea moss. Therefore it's a natural source of carrageenan and that is what helps it "gel".
You might freak out upon reading "carrageenan" as it has been linked to being "bad" for human consumption causing intestinal inflammation in some people. But there is a difference between a carrageenan extract and how it occurs naturally in whole seaweed.
As you know, any isolated compound extracted from its whole food will be devoid of nutrients and the same goes for carrageenan that has been extracted from red seaweeds.
Sea moss is perfectly healthy and safe to consume as it's not just an isolated form of carrageenan, but instead a whole food.
Sea Moss Nutritional Benefits
Some vitamins and trace minerals found in sea moss include:
Calcium

Magnesium

Sulfur

Iron

Selenium

Folate

Potassium
Some other benefits include:
It can act as an expectorant,

meaning it can help with expelling excess mucus from your lungs.

Great for skin.

It helps the body to create collagen

(especially when taken with natural herbal vitamin C),

which is what your body is designed to do. No need to steal it from our animal friends.

Acts as a natural anti-inflammatory,

strengthen connective tissue and accelerates recovery from joint injuries.

Used for centuries to soothe the digestive tract

and relieve gastritis and ulcerative conditions.

Sea moss has a time-released

effect meaning it delivers nutrients over a longer period of time for a more sustained nutritional uptake.
It is often repeated that sea moss has "92 minerals out of the 102 minerals that the body needs." I won't regurgitate that exact information without more study, however, sea moss (like any seaweed) is a great addition to have in an overall healthy diet as it is nutrient-dense.
What Kind Should I Buy?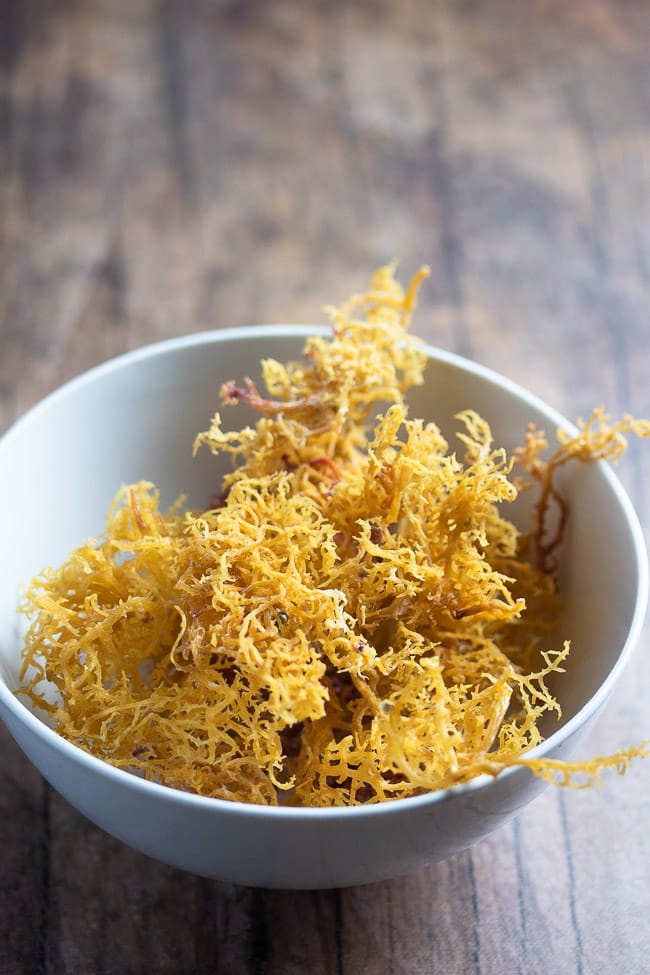 Both the Chondrus Crispus or Genus Gracilaria are fine to buy, but make sure it is wildcrafted sea moss or at the very least ocean-farmed sea moss. You can't really duplicate Chondrus Crispus (not to my current knowledge anyway). So my focus on this section is on the Genus Gracilaria species as it is often grown in pools vs being naturally harvested from the sea.
Note that there is a valid concern about the sustainability of wildcrafted sea moss on the environment as it becomes popular and commercialized. The concern is, are people are naturally harvesting it, or depleting the resource for profit? This is why I added an option of sustainable ocean-farmed sea moss which is different from pool grown moss. I'm not telling you to buy farmed sea moss. I'm simply giving options. Do your due diligence and make your own choice.
Unlike Pool Grown, wildcrafted sea moss (or sustainable ocean-farmed sea moss) is harvested in a very eco-friendly way meaning harvesters take only parts of the sea moss plant, so the plant can regrow as to sustained wildlife. (This could change if the demand increases and it becomes over-commercialized). It is how sea moss naturally grows devoid of any human intervention.
(Typically all wild produce is better than farm produce even "organic" produce but that is a topic for another day).
Avoid pool grown sea moss Irish Moss powder or flakes. Sea moss powdered flakes and power have been cooked dry in an oven and don't have the nutritional benefits like the fresh stuff. The ONLY exception to this is if you buy powders or flakes from a trusted source where you know the company dehydrated the powder vs cooking it to death.
With wildcrafted sea moss or sustainable ocean-farmed sea moss, you can tell the difference by the color and sometimes the thickness of the strains. It should be relatively thin without too much salt on it (the size of the strains will depend on the species). Natural moss is also typically richer in color and even varying in colors (a very golden yellow color like the picture above) than the pool grown ones.
List of Places to Buy From
Trusted places to purchase sea moss: (This list will constantly change as I test more companies and get more updates. I strive to bring you the most accurate information I possibly can. NONE OF THESE COMPANIES ARE SPONSORING THIS POST. I'm spending my own money purchasing from companies and constantly updating sources.)
Vital Vegan (wildcrafted Jamaican sea moss Genus Gracilaria species)
Akeem Pierre (wildcrafted St. Lucia sea moss Genus Gracilaria species)
Goddess Nectars (Darryl Ruffin trusted friend sales 16- 84-ounce jars of sea moss gel and other sea moss products; the wildcrafted Genus Gracilaria variety. He also sales whole Genus Gracilara species)

Atlantic Holdfast Seaweed Company

(they have the Chondrus Crispus variety available in the Summertime)
(Be sure to research these sources on your own. I do my best to give you the most accurate information I'm aware of at the time and constantly update this article with the latest information. The Sea Moss industry has EXPLODED since this article was originally written in 2018 and everyone is claiming to have the "REAL DEAL." Do your own due diligence. As I find more sources and test out different companies I will continue to update the list)
How to Make Sea Moss Gel (Blender Method)
*Please read detailed and printable recipe card below for full ingredients and instructions.
Prepping your seaweed
Remove your sea moss from the package. (It will have a slight smell. That's a good thing!). Thoroughly rinse your seaweed with filtered or spring water. (Do not use tap water. I have a filtered system installed in my home which is why you see me rinsing it in the sink) (Photos 1 & 2)

Grab a bowl and fill it with water. Place your sea moss in and soak for 4 to 8 hours.

(Photos 3 & 4)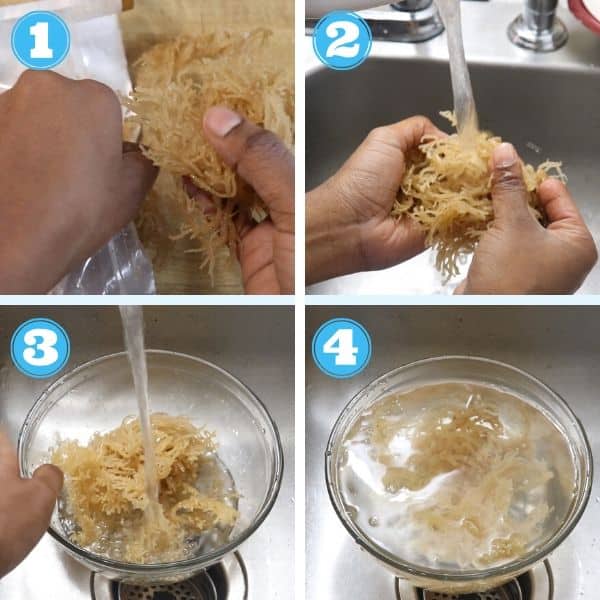 Making your sea moss gel
After soaking, drain water from the bowl. You will notice it has lost some color (almost translucent) and has expanded 2x its original size.

(Photos 1 & 2)

Add your sea moss and fresh spring or filtered water to a high-speed blender and blend for 1-2 minutes until completely smooth. Pour into a glass jar and place a lid on top. Store in the refrigerator until it solidifies.

(Photos 3 & 4)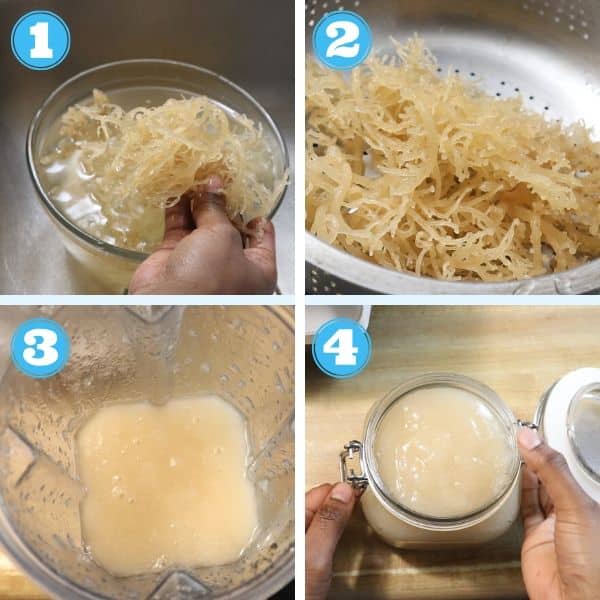 Sea Moss FAQ
I decided to add this section to the article as these are the most common questions I get.
I just bought some dried fresh sea moss. How do I store it and for how long does it keep?
Store your seaweed in a dark cool place (like your pantry). You DO NOT have to refrigerate or freeze your moss as it being dried makes it shelf-stable and long-lasting. It can last for 1-3 years depending on the quality.
How do I store my gel once it's already made?
You want to keep it in the refrigerator in a glass jar (not plastic) and either light seal it, use a sprouting lid, or cheese cloth. I personally have never used a sprouting lid or cheese cloth, but there are people who commonly do as to let their sea moss gel "breathe." It is said to sustain the life of your sea moss gel and make it last longer.
Can I freeze my gel?
Yes you can.
How long will my gel last in the refrigerator or freezer?
Typically I find my gel lasts up to 3 to 4 weeks in the fridge (sometimes a little longer depending on the type), and 3 to 6 months in the freezer.
How much should I take a day?
There are no clear cut rules of how much you should take a day. In the words of Dr. Sebi "as much as you like" for it is food. I would highly suggest you start off with maybe 1 tablespoon a day and see how it makes you feel. No need to "overdose" on it or hoard sea moss as its very nutrient-dense so you don't need a lot to reap the benefits.
What does this gel taste like?
It has no taste on it's own which is why it's versatile to use in multiple recipes both sweet and savory. If you want it to have a taste, you would need to blend it with some type of natural juice or flavorings.
How to use your Sea Moss Gel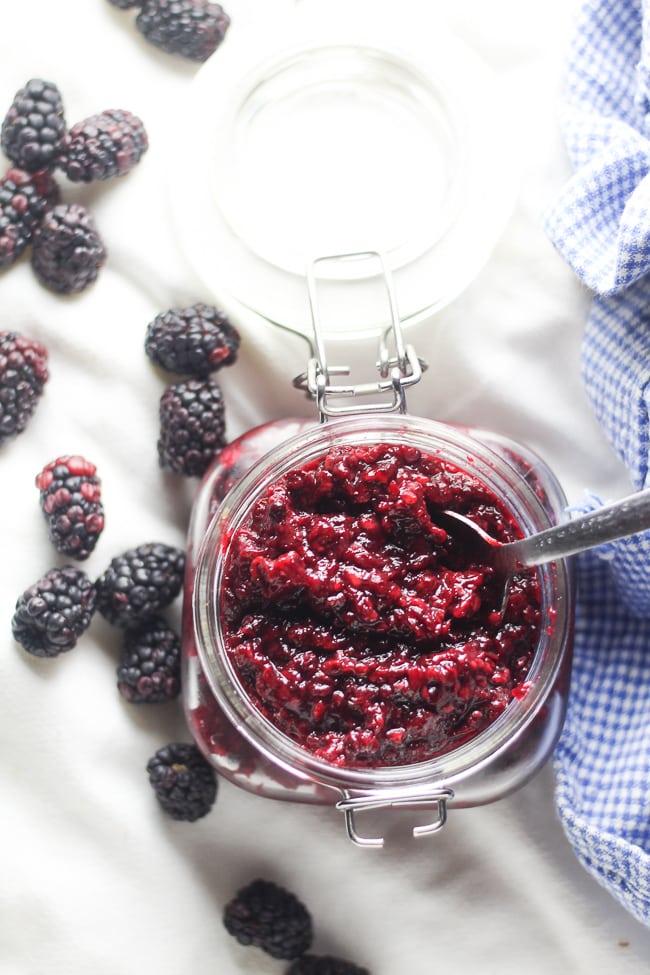 Raw vegan desserts

Homemade jams like my Alkaline Blackberry Jam Recipe

Soups and broth

Smoothies

Homemade puddings, sauces, and dressings

Teas

Homemade bread
As a hair mask or facial mask
Sea moss is such a great source of nutrients and so simple to make. It is a GREAT source to add to your curvy vegan diet!
Recipes that Uses Sea Moss Gel
Additional Sea Moss Information
WANT MORE? Subscribe to my newsletter and follow along on PINTEREST, FACEBOOK, and TWITTER for the latest updates!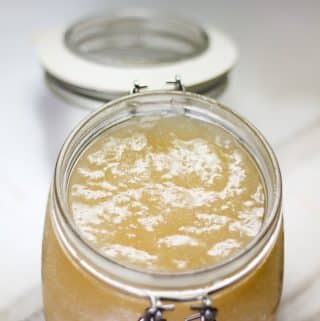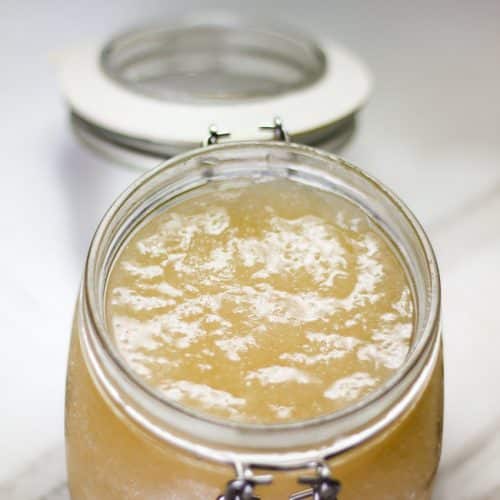 Sea Moss Gel Recipe
Sea moss gel is virtually tasteless so it is easy to add to different types of recipes. It's easy to make and beneficial to add to your daily diet.
Print
Pin
Rate
Ingredients
1

cup

dried whole sea moss

packed

1-2

cups

spring water
Instructions
Prepping Your Sea Moss
Remove your sea moss from the package. (It will have a slight smell. That's a good thing!).

Thoroughly rinse your seaweed with filtered or spring water. (Do not use tap water).

Grab a bowl and fill it with water. Place your sea moss in and soak in Spring or filtered water for 4 to 8 hours or overnight.
Making Your Sea Moss Gel
After soaking, drain water from the bowl. You will notice it has lost some color (almost translucent and has expanded 3x its original size.) That's normal.

Add your sea moss and fresh spring water to a high-speed blender and blend for 1-2 minutes until completely smooth.

Pour into a glass jar and place a lid on top. Store in the refrigerator until it solidifies into a gel.

Use in raw vegan desserts, homemade jams, vegan bread, smoothies, and soups.

Sea moss gel can last in the refrigerator for 3 - 4 weeks and in the freezer for 2- 3 months.
Notes
The amount of water use will depend on how thick you want your gel to be. I personally never measure anything. I just use enough water to get your blender going.
Sea moss gel can last in the refrigerator for 3 - 4 weeks and in the freezer for 2- 3 months. To freeze, put your moss in ice cube trays.
Raw sea moss (not the gel) can be stored in a dark cool place for up to 1 year (sometimes longer).
The method I use to make the gel is the blender method. Others boil it to make the gel. Either method works just fine.
Nutrition
Nutrition Facts
Sea Moss Gel Recipe
Amount Per Serving (2 tablespoons)
Calories 3
% Daily Value*
Sodium 5mg0%
Potassium 4mg0%
Carbohydrates 1g0%
Protein 1g2%
Vitamin A 8IU0%
Vitamin C 1mg1%
Calcium 5mg1%
Iron 1mg6%
* Percent Daily Values are based on a 2000 calorie diet.
DID YOU MAKE THIS RECIPE?
Be sure to PIN IT on Pinterest, leave a comment below, rate it, and mention @_VeganWithCurves using #veganwithcurves hashtag on Instagram so I can see it!
Update Notes: This post was originally published on July 17, 2018, but was updated with new photos, a FAQ section, and information on April 30, 2020.
Medical Disclaimer: The following article is for educational purposes only and is not intended to prescribe or treat any type of medical condition or disease. It is not intended for people with eating disorders, pregnant women, women who are nursing, infants, or children. Please consult a qualified healthcare professional for personalized medical advice.
© VEGAN WITH CURVES. UNLESS NOTED OTHERWISE, ALL IMAGES, RECIPES, & CONTENT ARE COPYRIGHT PROTECTED AND REGISTERED WITH THE U.S. COPYRIGHT OFFICE. MY IMAGES AND WRITTEN CONTENT ARE NOT TO BE USED FOR ANY PURPOSE WITHOUT PRIOR PERMISSION. WHEN SHARING A RECIPE LINK BACK HERE TO THE ORIGINAL RECIPE. WHEN SHARING CONTENT FROM AN ARTICLE LINK BACK HERE TO THE ORIGINAL BLOG POST. READ FULL COPYRIGHT DISCLOSURE.