This post may contain affiliate links. Please read my disclosure policy.
Get all the benefits of bone broth without animal bones! This Easy Vegan Bone Broth contains sea moss gel for collagen and is great to use in soup recipes!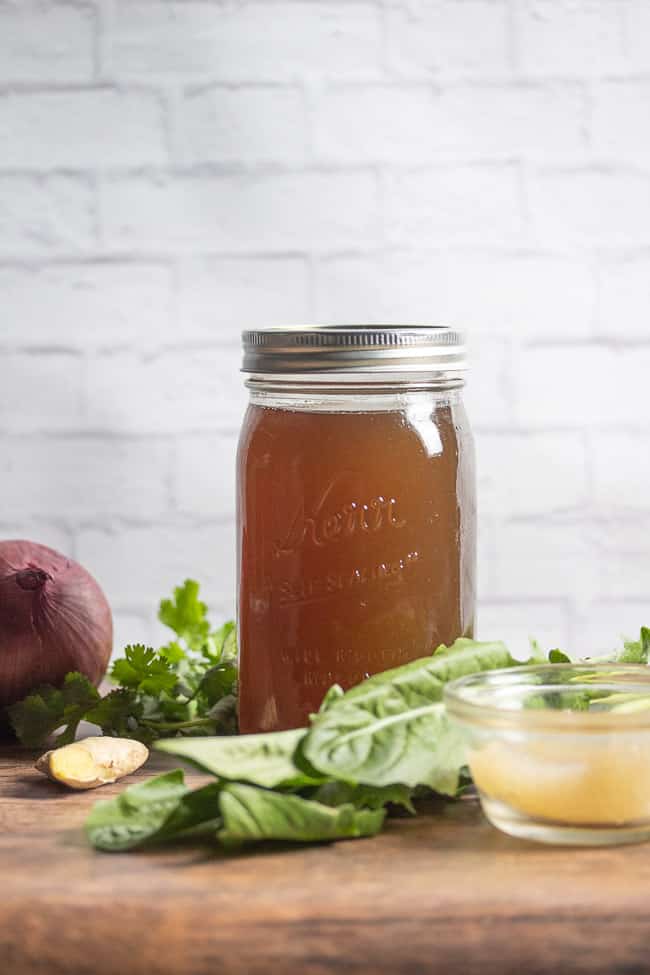 Is there a vegan version of bone broth?
Not a version but a BETTER alternative! It is believed to help build collagen in the body by consuming animal by-products. (The bones of animals).
Does eating fat give you fat? If I ate hair would that make my hair grow longer? Eating collagen from animal bones doesn't automatically give you collagen. It's the nutrition in the broth, the minerals (which come from plants) is what helps your body produce collagen.
How do vegans get collagen?
But like I stated earlier, your body produces it's own collagen when it is fed the proper nutrition. So it's not that sea moss gives you anything per se, it helps your body do what it is supposed to do because it's high in minerals.
So how do vegans get their collagen? By consuming a mineral plant-based rich diet, which is what this better than bone broth recipe contains! Also note, sea moss has been used for years for digestive issues, which boosts this vegan bone broth gut-healing properties.
To gain a more in-depth understanding of this seaweed, read my Different Types of Sea Moss article.
How to Make Vegan Bone Broth?
*Please read detailed and printable recipe card below for full ingredients and instructions.
Add all your ingredients to your slow cooker and cook on low for 8 hours. (Photos 1 & 2)
Once done, drain your broth through a strainer and store in a clean mason jar. (Photos 3 & 4)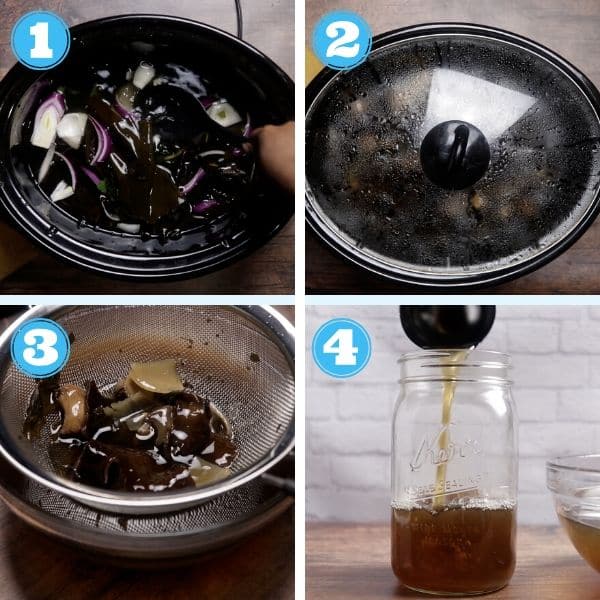 Substitution, Cook, & Storage Tips
Any recommended vegetables will work for this broth. That is the great thing about broths is that it is versatile! If you don't follow a strict Dr. Sebi diet, celery tastes great in vegetable broths and has a lot of benefits!
The sea moss gel is what helps gives this broth its collagen benefits. If you currently don't have sea moss gel feel free to omit it. This recipe here (not Dr. Sebi Recommended) is an excellent alternative. Or you can visit Sea Moss Gel Recipe to learn how to make your own!
The broth will last up to 5-7 days in the refrigerator and can be frozen for up to 3 months
How Does This Recipe Help With Vegan Weight Gain?
Being that this is a broth it's not meant for weight gain or weight loss, use it in some curvy vegan soups like this Coconut Lentil Curry recipe!
How Does This Recipe Help With Vegan Weight Loss?
You can make this recipe apart of your vegan weight loss plan by:
Lower the sodium content by not adding salt and not using additional seaweed. Otherwise, this is just broth and doesn't cause weight gain in itself.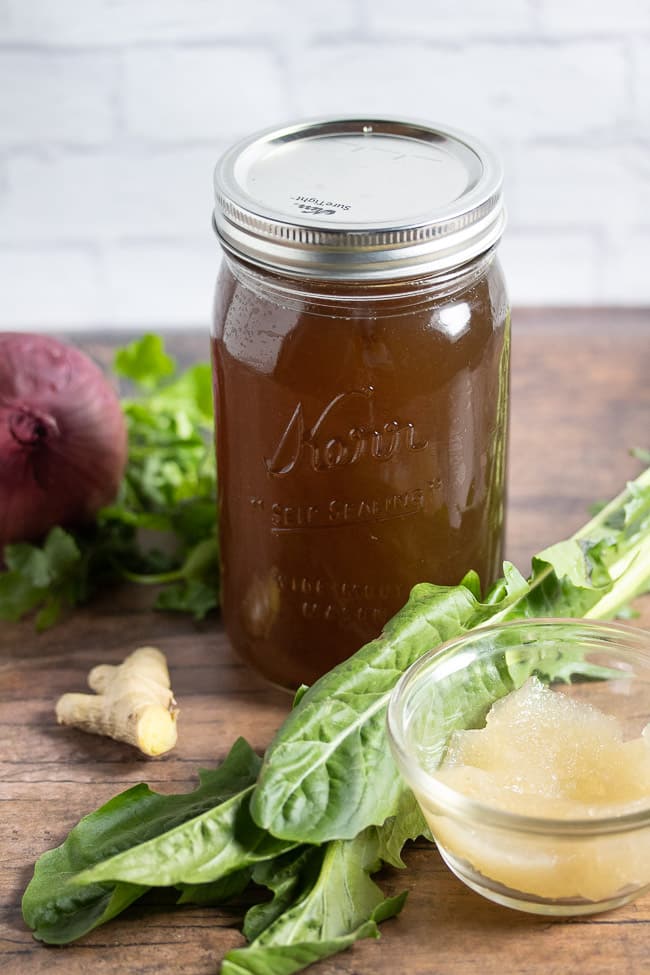 More "Alkaline Vegan" Recipes You'll Love
Other Slow Cooker Recipes
Additional Sea Moss Information
WANT MORE? Subscribe to my NEWSLETTER and follow along on PINTEREST, FACEBOOK, and TWITTER for the latest updates!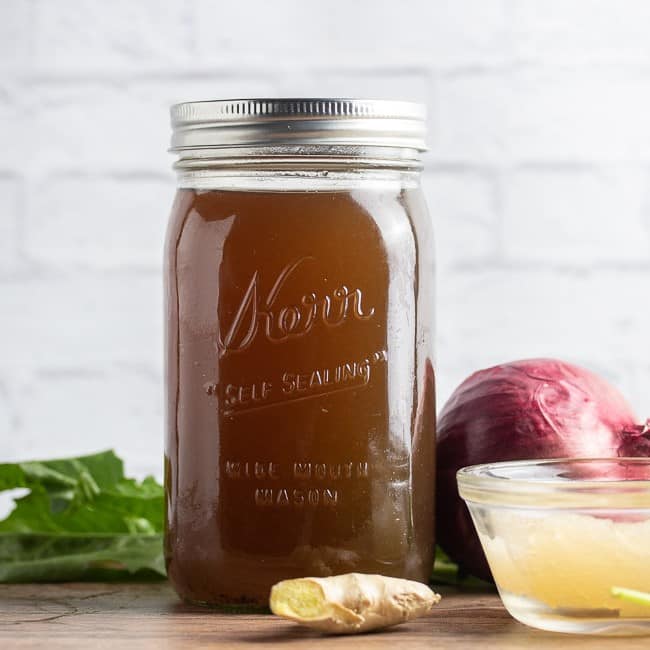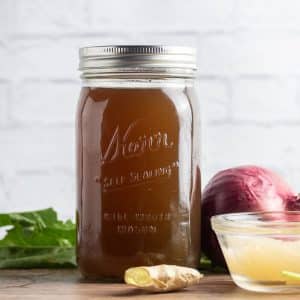 Slow Cooker Vegan Bone Broth
Get all the benefits of bone broth without animal bones! This Easy Vegan Bone Broth contains sea moss gel for collagen and is great to use in soup recipes!
Print
Pin
Rate
Ingredients
1

cup

danelion greens

note 1

2

cups

dried mushrooms (I used wood ear)

note 1

thumb size piece of ginger

note 1

¼

cup

Sea Moss Gel

note 4

3

dry or fresh bay leaves

1

cup

dried kelp

note 1

handful of cilantro or culantro

note 2

1

tablespoons

sea salt (optional)

note 3

10

cups

spring water
Instructions
Add all your vegetables, Sea Moss Gel, and sea salt to your slow cooker (be sure to rinse your danelion greens, ginger, and fresh bay leaves). Cover with spring water and and cook low for 8 hours. (You can even cook for up to 24 hours!)

Once done cooking, place a strainer over a large glass bowl and pour broth into the bowl through the strainer.

Store your homemade vegan broth in clean mason glass jars and store in the refriderator for 5 to 7 days. It can be frozen in ice cube strays for up to 3 months.

You can drink this vegan bone broth as is (½ cup a day) or add it to homemade soups, quinoa, or whatever recipe calls for broth! Because this gel has sea moss, as it cools it will become thick (that's where the collagen properties come into play!) But don't worry it won't gel up!
Notes
VEGETABLES: The vegetables used in this recipe are optional and not meant to be exact. That is the thing with homemade broths! You can use whatever vegetables you have on hand. I typically just keep a bag of frozen vegetable and use it to make vegetable broth
CILANTRO: When I originally recorded this recipe, cilantro was on the current Dr. Sebi list. I recently found out that it's "culantro" that Dr. Sebi recommends instead of cilantro. If you follow a strict Dr. Sebi diet, simply use culantro or omit that ingredient altogether. 
SEA SALT: The sea salt is optional but it does add extra flavor. Sometimes I do leave it out as I add my own seasoning to individual recipes. Plus this recipe has kelp which is naturally high in sodium. 
SEA MOSS GEL: Visit Sea Moss Gel Recipe to learn how to make it. 
HIGH SODIUM: Note that the high sodium content in this recipe is due to the sea vegetable kelp. It's a whole food source high in iodine and is not the same as table salt or even sea salt. If this bothers you, or you have a serious thyroid issue (or even allergic to any type of sea food in general), simply leave it out. 
Nutrition
Nutrition Facts
Slow Cooker Vegan Bone Broth
Amount Per Serving (1 cup)
Calories 32
Calories from Fat 9
% Daily Value*
Fat 1g2%
Sodium 1093mg48%
Potassium 180mg5%
Carbohydrates 8g3%
Protein 1g2%
Vitamin A 931IU19%
Vitamin C 4mg5%
Calcium 49mg5%
Iron 1mg6%
* Percent Daily Values are based on a 2000 calorie diet.
DID YOU MAKE THIS RECIPE?
Be sure to PIN IT on Pinterest, leave a comment below, rate it, and mention @_VeganWithCurves using #veganwithcurves hashtag on Instagram so I can see it!
---
As an Amazon Associate, I earn from qualifying purchases. Please read my full Affiliate Disclaimer.
© Gina Marie Hoskins. Vegan With Curves. All Rights Reserved. Unless noted otherwise, all images, recipes, & content are copyright protected and registered with the U.S. Copyright Office. My images and written content are NOT to be used without prior permission. Read full Copyright Disclosure.