This post may contain affiliate links. Please read my disclosure policy.
This creamy kamut "alkaline" pasta is super comforting and filling! It's the perfect meal to eat if you're looking to gain healthy weight as an "alkaline" vegan!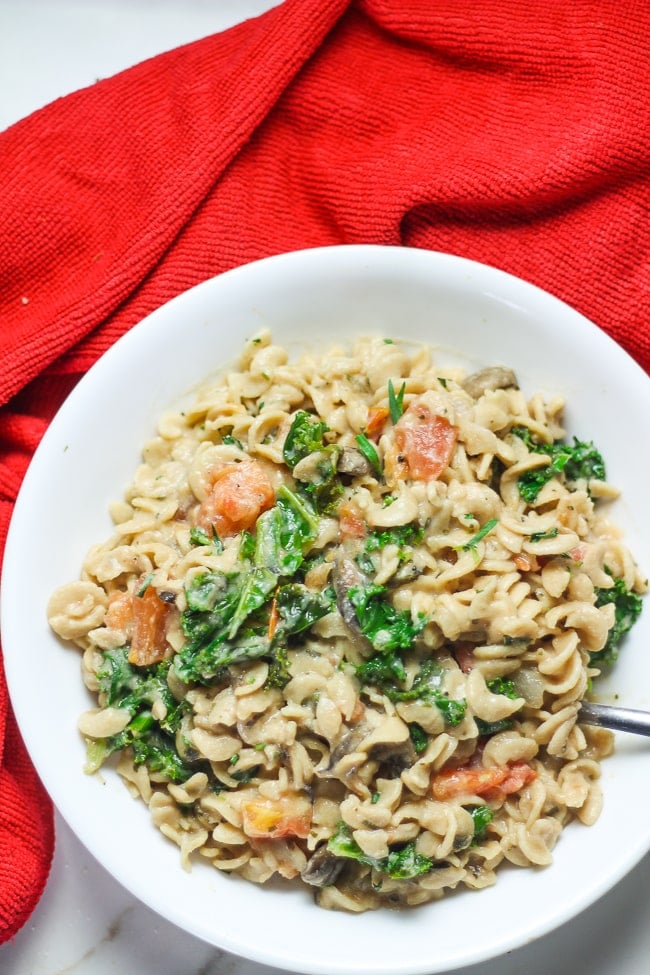 What is Kamut Pasta?
Kamut is the trademarked name for Khorasan wheat (Pharaoh grain), a modern descendant of an ancient grain originally discovered in Kemet (aka ancient Egypt).
Kamut pasta is made from this type of grain and it's very a very popular ingredient to eat in the Dr. Sebi Communtiy. To learn more about this grain, refer to the Kamut Khorasan official website Kamut Khorasan Nutrition.
Is Kamut Pasta Healthier?
Yes it is!
Kamut pasta is 30% higher in protein than modern wheat and has more fatty acids. It is also easier to digest.
This pasta is NOT gluten-free BUT it is said to be a different type of gluten that digests better if you have a slight sensitivity to gluten. It's still NOT suitable for those who have Celiac Disease.
Other benefits include:
Higher nutrients. It's high in minerals like thiamin, iron, zinc, and selenium.
It tastes great! It has a rich butter flavor and has the perfect "al dente" texture.
Can I Meal Prep this Recipe?
Yes you can!
This recipe is 5 servings (approximately 1.5 cups per serving). However, you do not have to measure it exactly.
I simply divide this recipe into 5 even portions in my FAVORITE glass meal prep containers and have dinner prepped for the entire week!
How to Serve Kamut Pasta?
I like eating this pasta in the following ways:
How to Make "Alkaline" Pasta?
*Please read detailed and printable recipe card below for full ingredients and instructions.
Cook Pasta and Make Sauce
Cook your pasta until al dente and drain. Then season your pasta and set aside. (Photo 1 & 2)
Begin to saute your onions and mushrooms. Add chickpea flour, water, coconut milk, and seasonings and simmer on low until your sauce slightly thickens. (Photo 3 & 4)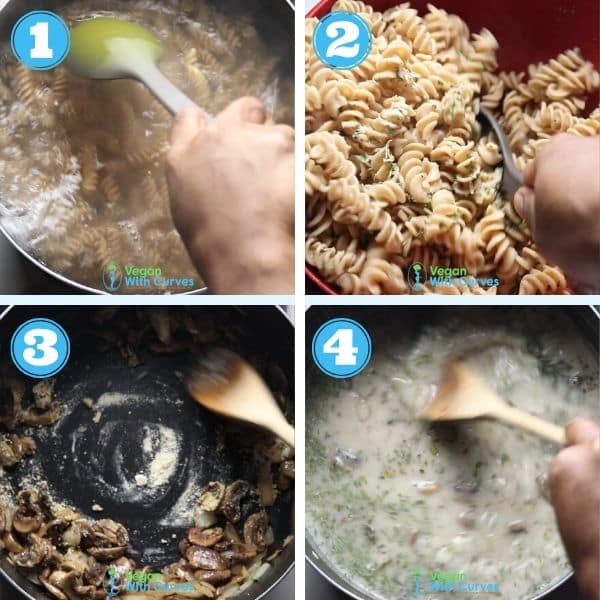 Toss Pasta and Creamy Sauce
Add your pasta to your sauce along with your tomatoes and kale. (Photo 1 & 2)
Stir until kale has wilted down. The sauce will continue to get thick and creamy due to the starch in the pasta. Remove from heat and serve. (Photo 3 & 4)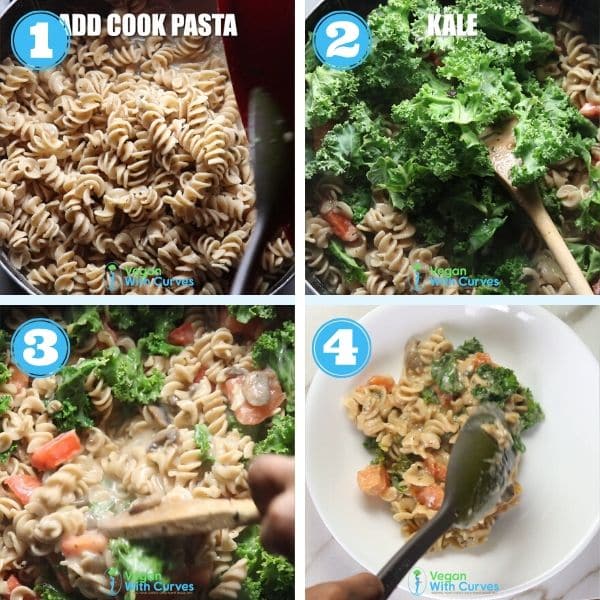 Substitution, Cook, and Storage Tips
Light Canned Unsweetened Coconut Milk gives this dish a rich and thickness. But if you like you can substitute with other plant-based milk of choice like my sea moss milk.
I used canned coconut milk because it is made for cooking. I am aware Dr. Sebi does not recommend canned products. If you follow that philosophy strictly, you can use the light coconut milk that comes in a box, or make your own coconut milk that is unpasteurized.
If you are not on a Dr. Sebi diet

, you can use regular white, whole-wheat pasta, or even gluten-free pasta.

This recipe will keep fresh for 3-4 days in the refrigerator in Glass Containers. It is NOT freezer friendly. DO NOT store at room temperature.
How Does this Recipe Help with Vegan Weight Gain?
Eating Dr. Sebi diet is restrictive and with restrictive diets, it can be hard to maintain or build the curves (muscle) you desire. However this recipe is both high calorie and high protein perfect for your weight gain goals.
This recipe has 439 calories and 20 grams per serving. It is a regular staple dish of mine even though I DO NOT eat a full Dr. Sebi Diet.
I even featured this recipe in one of my "What I Eat in a Day for Vegan Weight Gain" videos.
Be sure to read our vegan weight gain guide for more information on how to gain healthy weight and curves on a vegan diet!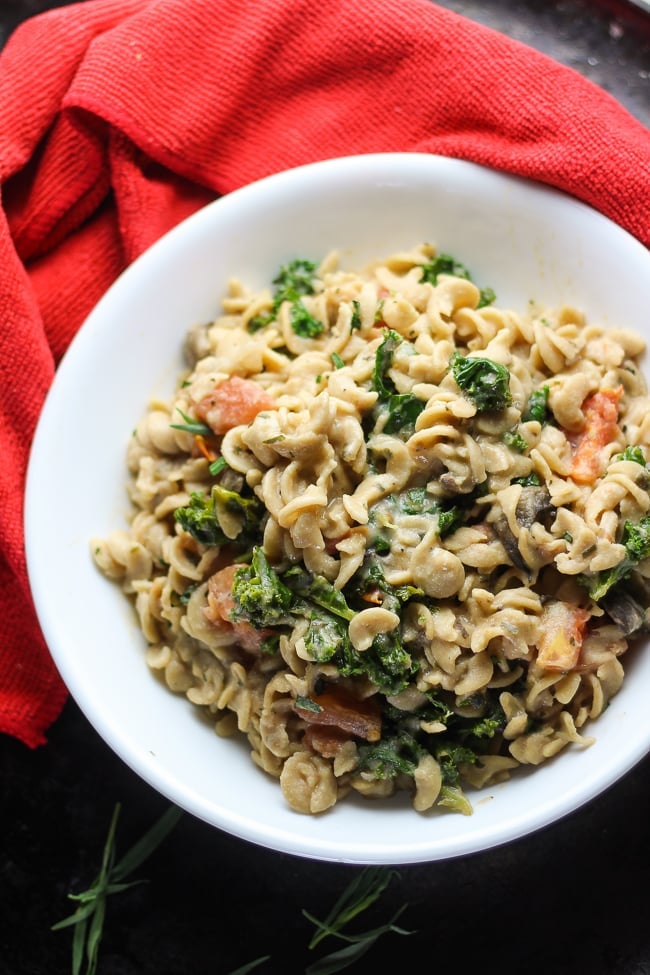 Other "Alkaline" Dr. Sebi Recipes You'll Love
see more alkaline vegan recipes →
WANT MORE? Subscribe to my NEWSLETTER and follow along on Pinterest, Facebook, and Tik Tok for the latest updates.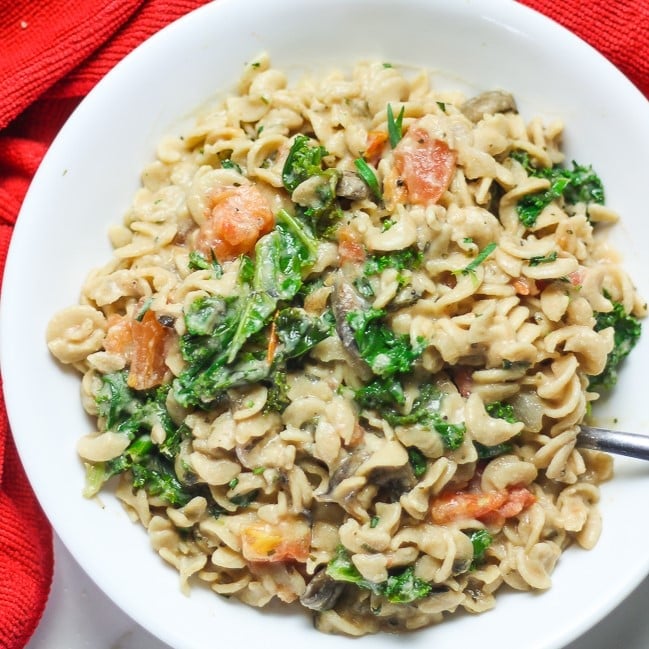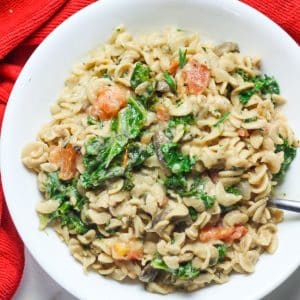 Creamy Kamut "Alkaline" Pasta
This creamy kamut "alkaline" pasta is a super comforting Dr. Sebi recommended meal. Made with kamut spirals, coconut milk, recommended seasonings, kale, and plum tomatoes.
Print
Pin
Rate
Ingredients
Pasta
6-8

cups

spring water (to boil your pasta)

note 1

12

ounce

box Kamut Spirals

note 2

1

teaspoon

grapeseed oil

note 8

1

tablespoon

dried tarragon

note 8

1

teaspoon

sea salt

note 8

1

teaspoon

onion powder

note 8
Creamy Sauce
2

teaspoon

grapeseed oil

note 3

½

medium

onion, chopped

16

ounce

sliced baby bella mushrooms

note 9

¼

teaspoon

sea salt + plus ½ teaspoon additional

¼

teaspoon

black pepper plus ½ teaspoon additional

¼

cup

chickpea flour

note 4

2

cups

spring water

note 1

15

ounce

light canned unsweetened coconut milk

note 5

1

tablespoon

dried tarragon

1

teaspoon

dried oregano

1

teaspoon

dried basil

2

teaspoon

onion powder

2-3

plum (roma) tomatoes, chopped

note 6

2

cups

packed fresh kale

note 7
Equipment
Instructions
Pasta
Grab a large pot and bring water to a boil. Add a pinch of salt to flavor the water.

Once water is boiling add Kamut Pasta. Cook until pasta is al dente' for 8 to 10 minutes. Once pasta is done boiling, drain and add to a bowl. (Keep the pot out as you will need it to make your sauce.)

OPTIONAL: Here we are going to season the pasta individually while still warm. You can skip this step if you like. I always seasoned my pasta individually before adding any sauce to maximize flavor. To your warm pasta add grapeseed oil, dried tarragon, sea salt, and onion powder.

Mix together coating your pasta with the seasonings evenly. Taste one pasta shell making sure you can taste the seasonings on it. Set aside to begin making your creamy sauce.
Creamy Sauce
Add 1 tablespoon grapeseed oil to the same big pot used to boil your pasta. Place over medium-high heat allowing the oil to heat up for 1 minute. To the hot oil add in chopped onions and sliced mushrooms. Cook, stirring occasionally until vegetables soften for about 3 to 5 minutes.

Add ¼ teaspoon of salt and ¼ teaspoon of pepper to your veggies to season and stir. Then pour in additional 1 tablespoon of grapeseed oil and chickpea flour. Stir consistently mixing your flour with the oil and vegetables for no more than 1 minute. There should be no DRY FLOUR spots. This will help thicken your sauce.

Next, pour in your spring water, can coconut milk, dried tarragon, dried oregano, dried basil, onion powder, ½ teaspoon of sea salt, and ½ teaspoon of black pepper. Stir to combine and allow to simmer uncovered on low heat for about 20 minutes until the sauce starts to slightly thicken.

After about 20 minutes, add in your cooked pasta, tomatoes and kale. Stir until kale is cooked down for about 3 to 5 minutes and then remove from heat. Don't worry if your creamy sauce is slightly liquidity and not as creamy by the time you add your pasta. The starches in the pasta will help thicken it up even more to get that creamy effect.
Notes
SCROLL UP TO THE BLOG POST TO SEE STEP BY STEP PHOTOS, STORAGE TIPS, MEAL PREP TIPS, AND MORE INFORMATION ABOUT THIS RECIPE!
WATER: If you are not on a Dr. Sebi diet use regular filtered water. To add more flavor to your dish use our vegan bone broth.
PASTA: If you are not on a Dr. Sebi diet, you can use regular white, whole-wheat pasta, or even gluten-free pasta. Penne pasta would work in this recipe. Other "alkaline" pasta varieties you can use are chickpea pasta or spelt pasta.
OIL: Use any oil or vegan butter you have on hand (that has a high smoke point) if you are not on a strict Dr. Sebi. diet. Or if you are oil free, you can sauté your vegetables in water or broth.
FLOUR: Use regular white flour or preferably whole wheat flour if you are not on a Dr. Sebi diet. "Sebians" can substitute with spelt flour. I DO NOT recommend any other flours besides the ones I just mentioned.
COCONUT MILK: When using coconut milk, ONLY use unsweetened light canned coconut milk you find in the Asian/Ethic cooking isle. (Read blog post above to see why I used canned product for this recipe). DO NOT use the coconut milk in you find in the refrigerated section of the store. That will be too sweet for this dish. You can substitute with other plant-based milks like my sea moss milk recipe.
TOMATOES: I wouldn't omit the tomatoes. They add color and acid to the dish needed to balance out all the flavors. If you are not a Sebian, used whatever tomatoes are available to you. If you just hate tomatoes, you might have to add a little lime or lemon juice the dish. Test and adjust to your liking.
KALE: I've made this recipe with swiss chard and spinach (not Dr. Sebi recommended) and it was delicious! If you are a strict Sebian, you can use turnip greens or dandelion greens. Those greens are VERY BITTER so I'm not sure how they will taste in this recipe.
OPTIONAL STEP: Seasoning the pasta individually is totally optional. If you skip this step you will not need the additional measurements of seasonings listed in the ingredient list under "Pasta" outside of the water for boiling and the pasta itself.
ADDITIONS & OTHER SUBSITITONS: Add chickpeas or white beans (not Sebi recommended) to this dish to make it more hearty and give you a protein boost! Any type of mushrooms can be used or even a mixture of different types of mushrooms. Nutritional yeast or you favorite vegan cheese (not Sebi recommended) would be WONDERFUL in this!
Nutrition
Nutrition Facts
Creamy Kamut "Alkaline" Pasta
Amount Per Serving (1 serving)
Calories 439
Calories from Fat 81
% Daily Value*
Fat 9g14%
Sodium 480mg21%
Potassium 692mg20%
Carbohydrates 70g23%
Protein 20g40%
Vitamin A 4060IU81%
Vitamin C 47mg57%
Calcium 200mg20%
Iron 4mg22%
* Percent Daily Values are based on a 2000 calorie diet.
DID YOU MAKE THIS RECIPE?
Be sure to PIN IT on Pinterest, leave a comment below, rate it, and mention @_VeganWithCurves using #veganwithcurves hashtag on Instagram so I can see it!
Update Notes: This post was originally published on September 16, 2019, but was republished with updated information, meal prep tips, and storage tips on October 31, 2021.
---
As an Amazon Associate, I earn from qualifying purchases. Please read my full Affiliate Disclaimer.
© Gina Marie Hoskins. Vegan With Curves. All Rights Reserved. Unless noted otherwise, all images, recipes, & content are copyright protected and registered with the U.S. Copyright Office. My images and written content are NOT to be used without prior permission. Read full Copyright Disclosure.