This post may contain affiliate links. Please read my disclosure policy.
This Crockpot Vegan Yellow Split Pea Soup is made with yellow split peas, potatoes, and curry spices giving you a healthy twist on a traditional split pea soup!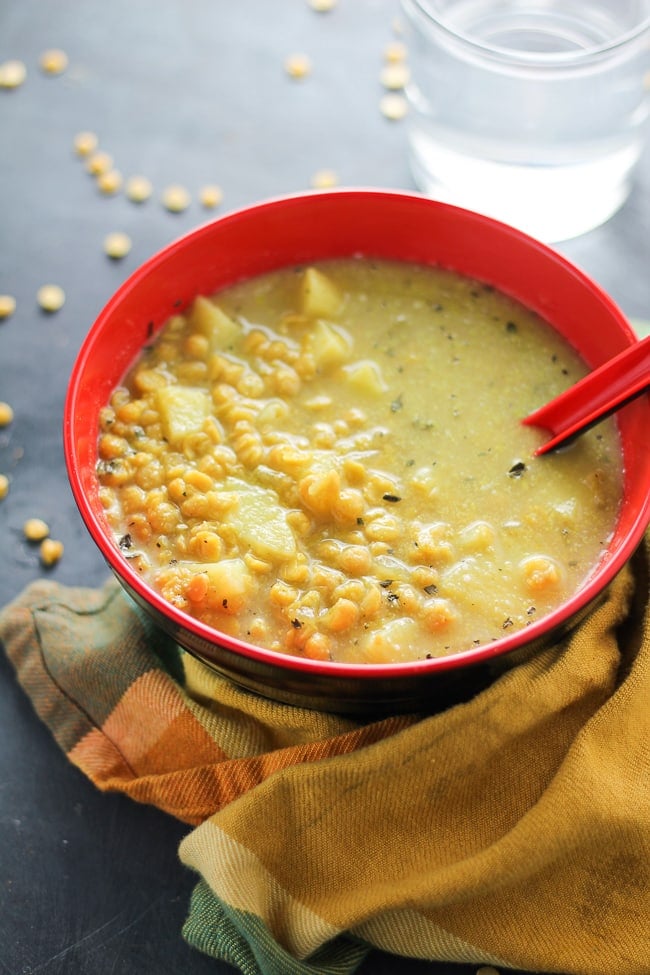 The colder it gets, the more I use my slow cooker and this Crockpot Split Pea Soup is my favorite winter recipe to make. It's comforting and nourishing; everything I desire in a slow cooker meal.
What are Split Peas?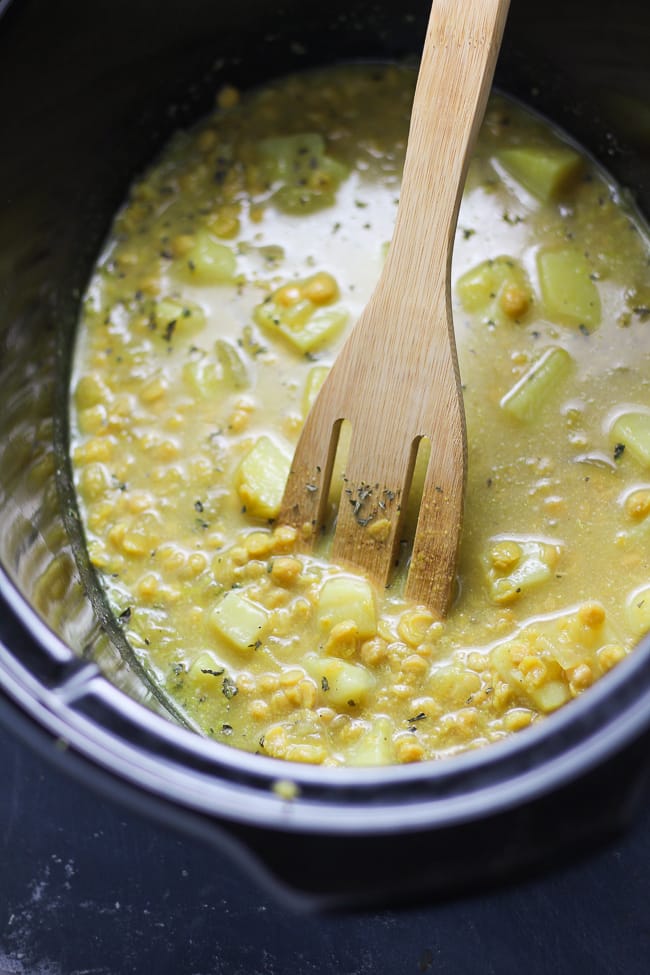 How to Cook Crockpot Split Pea Soup
*Please read detailed and printable recipe card below for full ingredients and instructions.
Making Curry Style Split Pea Soup
First, saute' your onions until soft. Then add-in your seasonings and fully coat onions for about 60 seconds. (Photo 1 & 2)
Transfer cooked onions into the slow cooker along with broth, split pea and the remaining of your ingredients. (Photo 3 & 4)
Cook on high for 5-6 hours or low for 7-8 hours. Once done serve with white rice and garnish with cilantro if you desire. (Photo 5 & 6)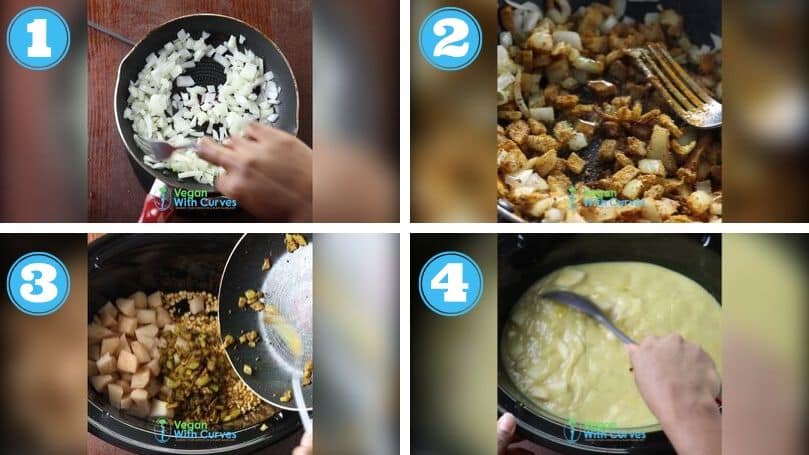 Substitution, Cook, & Storage Tips:
I have used Chana Dal instead of yellow split peas for this recipe and it worked out perfectly. Chana Dal holds it shape more than yellow split peas. Use that in your soup if you prefer more texture. Read Difference between Chana Dal & Yellow Split Peas to learn more.
Sweet potatoes or carrots can substitute for white potatoes.
Feel free to add green additional veggies to this soup like spinach or kale. (see notes in recipe cad)
I would NOT substitute the coconut milk as it really helps bring out the flavors of the dish. Use full-fat can coconut milk not the one in a jug.
Leftovers keep covered in the refrigerator 3 to 4 days and can be frozen for up to 1 month in an airtight covered container or large freezer bag.
Vegan with Curves Star Ingredient:
Yellow Split Peas is the Vegan With Curves star of this dish! One serving of dry yellow split peas has 13 grams of plant-based protein.
To make this more weight loss (waste/weight release friendly) you could:
Omit the potatoes in the soup and add green veggies or even carrots.
Serve with salad or steam vegetables for something with fewer carbohydrates and calories.
Use reduced-fat can coconut milk.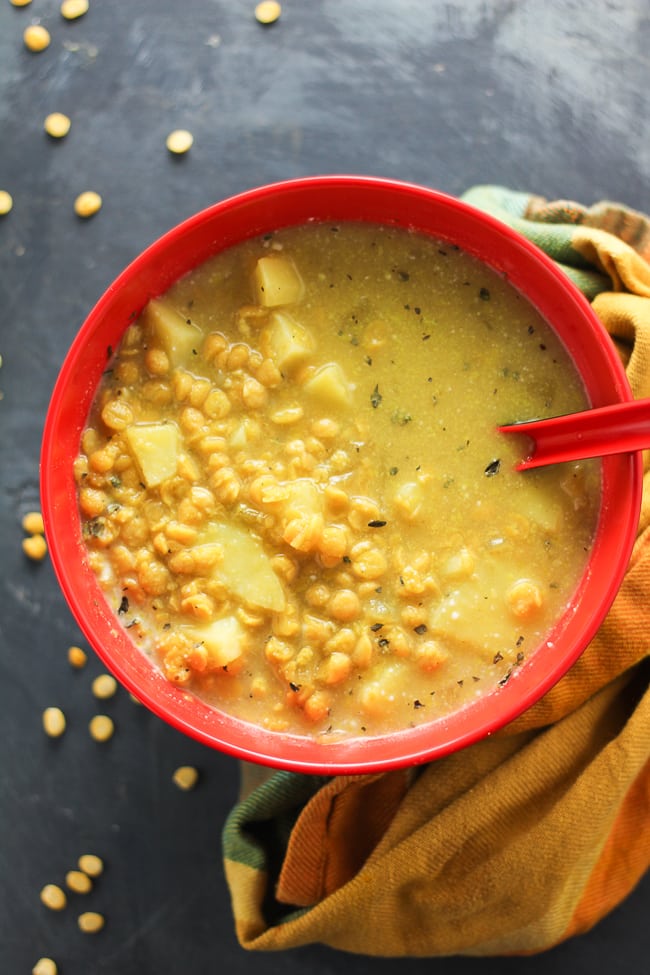 Update Notes: This post was originally published on February 17, 2018, but was republished with step by step instructions, tips, and a video on October 14, 2019.
As an Amazon Associate, I earn from qualifying purchases. Please read my full affiliate disclaimer HERE.
© VEGAN WITH CURVES. UNLESS NOTED OTHERWISE, ALL IMAGES, RECIPES, & CONTENT ARE COPYRIGHT PROTECTED AND REGISTERED WITH THE U.S. COPYRIGHT OFFICE. MY IMAGES AND WRITTEN CONTENT ARE NOT TO BE USED FOR ANY PURPOSE WITHOUT PRIOR PERMISSION. WHEN SHARING A RECIPE LINK BACK HERE TO THE ORIGINAL RECIPE. WHEN SHARING CONTENT FROM AN ARTICLE LINK BACK HERE TO THE ORIGINAL BLOG POST. READ FULL COPYRIGHT DISCLOSURE.