This post may contain affiliate links. Please read my disclosure policy.
This strawberry vegan cheesecake recipe has the texture and taste of a traditional cheesecake and it's nut free!

This is the BEST vegan cheesecake I've ever had!
This vegan cream cheese makes the filling rich and creamy. The vegan graham cracker crust adds great texture and the strawberry topping further enhances the perfect sweet and tangy balance of this vegan dessert!
What is Vegan Cheesecake made of???
The main difference in a vegan cheesecake is the filling ingredients. Instead of animal based cream cheese, we replace it with one of the following:
Cashews. Typically this type of vegan cheesecake is no bake and a more "raw vegan" versions.
Silken Tofu. Tofu isn't only for savor dishes! When blended or pureed silken tofu gives a thick and creamy texture great for a vegan cheesecake.
Vegan Cream Cheese. For this this recipe I used a vegan cream cheese substitute. The vegan cream cheese creates a more authentic texture similar to a traditional cheese cake!
So can vegans eat cheesecake? ABSOLUTELY!!!😋🍰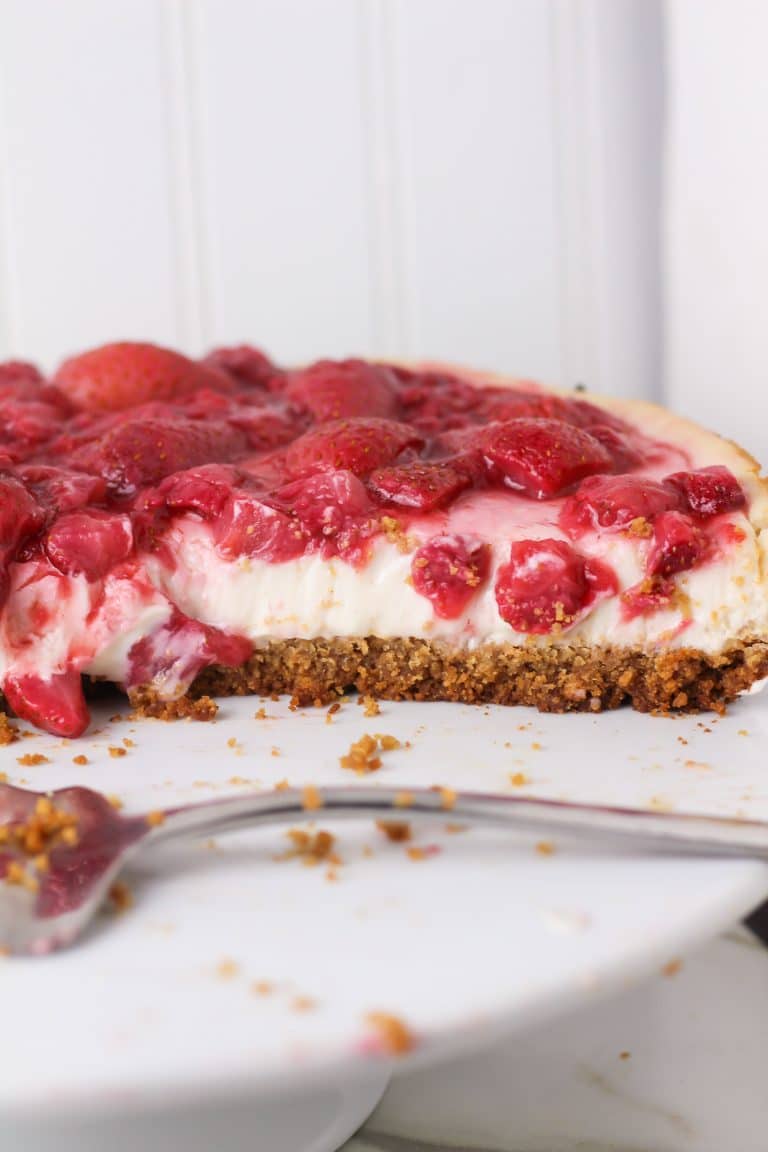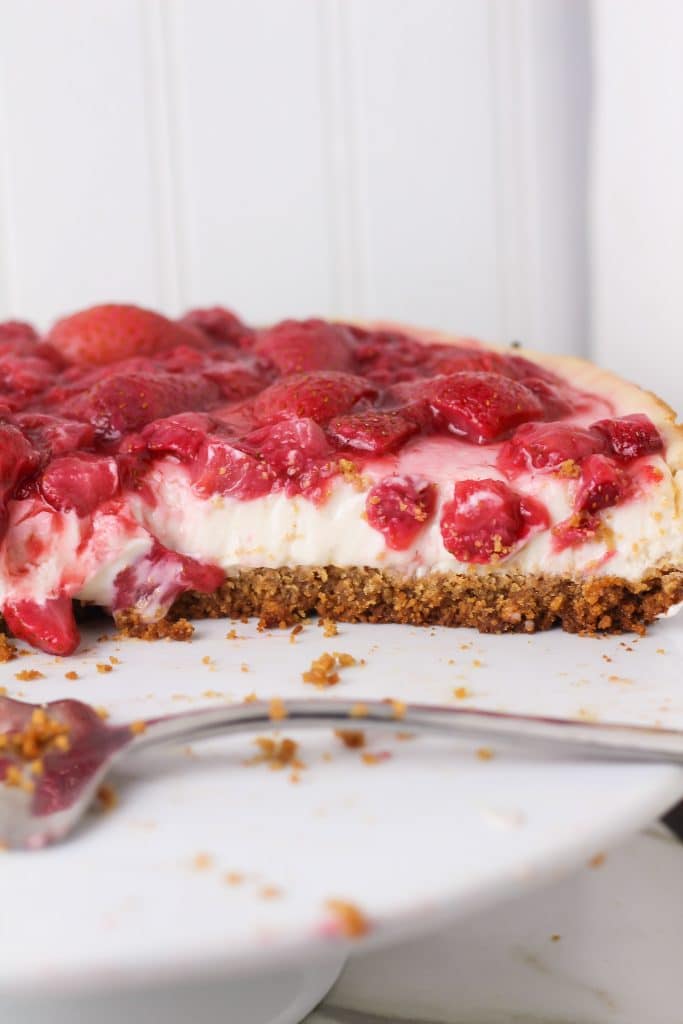 How to Make Vegan Cheesecake
*Please read detailed and printable recipe card below for full ingredients and instructions.
Vegan Graham Cracker Crust
First crumble up your vegan graham crackers and add them to your food processor. Process until crackers are completely crumbled. (Photo 1 & 2)
Once process add crumbs to a bowl and add melted vegan butter to your crumbs and mixed until fully combined. (Photo 3 & 4)
Pour your crust mixture into the prepared 9 inch spring form pan using a measuring cup to press the crumbs on the base making sure it's flatten. (Photo 5 & 6)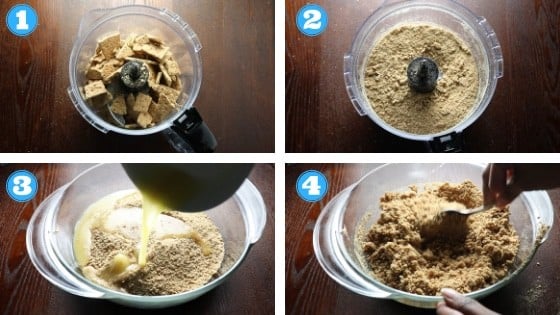 Vegan Cheesecake Filling
Next up is the filling. Add your vegan cream cheese (see recipe notes for the brand I recommend), vegan yogurt, lemon juice, vanilla extract, organic cane sugar, and corn starch to your food processor and process until smooth and creamy. (Photo 1 & 2)
Pour your filling into the prepared crust and bake for 30 - 35 minutes. It will need to set for at least 5 hours or overnight in the fridge. (Photo 3 & 4)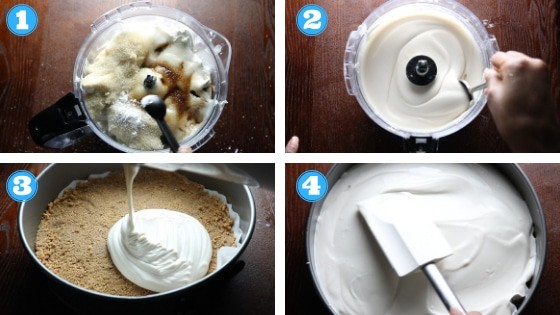 Strawberry Cheesecake Topping
Now we are ready to top it off! Begin by placing chopped strawberries, sugar, and squeeze lime juice in a small pot. Stir and then simmer over medium heat for about 10 minutes. (Photo 1)
Next add your halved strawberries and cook for 1 minute just enough to soften and incorporate into the mixture. (Photo 2 & 3)
Cool your topping and spoon onto firmed up cheesecake evenly. (Photo 4)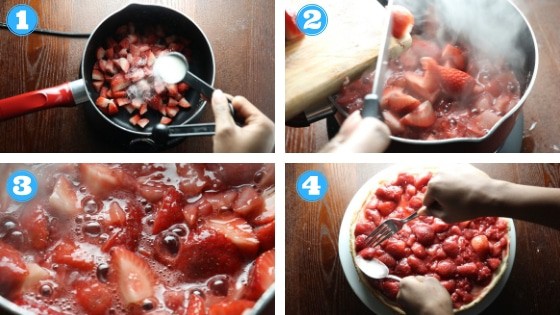 SUBSTITUTION, COOK, AND STORAGE TIPS:
The tartness of the strawberries on top balances out the sweetness of the filling so I would not skip this step. You can always substitute with different types of berries. Blueberries, blackberries, raspberries and even mixed berries would work well with this!
DO NOT SKIP the cornstarch and vegan yogurt! These two combined together acts as your "egg" substitute. The duo does an excellent job at binding the ingredients and suspends moisture which prevents the finished product from becoming dense.
For the crust I highly recommend using vegan butter in sticks because they are specifically made for baking. I use this brand.
Keep your vegan cream cheese at room temperature so that it is easier to mix in your food processor.
This vegan cheesecake will keep for 3 to 4 days in the refrigerator and up to 1 month in the freezer assuming you have AMAZING discipline to not eat the entire thing in one setting😂 . Be sure to cut it in slices when you freeze it.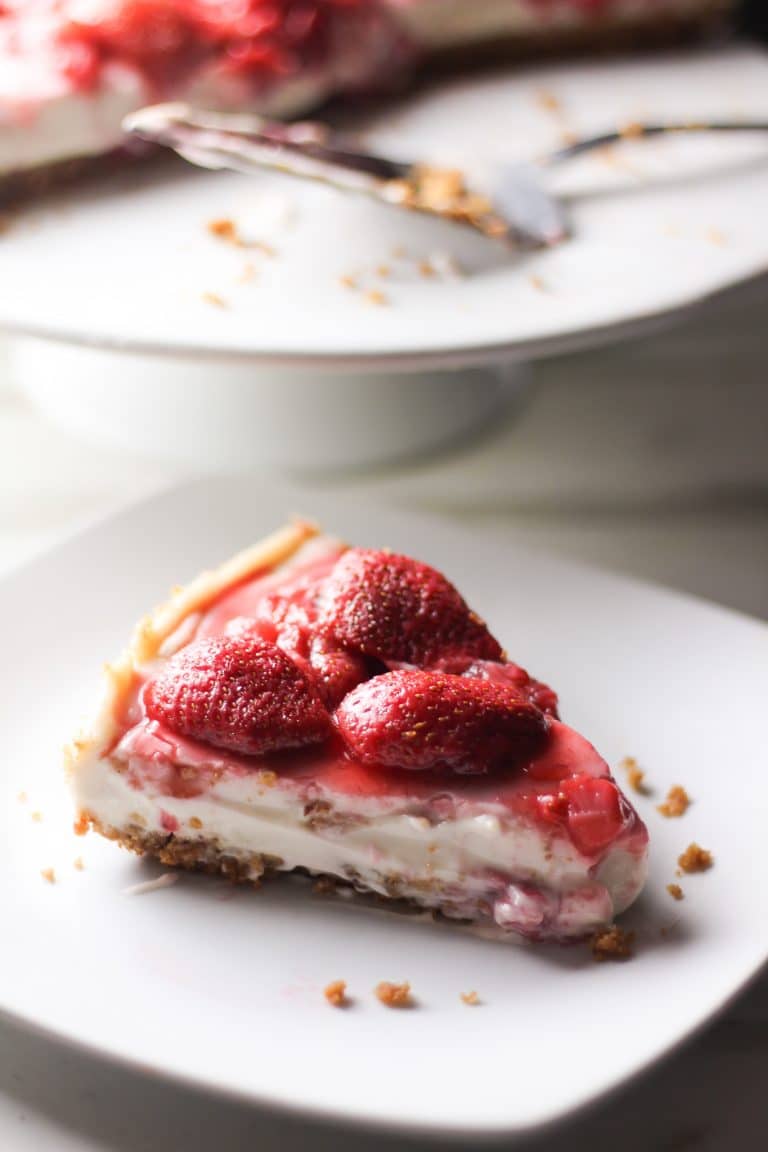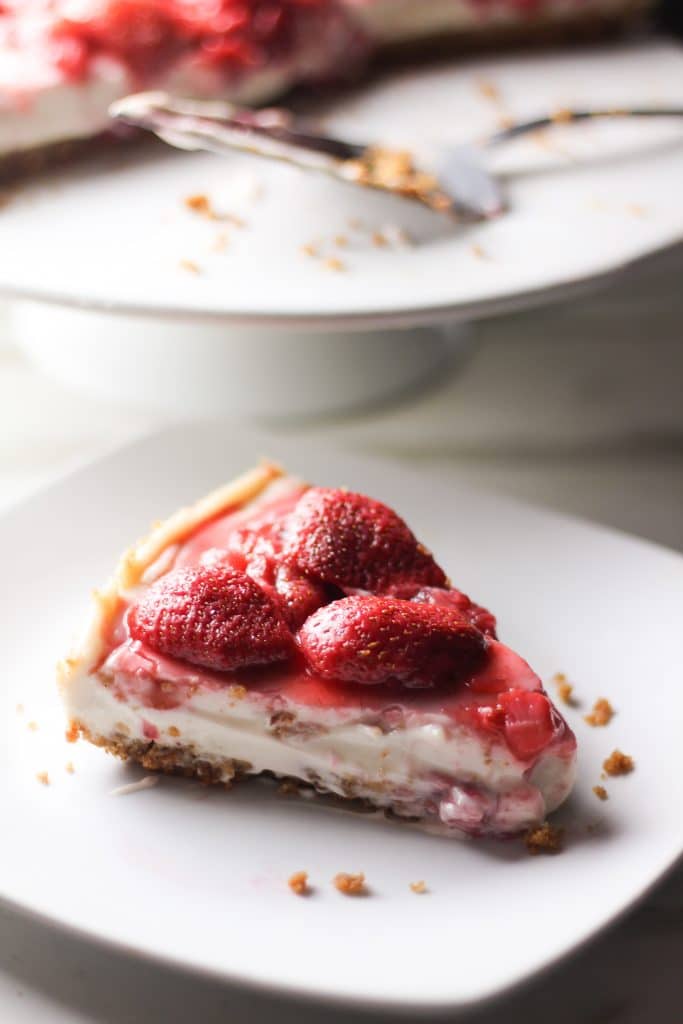 More Strawberry Recipes You'll Love
WANT MORE? Subscribe to my newsletter and follow along on PINTEREST, FACEBOOK, and TWITTER for the latest updates!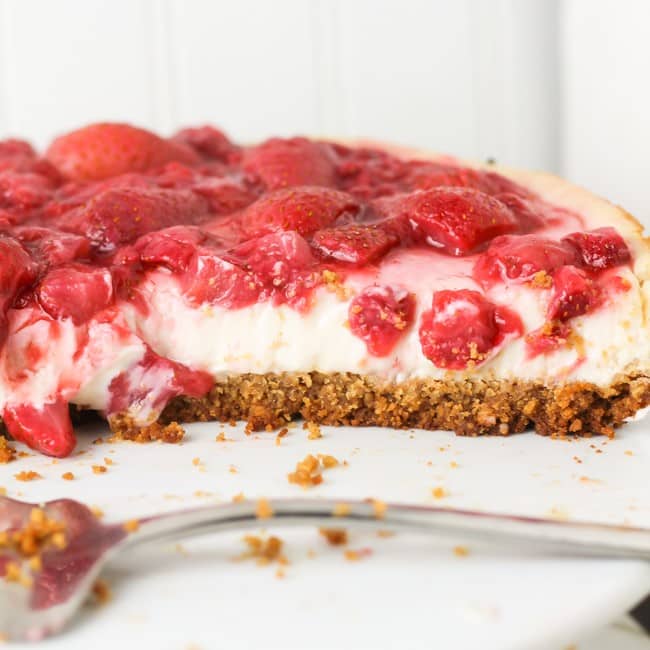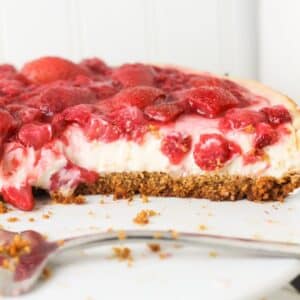 Strawberry Vegan Cheesecake
Few things are better than a slice of cheesecake. The bigger the slice the better and you'll certainly want a generous serving of this strawberry vegan cheesecake!
Print
Pin
Rate
Ingredients
Instructions
Preparation
Preheat oven to 350 degrees Fahrenheit.

Grab your 9 inch springform pan and either add parchment paper to the base and around the edges (Cut your parchment paper to fit the size of the spring form pan) OR you can lightly grease your pan with additional vegan butter.
Crust
Grab your food processor and add your graham crackers to the container. Be sure to break them apart in small pieces so that they all fit inside your food processor.

If you have a small food processor you will have to do this in batches. Process until very fine and transfer you graham cracker mixture to a large mixing bowl.

Melt your vegan butter and add it to your graham cracker mixture. Begin to mix together until fully combined and your graham cracker mixture becomes the consistency of wet sand.

Next pour your crust mixture into the prepared cake tin using

a measuring cup to press the crumbs on the base making sure it's flatten.
Filling
Clean out your food processor (from the crust and ingredients) and add all your filling ingredients to the container and process until smooth and creamy.

Be sure to taste your filling and adjust the flavors to your liking. If you need more sweetness add more sugar. If you need a more tangy flavor add more lemon juice.

Pour your filling into the prepared crust. Smooth out the filling evenly and give it a little shake to get it even smoother.

Bake for 30 - 35 minutes. Please allow the cake to cook without opening the doors so that it can firm up like a traditional cheesecake and not crack.

When it's done baking turn off heat but LEAVE THE DOOR CLOSE for 10 additional minutes. Then gently remove the cake from the oven.

It should be slightly golden brown and it will jiggle slightly but fear not it's done! It now just needs time to firm up a bit. Allow it to cool a minimum of 20 minutes and then let it chill overnight in the refrigerator (or at least for 5 hours).
Strawberry Topping
Take one half of your strawberries and chopped in to small pieces. Take the other half of your strawberries and sliced them in half.

Place chopped strawberries, sugar, and squeeze lime juice in a small pot. Stir and then simmer over medium heat for about 10 minutes until strawberries break down and become thick like gel consistency.

Then add your halved strawberries and cook for 1 minute just enough to soften and incorporate into the mixture.

Remove from heat (turn off your stove) and allow it to cool for at least 30 minutes to an hour. (I pop mine in the refrigerator as I make this the same day as the cheesecake and once the cheesecake is set I spread it on top).

Spoon onto firmed up cheesecake evenly flipping strawberry halves facedown to make it look pretty! Store leftovers covered in the fridge 3-4 days, or freeze slices for up to 1 month. ENJOY!
Video
Notes
I use Earth Balance brand vegan butter in the sticks. The sticks are made for baking so I highly recommend those kind.
Keeping your vegan cream cheese at room temperature makes it easier to process in a food processor.
I recommend using the Tofutti cream cheese brand or Miyoko's brand (the plain kind) because it doesn't have a weird after taste I have found in a lot of other brands. They come in 8 ounce containers so you will need 4 containers to make this.
You use different berries for the topping. (Try this with blueberries or even mixed berries! Yum!)
The cornstarch and vegan yogurt are needed as an egg replacement. It can be any kind of vegan yogurt you desire (and any flavor) but just be sure to add it to this dish. I use So Delicious Coconut Yogurt the vanilla kind for extra flavor.
Nutrition
Nutrition Facts
Strawberry Vegan Cheesecake
Amount Per Serving (8 slices)
Calories 427
Calories from Fat 207
% Daily Value*
Fat 23g35%
Cholesterol 15mg5%
Sodium 482mg21%
Potassium 29mg1%
Carbohydrates 48g16%
Protein 4g8%
Vitamin A 100IU2%
Vitamin C 3.3mg4%
Calcium 20mg2%
Iron 0.5mg3%
* Percent Daily Values are based on a 2000 calorie diet.
DID YOU MAKE THIS RECIPE?
Be sure to PIN IT on Pinterest, leave a comment below, rate it, and mention @_VeganWithCurves using #veganwithcurves hashtag on Instagram so I can see it!
Update Notes: This post was originally published on February 9, 2019, but was republished with new tips December 7, 2021.
As an Amazon Associate, I earn from qualifying purchases. Please read my full Affiliate Disclaimer.
© Gina Marie Hoskins. Vegan With Curves. All Rights Reserved. Unless noted otherwise, all images, recipes, & content are copyright protected and registered with the U.S. Copyright Office. My images and written content are NOT to be used without prior permission. Read full Copyright Disclosure.