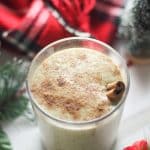 Print
Vegan Eggnog (Without Cashews!)
Give me the nog but hold the egg, please! With this Vegan Eggnog Smoothie, you get that delicious holiday flavor and thickness without cashews!
baking sweet potato
40
minutes
1

small or medium

white sweet potato (Japanese Sweet Potato or Murasaki Sweet Potato)

see notes

1 ½

cup

coconut milk (in the jug NOT canned), divided

see notes

2

teaspoons

cinnamon powder

¼

teaspoon

nutmeg powder

¼

teaspoon

turmeric powder

optional

2

teaspoons

vanilla extract

¼

cup

organic cane sugar

3

tablespoons

whole hemp seeds
First, you want to rinse your white sweet potato. Then you want to cook it. Now you can do this 2 ways; baking it or microwaving it.

To bake, preheat your oven on 350 F (180 C) for 5 minutes. Prink holes all over your potato with a fork. (This will help speed up cooking time). Wrap potato in aluminum foil (this locks in moisture) and bake for about 40 minutes until the potato is tender. Allow to cool for 5 minutes and proceed to step 4.

To microwave, prink 3-4 times with a fork. Place potato on a microwave-safe plate and microwave 5 minutes (or you can use the potato button on your microwave and it will give you the best time for your appliance). If your potato tender or done after 5 minutes, continue microwaving in 30-second increments. Allow to cool for 5 minutes and proceed to step 4.

Scoop the flesh of your white sweet potato into a mixing bowl and add in ¼ cup of your milk, cinnamon powder, nutmeg powder, turmeric powder (optional), vanilla extract, and organic cane sugar. Using a fork or potato masher, mash until smooth like the consistency of mashed potatoes.

Add you mashed white sweet potatoes to your high-speed blender with the remaining 1 ½ cups of milk, and whole hemp seeds. Blend until smooth.

Serve immediately as is or with Ginger Oatmeal Cookies! You can even top it with coconut cream, additional cinnamon powder, and or my Date Caramel Sauce Recipe!

This will keep very well in the fridge for up to 24 hours covered. (Store in a mason jar). Depending on how much sweet potato you added to the smoothie, it will get SUPER thick and will need to be blended with added liquid. It does not freeze well.
SWEET POTATO: You can use regular sweet potatoes (or even squash if you like!) if you can't find white sweet potatoes. It will change the color of the smoothie but still have the same delicious flavor. DO NOT use regular white potatoes!
COCONUT MILK: I use coconut milk (the kind in a jug in the refrigerator section) but you can use whatever milk you desire. I would caution against using canned coconut milk for this. The smoothie is very thick with the sweet potato and the canned coconut milk might make it too thick to drink.
THICKNESS OF SMOOTHIE: Depending on how thick you want your smoothie, you can use half of a small to medium-sized sweet potato or a whole small to medium sweet potato. If you have a large sweet potato only use half as it will be too thick to blend.
ADDITIONS AND SUBSTITUTIONS: Organic brown sugar can be used instead of cane sugar. You can even add molasses and ginger for a "gingerbread feeling. Turmeric is optional but adds wonderful health benefits!
OPTIONAL: Hemp seeds can be omitted and the flavor would still be there BUT they add additional protein to the drink. So if you are using this a post-workout smoothie I wouldn't omit. You could even use Hemp Protein Powder!
Serving:
1
smoothie
|
Calories:
569
kcal
|
Carbohydrates:
70
g
|
Protein:
17
g
|
Fat:
27
g
|
Saturated Fat:
7
g
|
Sodium:
2
mg
|
Fiber:
5
g
|
Sugar:
62
g
|
Vitamin A:
375
IU
|
Calcium:
250
mg
|
Iron:
7
mg