This post may contain affiliate links. Please read my disclosure policy.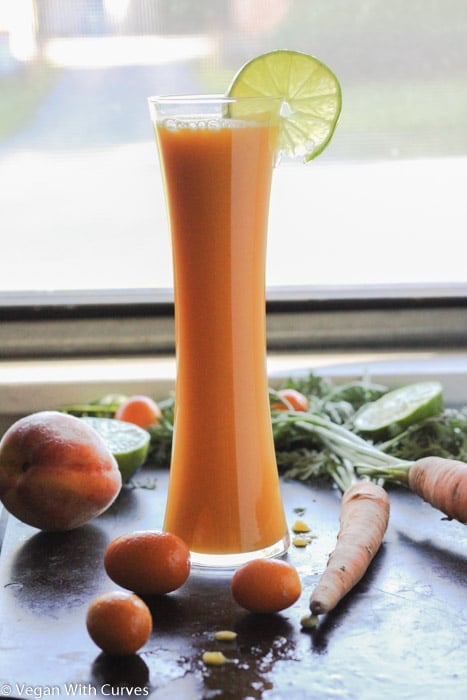 I was in my local store one day and saw these "baby oranges" and I thought it was the cutest thing! I have been a vegan for over 5 years to date, and there are still an abundance of foods I have not experienced yet. So when I see something new, I am always willing to try it. Little did I know these baby oranges have a name, kumquats.
What are Kumquats?
Kumquats ( or cumquats), native to the South Asia region. They are tiny citrus fruit that can be eaten as a whole. So unlike oranges, there is no peeling. You eat the entire fruit as is, skin and flesh. The kumquat itself is very sour (like a lemon) so the skin actually offers a little sense of sweetness to the fruit.
I didn't like the "sour taste" at first I admit...
In the west, it seems our only two tastes buds are sour and sweet. Kumquats does not fit that. For me eating the kumquat as a fruit alone was not the most pleasant experience because I expected a sweeter taste like an orange. Instead I got a sour lemon like shock. Let's just say that quickly made me removed the "baby oranges" title for the equation. But because kumquats good health benefits, I decided I wanted to incorporate it into my diet more. The saying goes "if at first you don't succeed, try and try again." Yet with new foods we tend to forget that mantra. It's important to expand our pallets and bring all of our taste buds to the surface in order to get the full experience of foods. Why? Because the taste of a food can tell you a lot of about the benefits and characteristics of that food. For example, most sour foods have the common characteristic of cleansing your organs and helping you absorb nutrients (an example would be someone squeezing lemon on kale to help them absorb the iron it contains).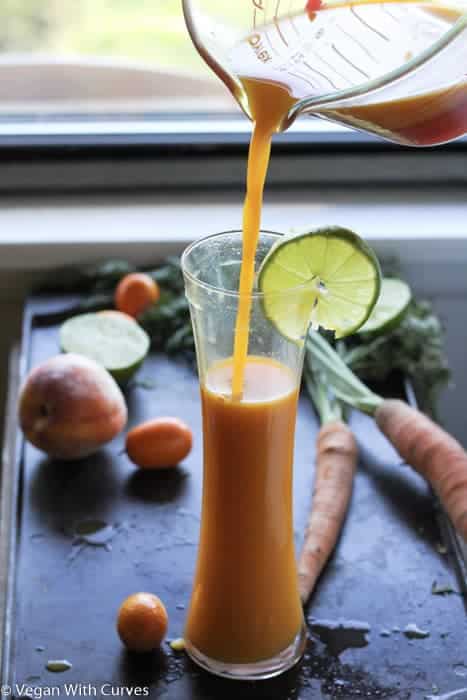 A high nutritional"orange juice"
This recipe help me find a way to incorporate kumquats in my diet. I like to think of it as a superfood version of orange juice because it contains my top 3 "orange foods":
The sourness of the kumquats work to balance out the sweetness of the peaches and carrots 🙂 Also note foods that are the color orange usually means they contain an high amount beta cartoene. Beta carotene is converted in what we classify as Vitamin A. This nutrient helps in healthy vision and promotes bone growth. The recipe itself is super easy to make. You blend the ingredients (or if you have a juicer you juice them) and strain it through a nut milk bag or cheese cloth. Viola. "Superfood" orange juice or Kumquat Carrot Juice.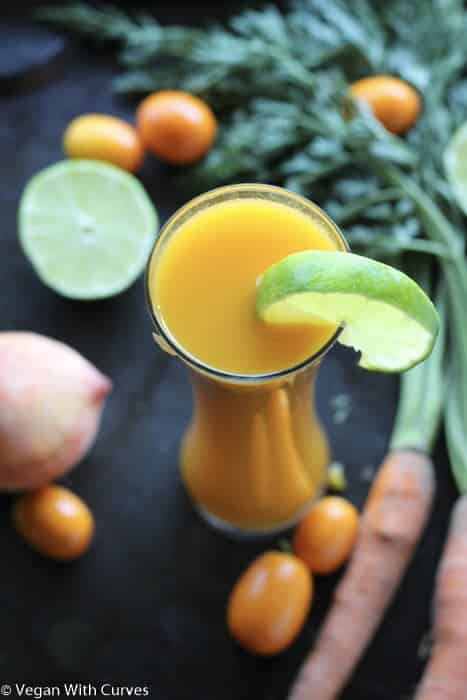 Vegan Curve Benefits of Kumquats
Rich in calcium (calcium is NOT synonymous with dairy milk!) which means strong bones, which means better ability to lift weights, maintain healthy bone density and a curvy shape
Can give you a great boost of energy because of it's high carbohydrate content (Carbohydrates is the macro nutrient that serves as your is body's MAIN SOURCE OF ENERGY). This energy source is needed for those who actively work out (that would be you since you are building curves).
High in Vitamin C. The vital mineral we called Vitamin C food in kumquats, effects everything in our bodies from an healthy immune system to stimulating growth cells (this includes muscle growth).
Don't be afraid to try new stuff even if it's more than once. Expand your taste buds. If you don't like something at first, but love the benefits, find a way to incorporate it into your diet until you get an acquired taste for it.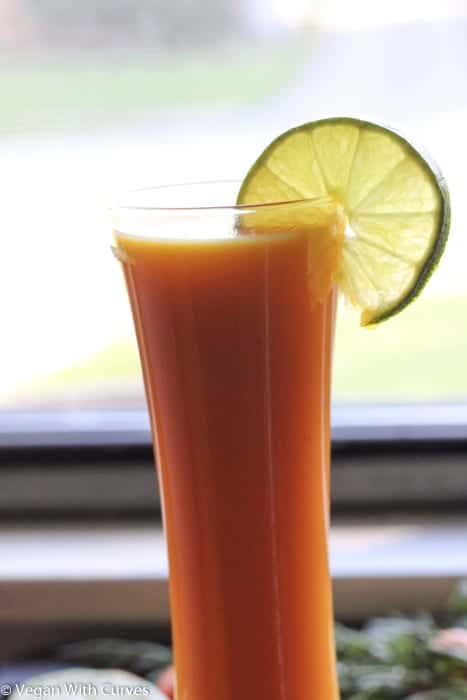 If YOU TRIED THIS RECIPE: Tell me how it turned out for you! Was it a hit or miss? Do you like kumquats and have an unique recipe to share? Tell me about it! Leave a comment below, rate it, pin it, and tag a photo #VeganWithCurves on Instagram so I can see it!
---
Appliances used in this recipe:
For more of my recommended cooking tools, visit the resource page at MUST HAVES APPLIANCES IN A VEGAN KITCHEN
LOVE THIS RECIPE? HOVER OVER IMAGE BELOW TO PIN!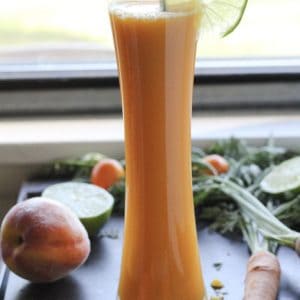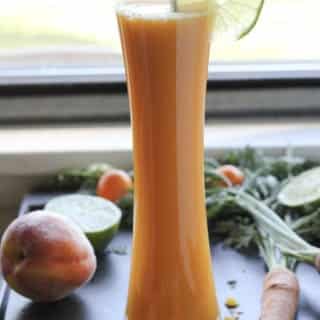 Kumquat Carrot Orange Juice
Delicious Carrot Orange Juice with Kumquats!
Print
Pin
Rate
Ingredients
¼

cup

kumquats

2

chopped carrots

1

peach with skin chopped

1

tablespoon

squeeze lime

1

cup

water
Instructions
Wash and chopped all your produce on a cutting board. (except kumquats. No need to chop them up)

Add kumquats, carrots, peach to blender first. Then pour in water and squeeze lime juice.

Blend until smooth.

Take a cheese cloth or nut milk bag over a bowl or measuring cup and strain until most of the pulp is extracted leaving you with pure juice.

Serve immediately.
Nutrition
Nutrition Facts
Kumquat Carrot Orange Juice
Amount Per Serving
Calories 132
% Daily Value*
Sodium 99mg4%
Potassium 727mg21%
Carbohydrates 31g10%
Protein 3g6%
Vitamin A 20950IU419%
Vitamin C 34mg41%
Calcium 58mg6%
Iron 1mg6%
* Percent Daily Values are based on a 2000 calorie diet.
DID YOU MAKE THIS RECIPE?
Be sure to PIN IT on Pinterest, leave a comment below, rate it, and mention @_VeganWithCurves using #veganwithcurves hashtag on Instagram so I can see it!