This post may contain affiliate links. Please read my disclosure policy.
This holiday no need to buy the canned stuff! This jellied cranberry sauce is super easy to make and the added sea moss gives it some added health benefits!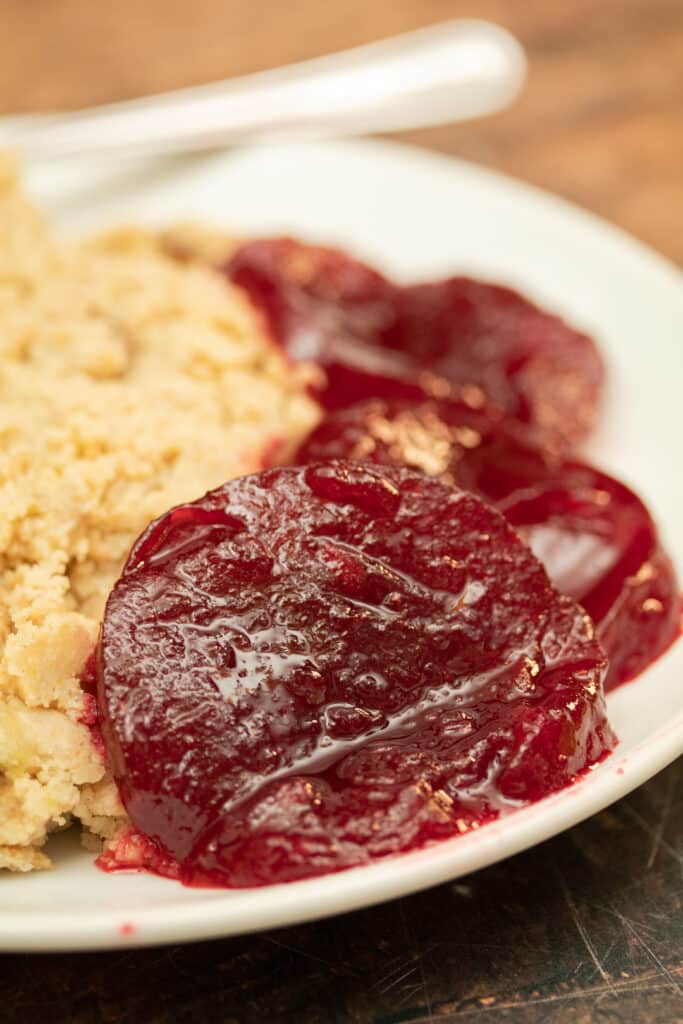 I love my healthy cranberry sauce recipe, but this jellied cranberry sauce is my absolutely favorite! This recipe completes a vegan soul food thanksgiving menu and pairs so well with my and vegan cornbread dressing. It brought back a lot of nostalgia!
Why Use Sea Moss for this Recipe?
Sea moss gel has a lot of health benefits which is one of the reasons I used it in this recipe. But the main reason is because sea moss gel is a natural thickener which helps this cranberry sauce gel.
Now cranberries in itself is naturally high in pectin (a natural occurring compound found in fruit) and so it can hold without the use of sea moss. However, the sea moss gel gives it a more firmer hold making it easier to mold into that round shape we all grew up loving and knowing in store bought cranberry sauce.
For this recipe I used the Genus Gracilaria as it is milder than the Genus Chondrus Crispus (Irish Moss Sea Moss Gel). To learn more about sea moss, it's health benefits and it's uses, check out my Sea Moss vs Irish Moss Gel article.
Cranberry Sauce Ingredients
Frozen Cranberries: Can't have cranberry sauce without this ingredient right?
Organic Cane Sugar: Organic cane sugar is used to insure it is vegan but you can use whatever sugar you have on hand. Also with sugar in general activates pectin which helps the cranberry sauce holds. So DON'T omit the sugar!
Sea Moss: Another main ingredient to help your cranberry sauce mold. See paragraph above for more information.
Lime Water: This is to add additional flavor to your cranberry sauce and it is what your sea moss will be soaking in.
Sea Salt: This might surprise you but, it's not sugar that helps take out the bitterness in cranberry sauce. It's salt. So this ingredient is not optional.
How to Make Jellied Cranberry Sauce
*Please read detailed and printable recipe card below for full ingredients and instructions.
SUBSTITUTION, COOK, & STORAGE TIPS
If you don't have access to sea moss, you can do this recipe without it as cranberries have a high amount of pectin. It will be a softer mold but it will still hold. To ensure a firmer hold if you don't have sea moss, you can buy a box of Sure Jell Premium Fruit Pectin.
For my alkaline Dr. Sebi vegans, try this recipe with plums instead!
DO NOT make low sugared or use a sugar substitute in this recipe. The sugar interacts with the pectin naturally in the cranberries which helps it gel. If you are going to use low sugar, you will need to add Sure Jell No Sugar Pectin.
Just like my easy apple butter recipe and my plum tomato sauce recipe, this cranberry sauce can be canned. Canning is a process that you can learn how to do reading this informative Canning for Beginners article. You can also purchase canning books on Amazon.
This recipe will keep in the fridge in an airtight jar for up to 10 days and can be frozen in a airtight freezer container or up to 3 months. Defrost jellied cranberry sauce in the refrigerator when ready to use.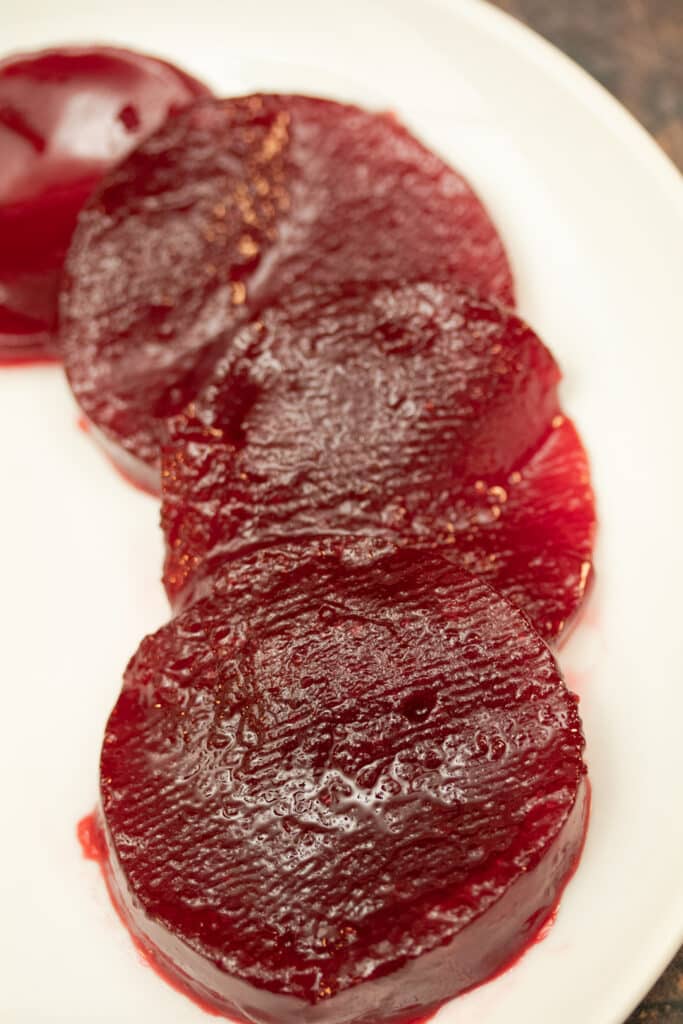 More Sea Moss Recipes You'll Love
WANT MORE? Subscribe to my NEWSLETTER and follow along on Pinterest, Facebook, and Tik Tok for the latest updates.
As an Amazon Associate, I earn from qualifying purchases. Please read my full Affiliate Disclaimer.
© Gina Marie Hoskins. Vegan With Curves. All Rights Reserved. Unless noted otherwise, all images, recipes, & content are copyright protected and registered with the U.S. Copyright Office. My images and written content are NOT to be used without prior permission. Read full Copyright Disclosure.