This post may contain affiliate links. Please read my disclosure policy.
This is the ultimate Vegan Soul Food Thanksgiving Menu! Perfect for a comforting holiday or Sunday Soul Food Dinner!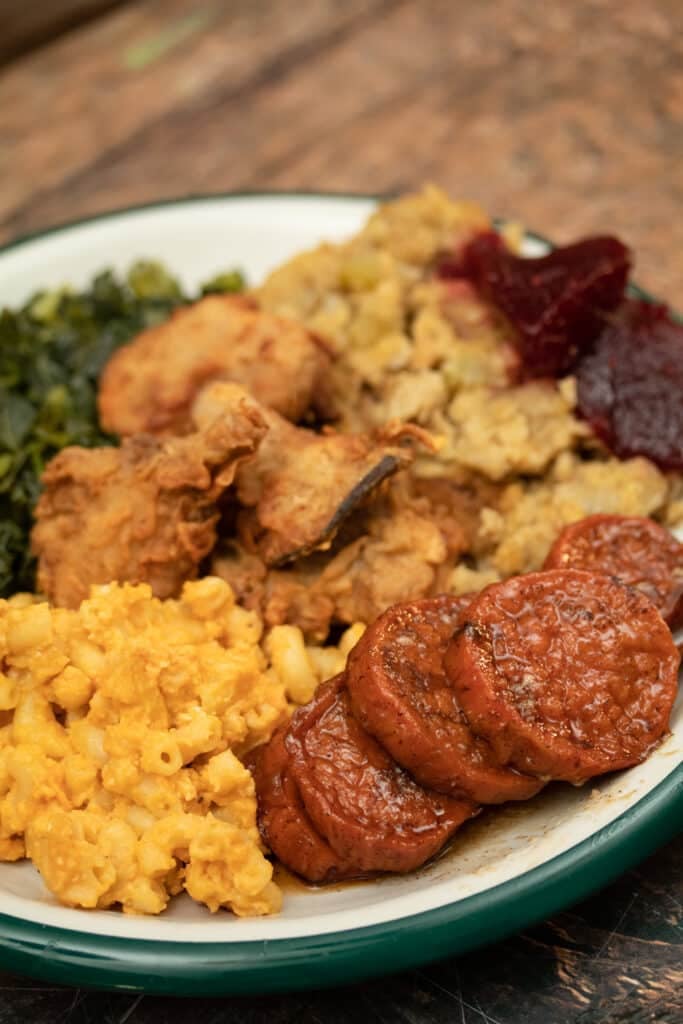 Soul Food Without the Cruelty!
You don't need animal flesh this holiday season!
On this soul food thanksgiving menu we got Fried Oyster Mushrooms, the BEST Dairy Free Mac and Cheese on the internet, smoked flavored Pressure Cooker Collard Greens without the animal flesh, southern style Vegan Cornbread Dressing, and Vegan Candied Yams!
Also, you can get a FULL pdf print out download of this guide to help you step by step follow along with preparing this Vegan Thanksgiving menu with ease!
Day One: Thanksgiving Eve
On Thanksgiving Eve (or Saturday if you are making this for Sunday Dinner), we're gonna prepare all the ingredients below that are needed for the vegan cornbread dressing.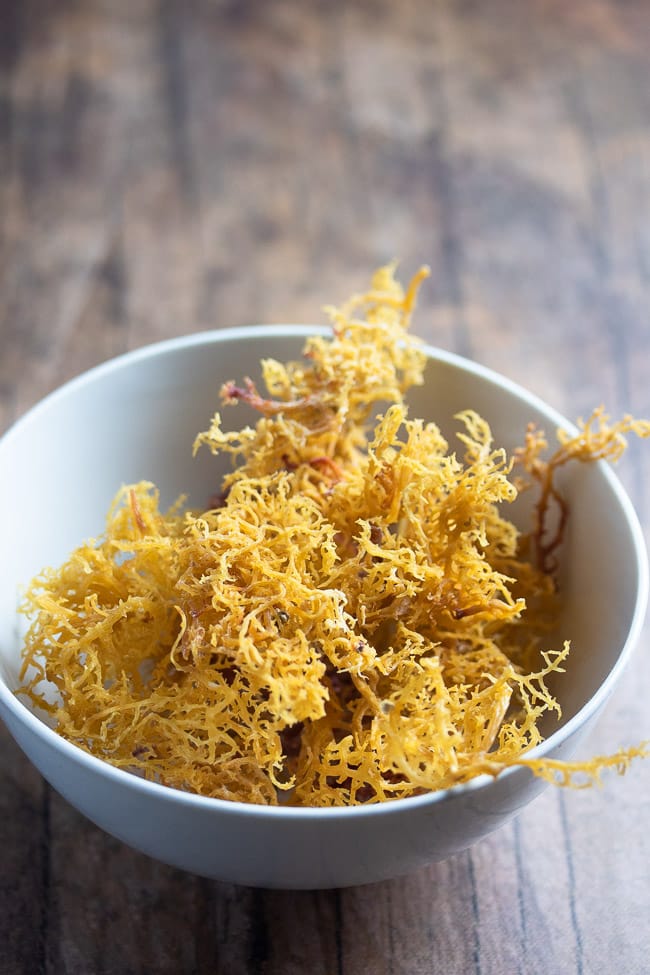 So no we are not making sea moss (although you could) but we will need to clean and soak our sea moss FIRST, to make our jellied cranberry sauce!
You can totally make this without the sea moss, but why not have in the extra minerals if you have the time?
You need about ¼ -½ cup of genus gracilaria. Clean and allow sea moss to soak in limes and set aside to begin making cornbread. If you want to find out more about sea moss, it's benefits and where to purchase it, you can visit the link below provided!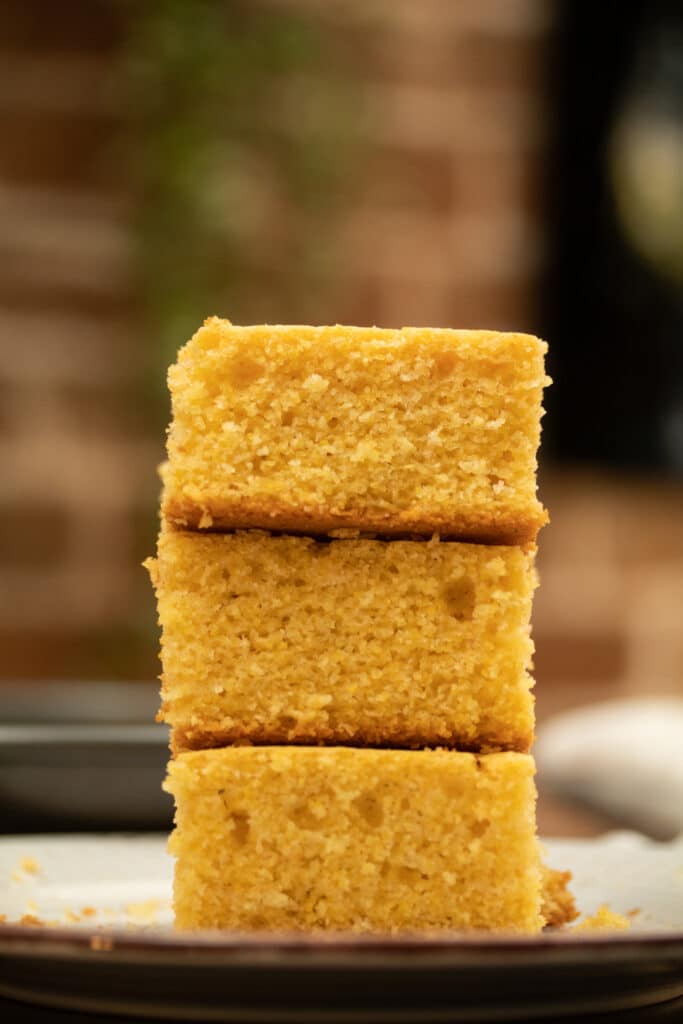 This buttermilk dairy free cornbread is good enough to enjoy on its own but we're gonna save it for our dressing tomorrow.
I have a vegan spelt cornbread recipe that is delicious, however, it is too sweet to make for our vegan cornbread dressing.
It is super easy only needing ONE bowl. We will make this 2nd so that we have stale, day old cornbread for our dressing!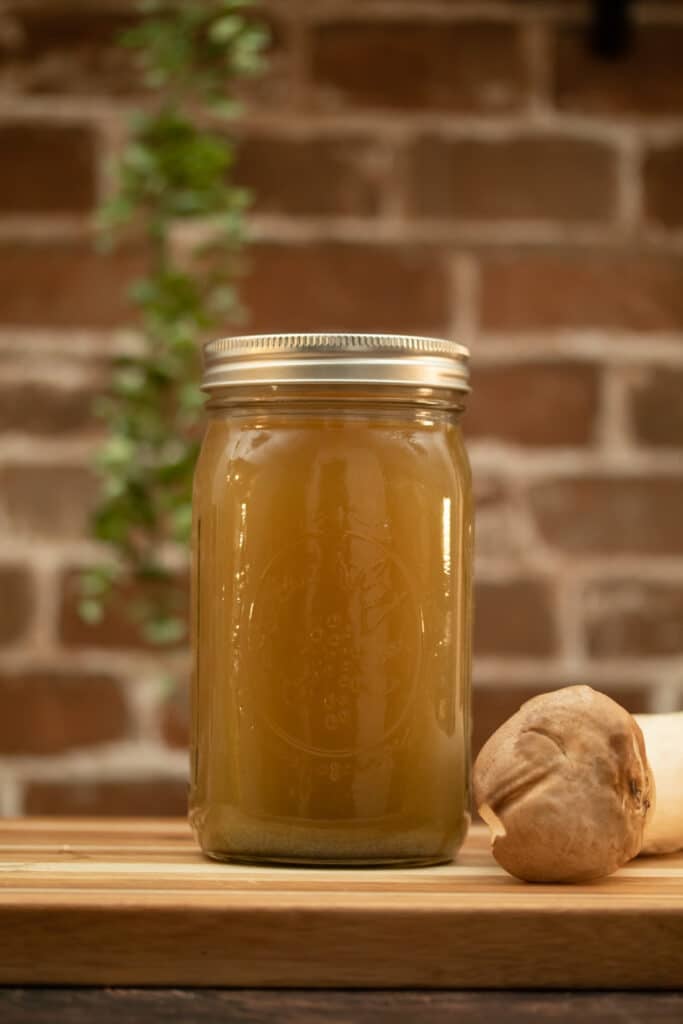 Next we are going to start on our vegan "chicken" broth.
With the use of a flavored base bouillon and king oyster mushrooms, you will swear you are eating the real thing!
This will be the 3rd thing we make on the list as we will need it for the cornbread dressing and for the following recipe.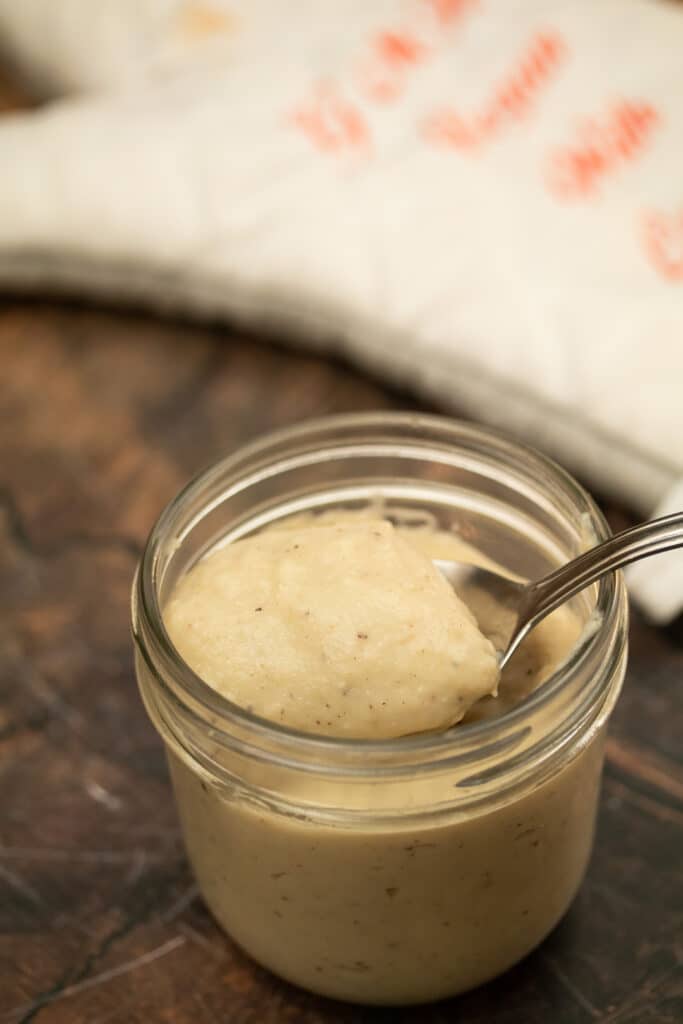 Can you believe there is no cream of soup on the market that is vegan? But it is okay because it is super easy and tasty to make our own!
With the broth we just made, we are going to make some of the BEST cream of chicken soup that will take your cornbread dressing to the next level!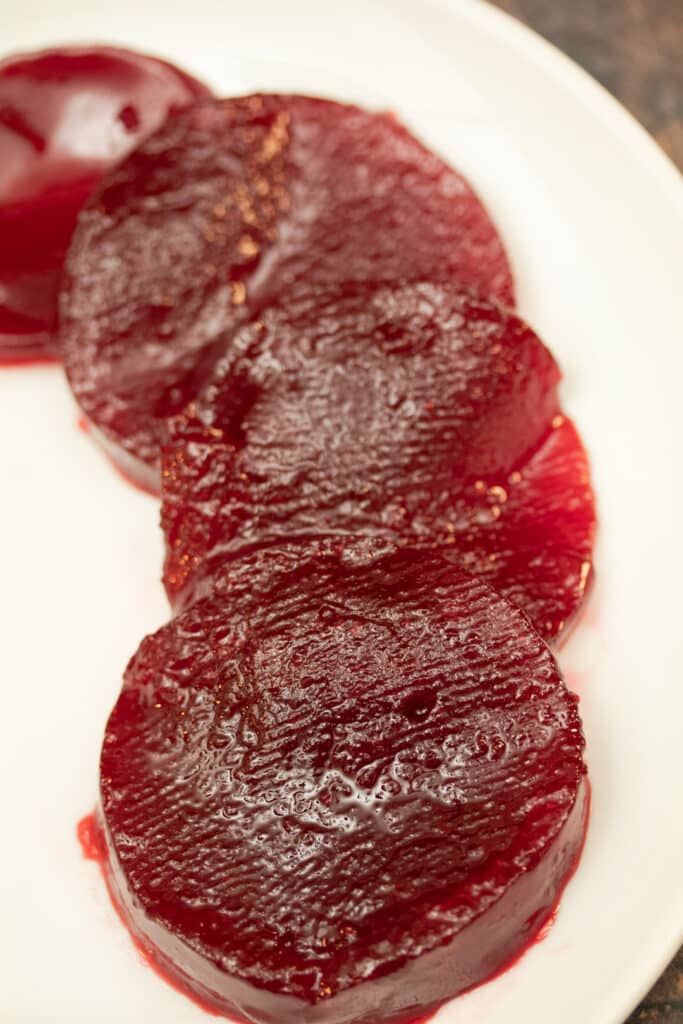 Now let us use the sea moss we soaked earlier to make our jellied cranberry sauce!
So much better than the canned stuff and not lacking any flavor at all! Nothing wrong with sneaking in some high minerals into your Thanksgiving dinner!
Day Two: Thanksgiving Day
On Thanksgiving Day (or Sunday if you are making this for Sunday Dinner), we're going to prepare the rest of our menu!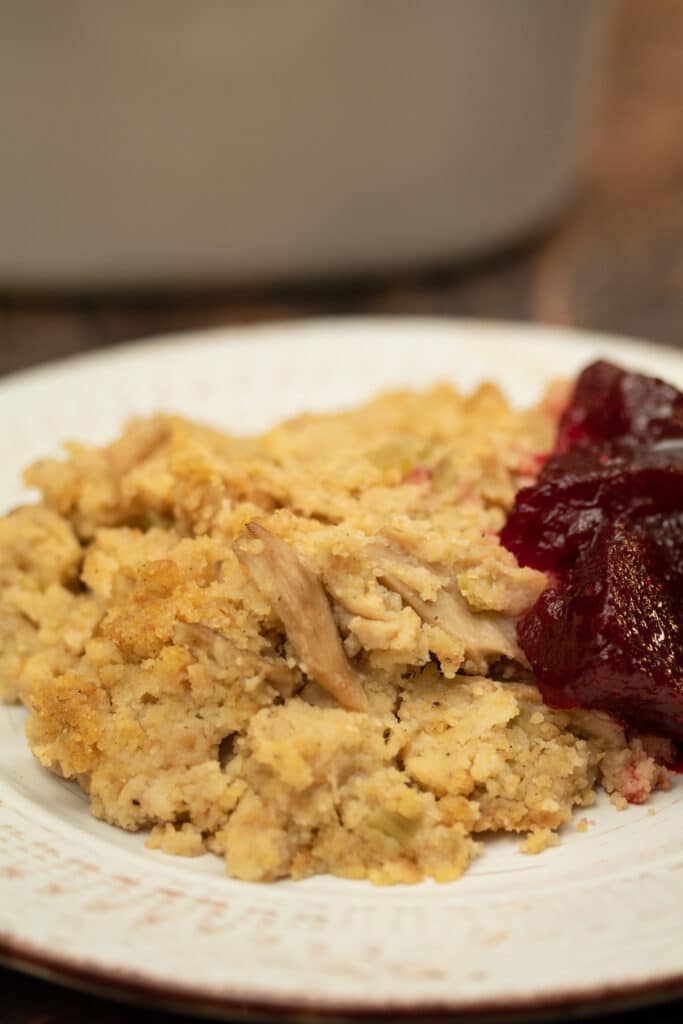 So now that we have all the things prepared for our cornbread dressing, let's start assembling it together!
The secret ingredient for this is going to be the Ritz crackers. Yes Ritz crackers. Just like Grandma used to do LOL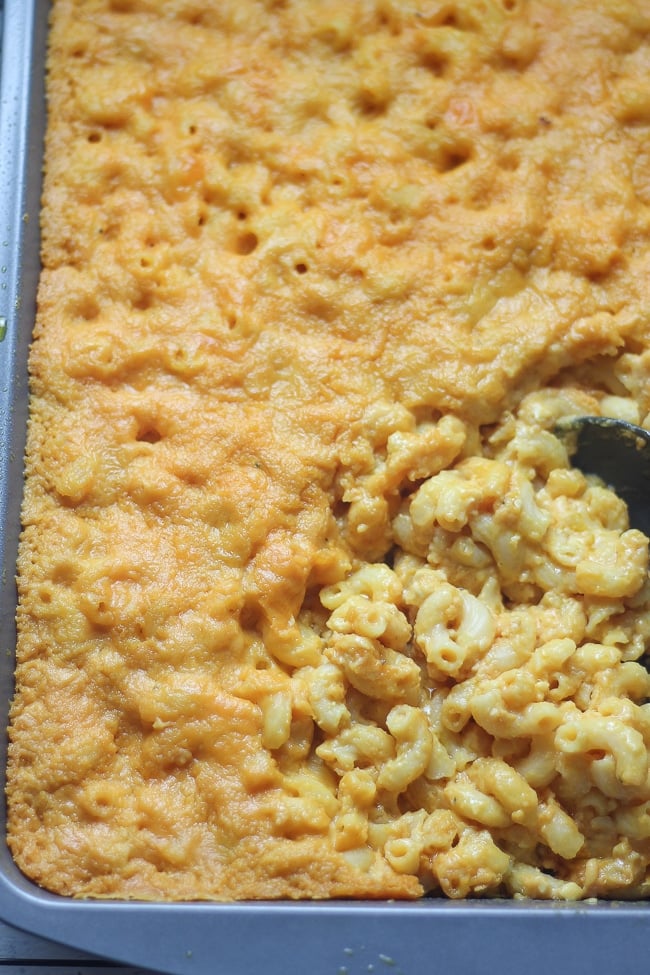 Ready for the best vegan baked mac and cheese on the internet? No carrots. No potatoes. No nutritional yeast.
We're gonna prepare this while our dressing is baking so leave that oven on! For this you want to make sure you use the FOLLOW YOUR HEART cheese brand for the most authentic tasting mac and cheese!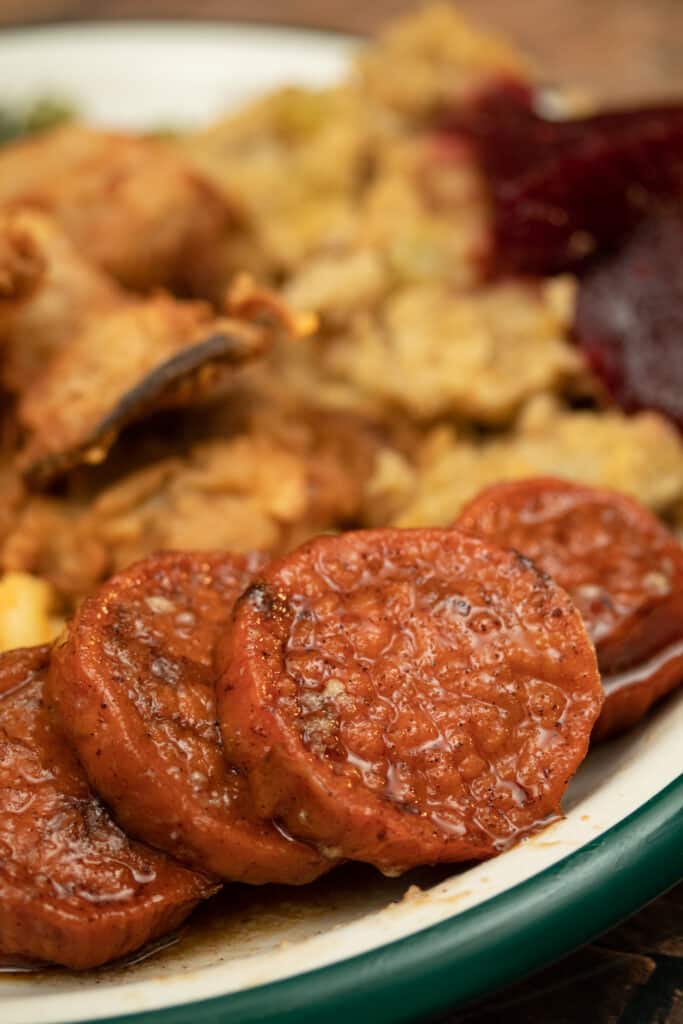 There are 2 keys to great candied yams:
One is using the right type of sweet potato. The garnet red sweet potatoes are the ones I recommend. Super pretty and naturally sweeter.
And two, leaving them alone allows them to cook and get candied! While your mac and cheese is baking, get to these yams!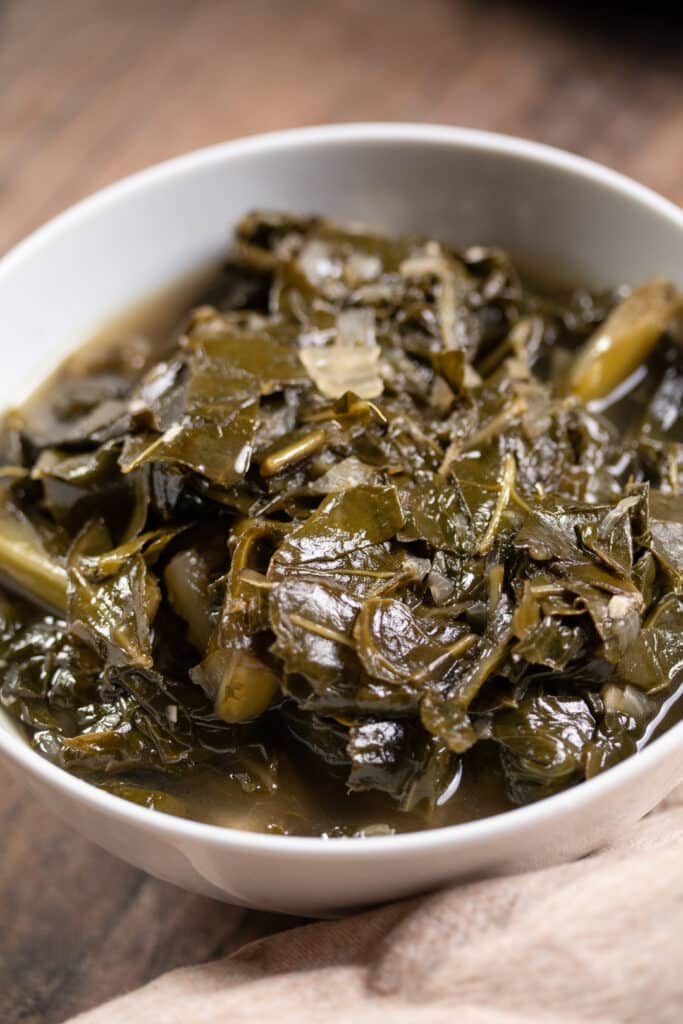 No underwhelming collard greens this season.
The key is to use Applewood Smoked Salt to give you that smoked flavored you would get using smoked animal flesh. We're gonna save time and dishes by using bagged collard greens and a pressure cooker.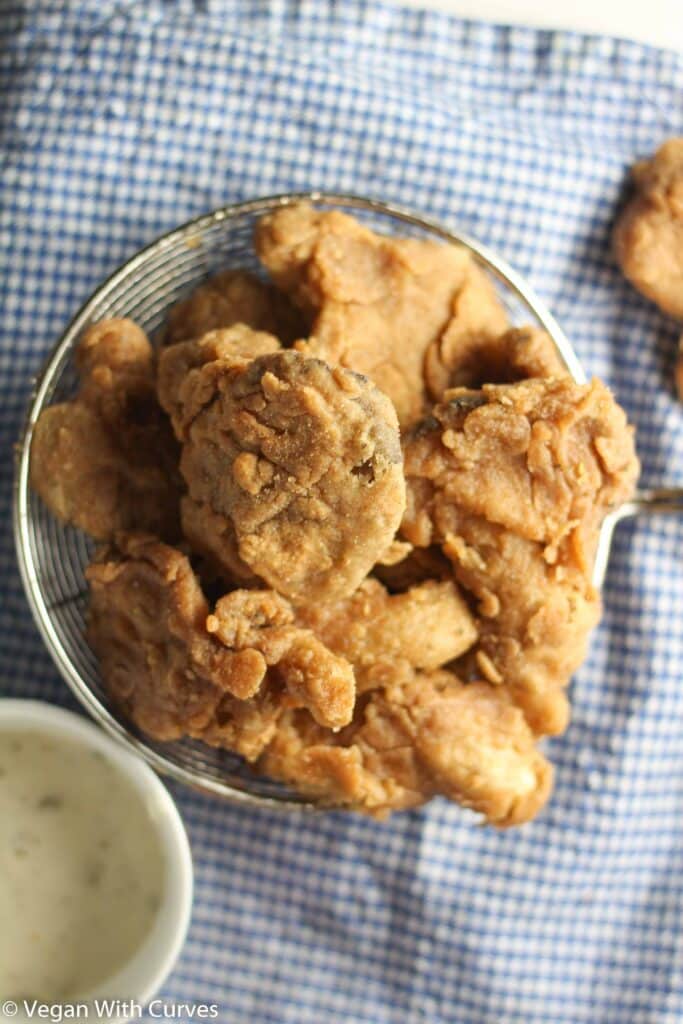 Now this wouldn't be a soul food dinner without fried oyster mushrooms!
We do this last because fried food should not just sit while everything else cooking. You want it nice, hot, and crispy!
Fry these bad boys up (how every many your hearts desire) and your vegan thanksgiving is complete!
Tips For A Successful Vegan Thanksgiving
Make sure you prep all your ingredients before each recipe. You can even label each prep bowl if a recipe calls for multiple ingredients. For instead, if you are using garlic powder for both mac and cheese and cream of chicken soup, measure out the ingredients for both recipes but place in a separate bowl.
Get some help! If you have kids this is even better! I use ro love being a child helping my grandma cook. I learned so much. It brings back so many sweet memories and after all that is what the holidays are all about.
Only try a few recipes at a time. Who saids you had to make everything? Maybe this year you are only making the vegan dressing or the vegan mac and cheese. If vegan cooking is new for you, break yourself in slowly!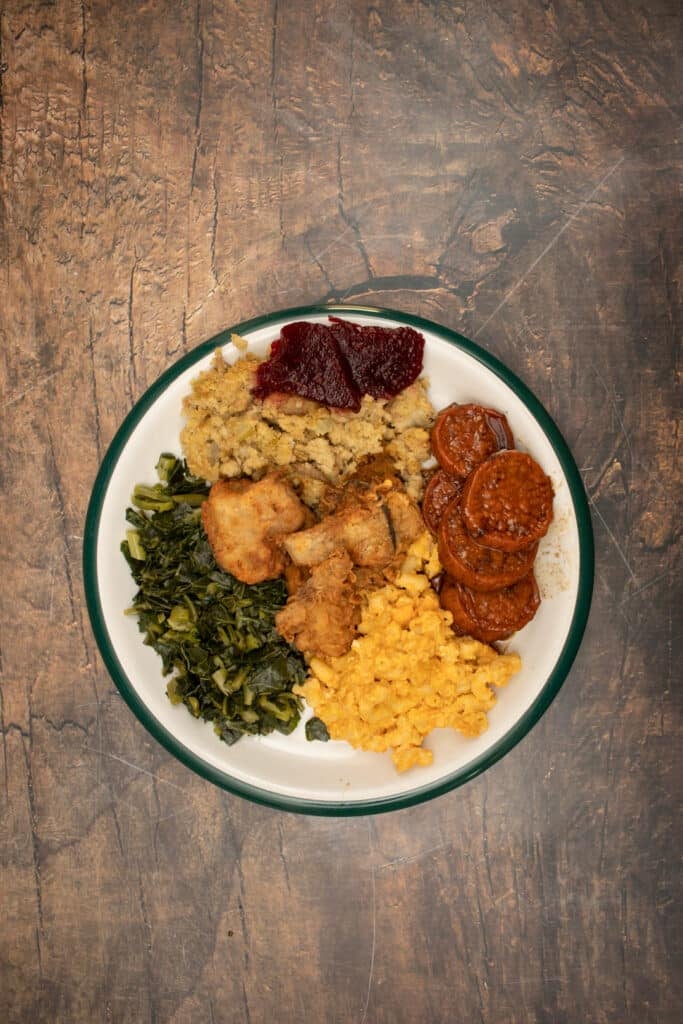 MORE RECIPE ROUND UP COLLECTIONS
See more recipe round up collections →
As an Amazon Associate, I earn from qualifying purchases. Please read my full Affiliate Disclaimer.
© Gina Marie Hoskins. Vegan With Curves. All Rights Reserved. Unless noted otherwise, all images, recipes, & content are copyright protected and registered with the U.S. Copyright Office. My images and written content are NOT to be used without prior permission. Read full Copyright Disclosure.