This post may contain affiliate links. Please read my disclosure policy.
These vegan appetizers are perfect for any holiday party or big game day event. We have fried finger foods, sliders, and much more!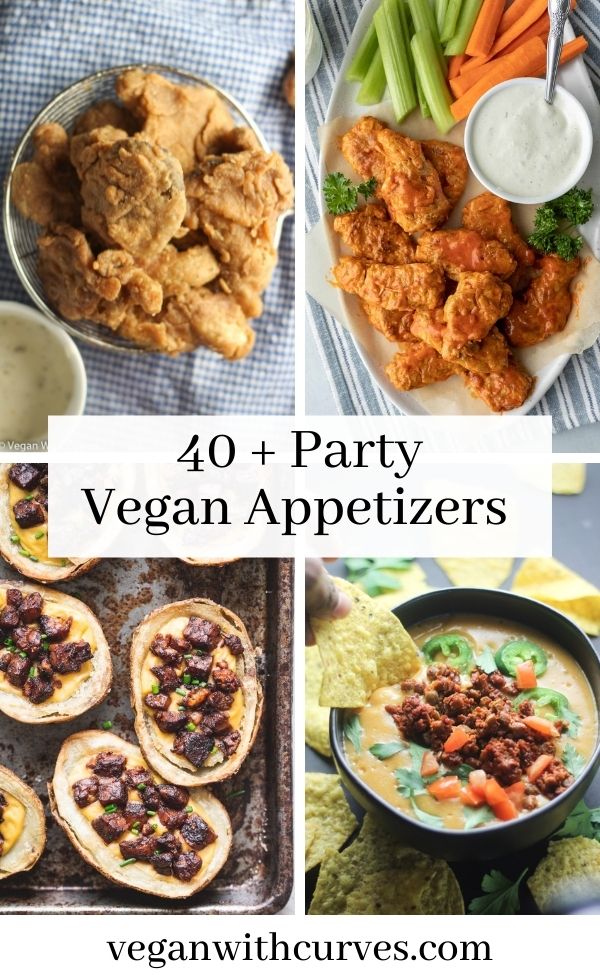 Many people state that one of the biggest issues about going vegan, is feeling left out at holidays, parties, and events.
Hey I get it.
As a 10 year vegan (at the publishing of this post), I know how it is to go to a party, and the only dish available is a plain romaine lettuce salad and maybe some unseasoned french fries.
Thank goodness times have change! Vegan food is not only abundantly available, but they are fun, creative, and filling. These vegan appetizers will be a hit in ANY crowd.
Where Can I Serve these Vegan Appetizer Recipes?
If you are like me, I love eating fun vegan finger foods on the weekend watching my favorite Netflix shows. But these are perfect to serve at ANY large get together event including (but not limited to):
Super Bowl
March Madness
Sunday, Monday, & Thursday Night Football
College Sports
Thanksgiving
Christmas
New Year's
Easter
Birthday
Kid's Parties
Potlucks
The appetizer recipes are grouped into 9 different categories. Feel free to use the table of contents above to jump the section you desire.
Top Vegan Appetizers
Fried & Breaded
We are starting off this round up with your favorite deep fried, air fried, and even baked and breaded fingers foods!
Buffalo
Spinning off from the last recipe, we're getting spicy with these buffalo flavored recipes!
Dips, Salsas, & Spreads
You are going to need some "saucy" dips and spreads to go along with those fried oyster mushrooms and buffalo cauliflower "wings"!
Barbecue
I'm a St. Louis gal, so it is only right that include some vegan BBQ theme appetizers!
Vegan Cheese
Cheese is not off the menu with these dairy and cruelty free options!
Pizza and Pastry
You are going to need some good vegan pizza recipes to go with all that yummy vegan cheese!
Nachos
We are continuing on with our cheese theme, featuring some of the BEST vegan nachos because no party is complete with this dish!
Fun Vegan Finger Foods
These vegan finger foods are super fun, creative, and most importantly DELICIOUS!
Sweets and Desserts
No better way to end this round up series than with something sweet!
Tips for Preparing for a Party or Event
Create an invite list: Know how many people will be there so you so you you can plan how much to cook.
Chose a food theme: If it's summer time, try a few of the BBQ appetizers. Or maybe go all buffalo style during your Super Bowl get together! Remember as tempting as it is, don't try to make everything on this list at one time. Pick a few of your favorites that stand out and wow your guests!
Create a shopping list: Once you have your food theme, go shopping in your home first to see what you already have. Then go shopping any additional ingredients you may need. Don't be afraid to buy some store bought items like vegan meats and vegan cheeses to compliment these recipes.
Make ahead what you can: Some of the recipes like the dips, vegan meatballs, and cheeses...can easily be made ahead of time. So save yourself some time and prep ahead!
Get your friends to help: It can be fun for your friends to be engaged in making the recipes they are going to indulge in. Hey they might even throw the next party if they are highly impressed.
More Recipe Round Up Collections
See more recipe round up collections →
---
As an Amazon Associate, I earn from qualifying purchases. Please read my full Affiliate Disclaimer.
© Gina Marie Hoskins. Vegan With Curves. All Rights Reserved. Unless noted otherwise, all images, recipes, & content are copyright protected and registered with the U.S. Copyright Office. My images and written content are NOT to be used without prior permission. Read full Copyright Disclosure.