This post may contain affiliate links. Please read my disclosure policy.
Bring in spring with over 15 of the most comforting Vegan Easter Dinners. We have vegan ham, potato salad, and so much more!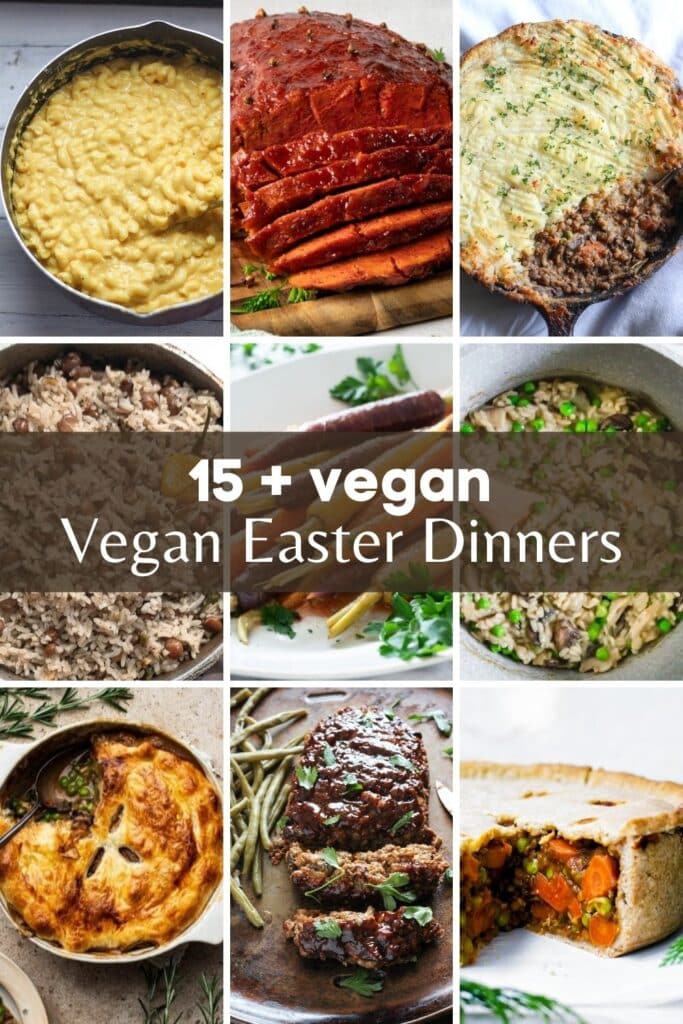 When I think of Easter dinner, I think of the most soulful Easter dinner my grandmother use to put together. Now that I am vegan, I still crave that those types of meals and luckily for me (and you), it still can be enjoyed.
Below, I have compiled some of the best comforting vegan dinner recipes you can make this holiday for you and your love ones. And if you aren't too stuff from dinner, head over to indulge your sweet tooth for these Vegan Easter Desserts!
Types of Vegan Easter Dinner Recipes
I have grouped these recipes into 3 different categories:
Feel free to use the table of contents above to jump to the section you desire.
Main Courses
Sides
Salads
Tips for Preparing for Easter Dinner
Take Your Time: This might be your first time making an Easter dinner that is vegan. That is okay! Take your time and be patient with yourself. If you can't do an vegan recipe menu, try one or two recipes.
Have Fun: Bring that old nostalgia back by turning on your favorite old school records (I recommend The Brothers Johnson!), while you whip up recipes!
Prep Ahead: A lot of the recipes like the vegan ham or vegan meatloaf can be made and prepped a day or two ahead. Save yourself some time by getting a head start.
More Recipe Round Up Collections
See more recipe round up collections →
---
As an Amazon Associate, I earn from qualifying purchases. Please read my full Affiliate Disclaimer.
© Gina Marie Hoskins. Vegan With Curves. All Rights Reserved. Unless noted otherwise, all images, recipes, & content are copyright protected and registered with the U.S. Copyright Office. My images and written content are NOT to be used without prior permission. Read full Copyright Disclosure.