This post may contain affiliate links. Please read my disclosure policy.
This is the BEST Vegan Lentil Loaf ever! Using both plant-based lentils and your favorite vegan ground beef crumbles, make this Vegan Lentil Loaf healthy but with a "beefy like" texture!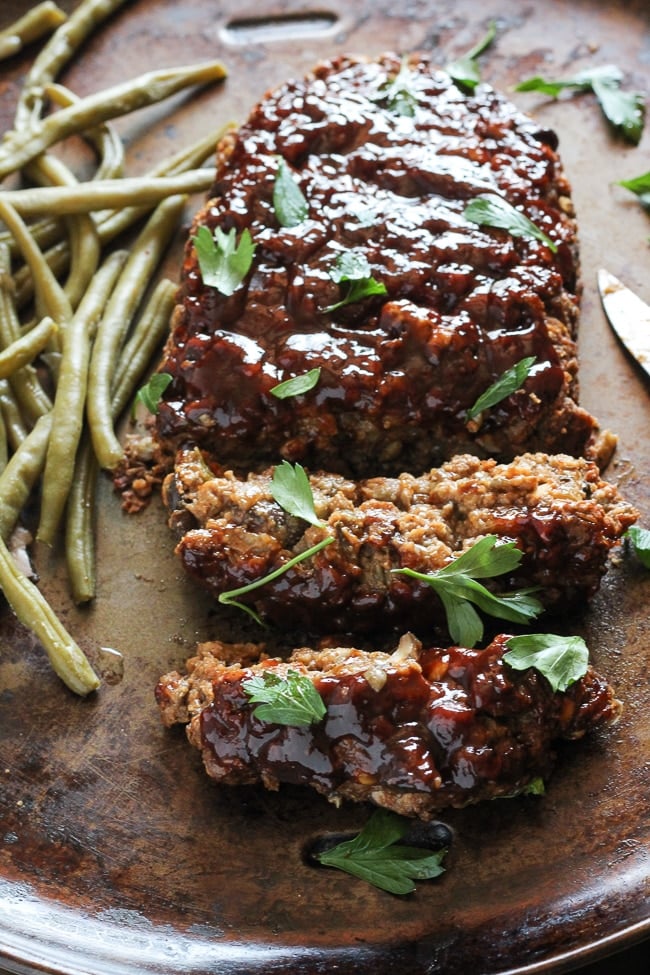 While there are a ton of vegan meatloaf recipes on the internet, this vegan meatloaf recipes is the BEST! It is part of the popular recipes collection here on the blog.
What is Vegan Meatloaf made of?
Typically vegan meat loafs are made from a combination of beans (usually chickpeas and lentils), tofu, seitan, rice, and/or quinoa. You will also find some recipes that uses only mock meat products.
This lentil loaf is the BEST of both worlds using high fiber lentils and your favorite "beefy" mock vegan product. Same satisfying texture without the cruelty!
Why Use "Faux" Vegan Ground Beef?
One reason I use a vegan ground beef product is due to texture. A lot of vegan meatloaves, burgers, meatballs, etc can come out too mushy. (Except for my vegan lentil meatball recipe).
That is because beans are naturally, well, mushy. So a vegan ground beef product adds back some texture.
Also using a ground beef product gives you a feeling of nostalgia and allows for creativity. Sometimes I crave that "beefy" like texture because it's what I grew up.
So without having to harm an actual animal, vegan mock meats are the answer!
I topped this with my delicious vegan BBQ sauce recipe, but you can glaze this vegan lentil loaf with vegan mushroom gravy or even a traditional based ketchup glazed sauce.
What Vegan Ground Beef Should I Use?
So when I originally created this recipe, I used Beyond Meat crumbles. Nowadays there way more options available.
So I now would use the packaged Beyond Meat ground beef, packaged Impossible Meat, or any other brand you personally like. Gardein beefy crumbles also work this recipe.
If you want something a little less processed (and less expensive), try this recipe with an old school vegan staple, TVP! If you never heard of this ingredient, check out What is TVP for more information. Walnuts could work as well.
Can I meal prep this recipe?
YES!
In fact this makes a PERFECT meal prep dish because you can make it ahead of time and freeze before you even cook it.
It will stay frozen and fresh for up to 3 months. I recommend vacuum sealing (you will need some vacuum seal bags) it in slices, to ensure freshness and portion control.
What can I serve Vegan Lentil Loaf with?
Below are some delicious sides you can serve this lentil loaf.
How to Make Vegan Lentil Loaf?
*Please read detailed and printable recipe card below for full ingredients and instructions
Prepare Veggies
Begin by sauteing your onions, garlic, and mushrooms. (Photos 1 & 2)
Then take half your lentils and put them in a food processor. Pulse a few times until slightly blended together. (Photos 3 & 4)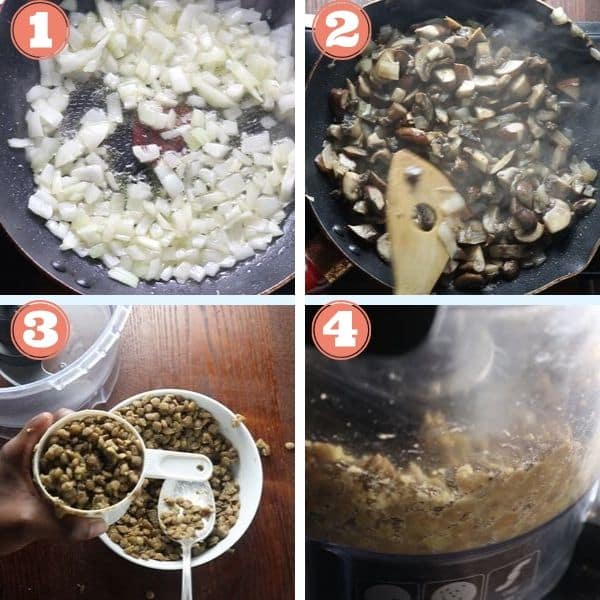 Mix Together Ingredients
Add processed and whole lentils to a mixing bowl. (Photos 1 & 2)
Then add your vegan beef crumbles, seasonings, oats, and breadcrumbs. Mix together until fully combine. (Photos 3 & 4)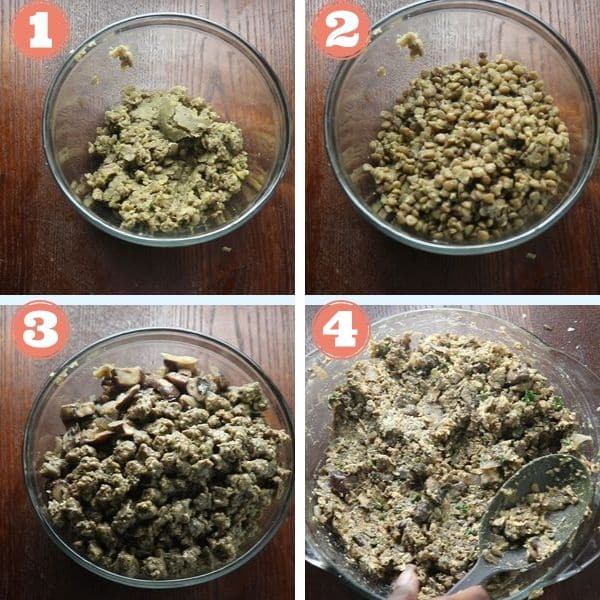 Mix Together Ingredients
Form your mixture into a loaf and brush on BBQ sauce. (Photos 1 & 2)
Bake for 20 minutes. Allow to cool before slicing and serve it with your choice of sides. (Photos 3 & 4)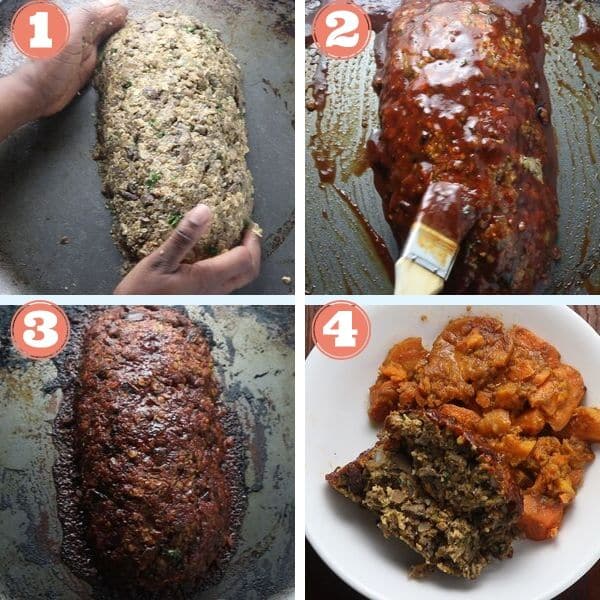 Substitution, Cook, & Storage Tips:
DO NOT use red lentils for this. They are too mushy for this recipe. However, red lentils work great in coconut lentil curry, red lentil bolognese, and vegan birria tacos.
Leftovers keep covered in the refrigerator 4-5 days once baked. I store them in air tight meal prep glass containers. DO NOT store at room temperature.
If you want to freeze, I recommend vacuum sealing (you will need some vacuum seal bags) it in slices or individual mini meat loafs

and date it. It will last up to 3 months in the freezer. When you are ready to bake, it can be popped straight into the oven

and topped with your favorite sauce!
How Does this Recipe Help with Vegan Weight Gain?
This loaf is high in protein due to the lentils and vegan ground beef. Each serving has 25 grams of vegan protein and makes a great post workout meal.
Be sure to read our vegan weight gain guide for more information on how to gain healthy weight and curves on a vegan diet!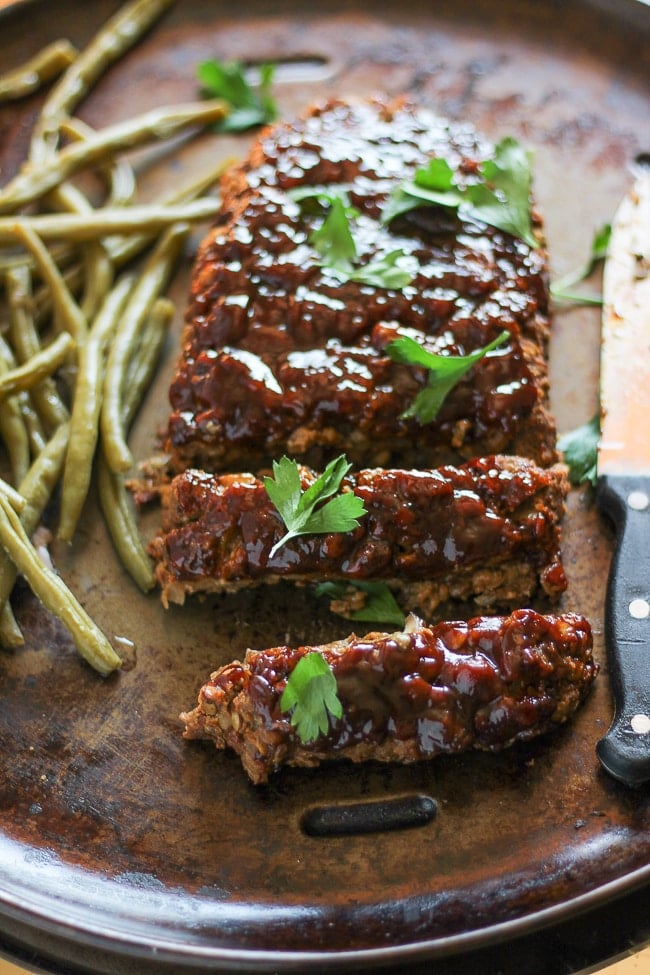 What People Are Saying About This Recipe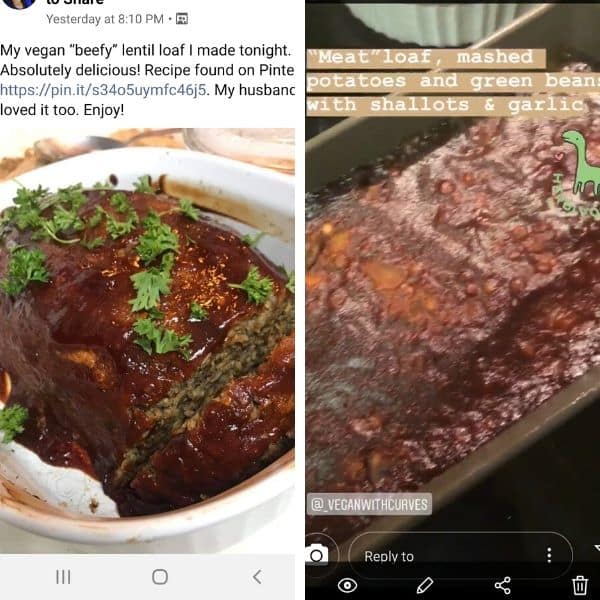 Loved this! I have made it twice already! - Leatha (via comments)

This recipe is getting rave reviews from my family. Thank you so much! - Mel (via comments)
More Lentil Recipes You'll Love:
WANT MORE? Subscribe to my NEWSLETTER and follow along on Pinterest, Facebook, and Tik Tok for the latest updates.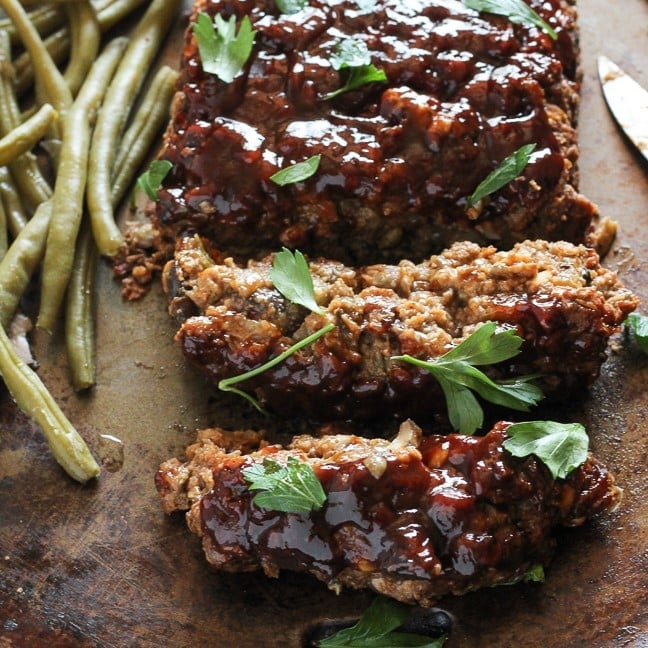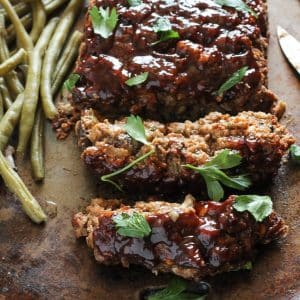 "Beefy" Vegan Lentil Loaf
This is the BEST Vegan Lentil Loaf ever! Using both plant-based lentils and your favorite vegan ground beef crumbles, make this Vegan Lentil Loaf healthy but with a "beefy like" texture!
Print
Pin
Rate
Ingredients
1

tablespoon

vegan butter

½

cup

chopped onion

1

teaspoon

garlic paste (or fresh minced garlic)

16

ounce

chopped mushrooms

2

cups

pre of cooked lentils (app. ¾ cup dried)

note 1

1

package

thawed vegan beefy crumbles (your brand of choice)

note 2 and 3

¼

cup

ketchup

2

teaspoon

vegan worcestershire sauce

note 5

½

cube

vegetable bouillon

1

tablespoon

chopped fresh parsley or dried Italian Herbs

½

teaspoon

sea salt

½

teaspoon

black pepper

½

cup

bread crumbs

⅔

cup

instant oats

¼-½

cup

vegan BBQ sauce

or your favorite brand of sauce
Instructions
Preheat your oven to 350°F (180°C). Grab a pan and place on medium-high heat. Add oil and then butter into the hot pan until the butter has melted

Next, add your chopped onions, garlic paste, and mushrooms and cook on medium-high heat until veggies are soft and translucent for about 5 minutes. Once veggies are done cooking set aside.

Take half (1 cup) of your pre-cooked lentils and blend together in your food processor. This will help your loaf bind together. Add your processed lentils to a large mixing bowl along with the other unprocessed whole lentils.

In your large mixing bowl also add cooked mushrooms and onions, thawed out vegan beef crumbles, ketchup, Vegan Worcestershire Sauce, vegetable bouillon, fresh parsley (or dried Italian herbs), sea salt, black pepper, bread crumbs, and instant oats.

Mix together until fully combined, gently smashing together (not too much tho). You can get messing and use your hands for this. It's kinda fun!

Line your pan with parchment paper for an easier cleanup or lightly grease your baking sheet or loaf pan with oil. Add your mixture to your baking sheet forming it into a loaf (it should hold with no problem). Or add it to your loaf pan and pat down.

Top with vegan BBQ sauce or your own personal favorite meatloaf sauce. Put in oven and bake for 15-20 minutes. Take out and let cool. The longer it cools the more it holds when you cut it.
Notes
PRE COOKED LENTILS: Use pre cooked lentils in the refrigerated section of your store to save time in making the recipe. If not make your own first. You will need ¾ cup dried lentils and 2 ½ cups of water. (NO SOAKING FOR LENTILS REQUIRED) Bring water to a boil and simmer lentils for 25 minutes. Drain well, and pat dry with paper towels to remove excess moisture. This helps prevent a mushy loaf.
MOCK GROUND BEEF: As of present day, there are now vegan ground beef packaged products (like the Impossible brand) versus just frozen crumbles. Feel free to experiment with those as they might provide a better bind than the crumbles! Any brand you like will be find.
MOCK GROUND BEEF BRANDS: Originally this recipe uses Beyond Meat Crumbles BUT I have redone this with Gardein brand and I like that better. Not everyone likes pea protein so I suggest using Gardein, Vegan Morning Star, or Boca. Please note that the size of the the package doesn't matter too much (as each brand varies from 10 to 13 ounces). Whatever brand you use, be sure to use the entire package.
FIRMER HOLD: The longer it cools, the better it will hold. If you want a firmer hold you will have to combine all ingredients inside a food processor. The downside of that is you can loose a lot of that "beefy" texture processing all the ingredients together. So it's all about what you desire the most.
ADDITIONS & OTHER SUBSTITUTIONS: Here's a secret, if you cannot find Vegan Worcestershire Sauce, use A1 steak sauce instead!
Nutrition
Nutrition Facts
"Beefy" Vegan Lentil Loaf
Amount Per Serving (1 slice)
Calories 328
Calories from Fat 81
% Daily Value*
Fat 9g14%
Sodium 954mg41%
Potassium 90mg3%
Carbohydrates 44g15%
Protein 25g50%
Vitamin A 254IU5%
Vitamin C 5mg6%
Calcium 82mg8%
Iron 7mg39%
* Percent Daily Values are based on a 2000 calorie diet.
DID YOU MAKE THIS RECIPE?
Be sure to PIN IT on Pinterest, leave a comment below, rate it, and mention @_VeganWithCurves using #veganwithcurves hashtag on Instagram so I can see it!
Update Notes: This post was originally published on March 1, 2018, but was republished with meal prep and storage tips on October 31, 2021.
---
As an Amazon Associate, I earn from qualifying purchases. Please read my full Affiliate Disclaimer.
© Gina Marie Hoskins. Vegan With Curves. All Rights Reserved. Unless noted otherwise, all images, recipes, & content are copyright protected and registered with the U.S. Copyright Office. My images and written content are NOT to be used without prior permission. Read full Copyright Disclosure.