This post may contain affiliate links. Please read my disclosure policy.
This Vegan BBQ Sauce has the perfect taste profile of sweet and tangy. It is super easy to make and is ready in less than 30 minute!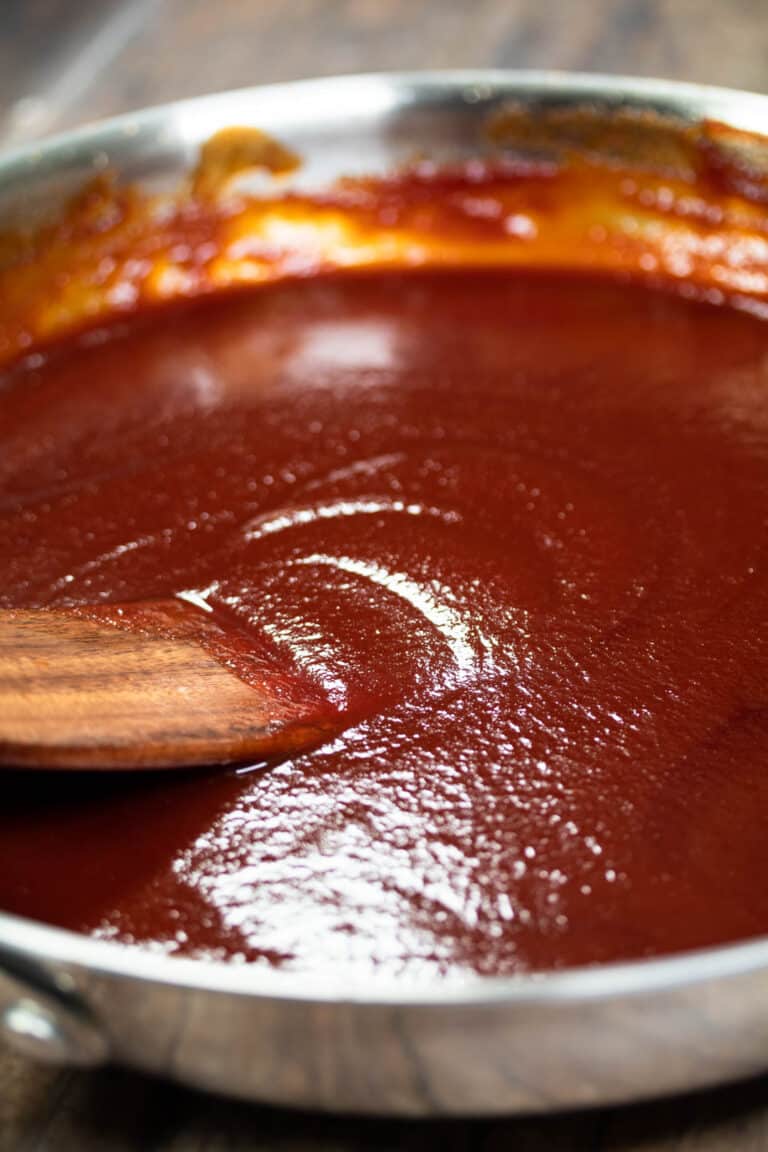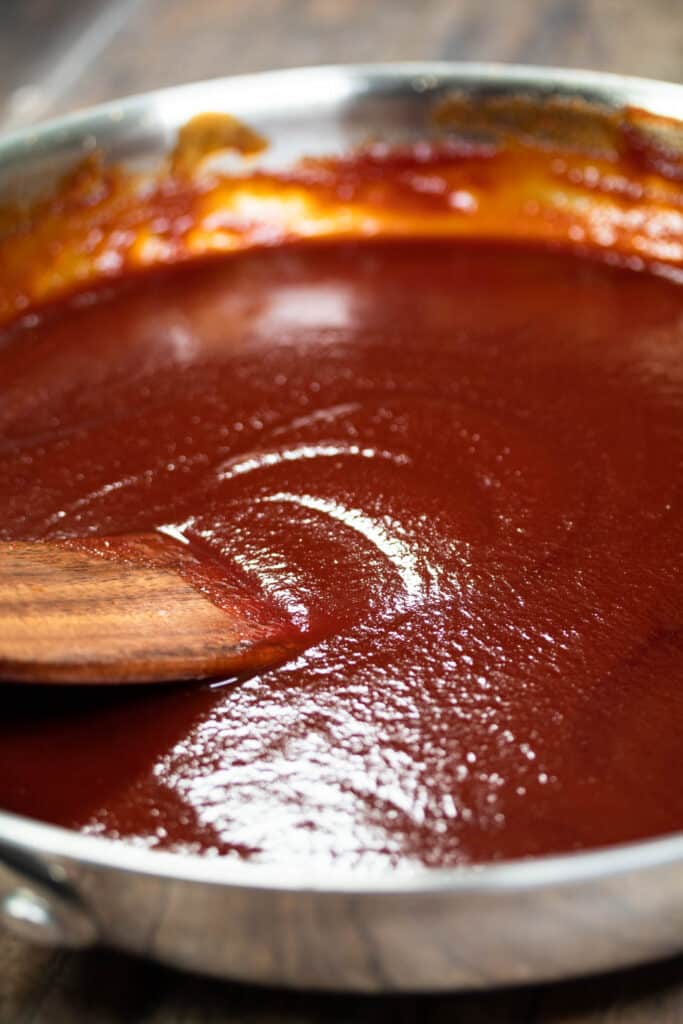 Just like my Mango BBQ Sauce recipe, this easy Vegan BBQ recipe is super easy and quick to make. You will never want to buy store bought BBQ sauce again!
It is perfect to use on vegan weight gain recipes like my vegan ribs, vegan lentil meatballs, vegan lentil loaf, and even as a dipping sauce for fried oyster mushrooms!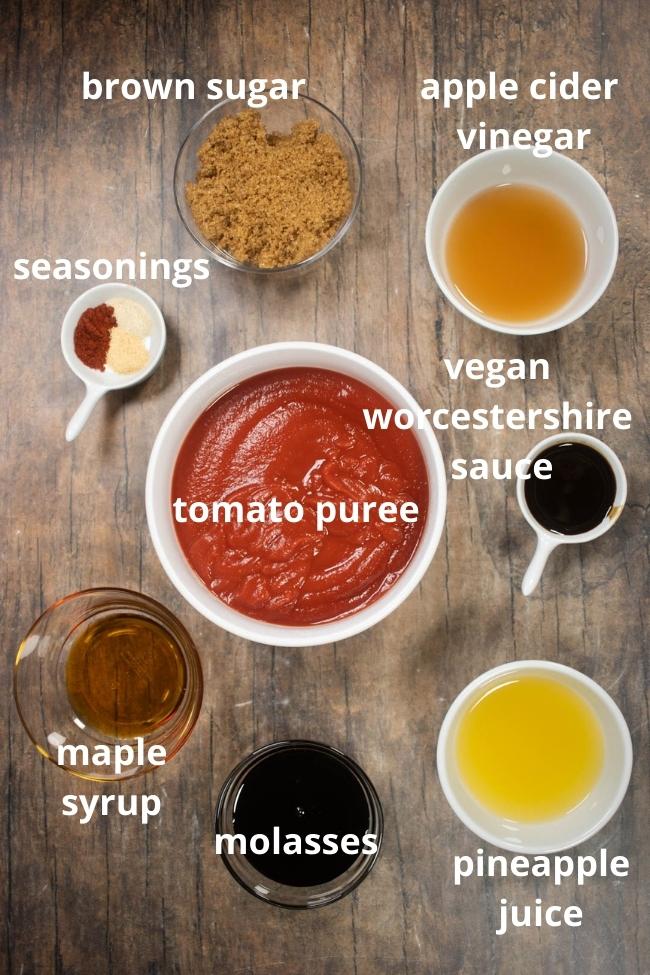 The 5 Components of a Good Barbecue Sauce
1. Tomato Base
This can be anything from...
tomato paste
tomato puree
ketchup
Typically ketchup is used for homemade BBQ sauces. For this recipe, I used tomato puree to control the amount of sugar in the sauce. Be sure to use tomato puree and NOT tomato sauce used for pasta.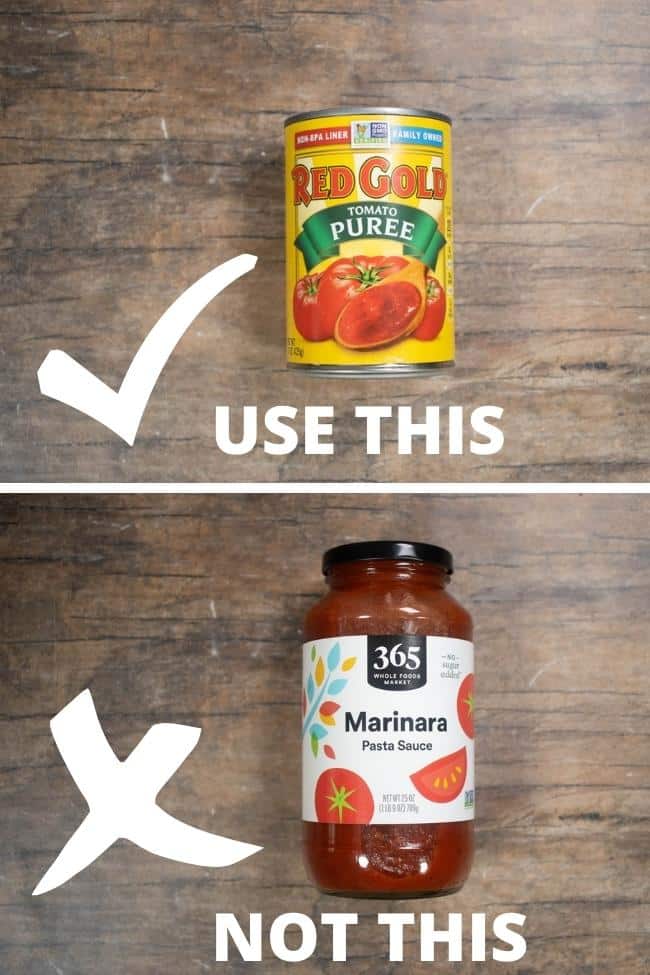 2. Vinger
This is the tangy component to a good barbecue sauce. You can use...
white vinegar
apple cider vinegar
mustard (has vinegar in it)
3. Sweetener
The amount of sweetener you use will largely depend on how sweet you desire your barbecue sauce and what flavors you desire. You can use a combination of...
brown sugar
molasses
maple syrup
agave nectar
coconut nectar
Bee Free Honey
sugar-free alternatives like monk fruit, stevia, erythritol
4. Spices and Flavors
Again this will largely depend on your flavor profile and how spicy you like your BBQ Sauce. Typical spices include ...
chill powder
cumin
liquid smoke
garlic powder (or chopped fresh garlic or minced dried garlic)
onion powder (or chopped fresh onions or minced dried onion)
cayenne pepper
Vegan Worcestershire Sauce
5. Extras
And lastly, if you want your BBQ Sauce to stand out, you can add some fruit to it! You can use...
apricots
blueberries
strawberries
pineapples
peaches
lemon juice (for even more tanginess)
How to Thicken BBQ Sauce
There are many ways to thicken BBQ sauce. With this vegan bbq sauce recipe, it thickens on its own because we are using tomato puree for the base. To read more about other ways to thicken your BBQ sauce check out How to Thicken BBQ Sauce.
How to Make Homemade BBQ Sauce
*Please read detailed and printable recipe card below for full ingredients and instructions.
Substitution, Cook, and Storage Tips:
Be sure to refer to the notes above of The 5 Components of What BBQ Sauce is Made Of to jazz it up and make it your own. The steps are the same but you can mix and match the ingredients based on what you like and what you already have.
Adjust the number of spices and sweeteners to your liking. Add more sweeteners if you like it sweeter, spices if you like it hot, or mustard if you like it tangier.
This recipe will keep in the refrigerator for 7-14 days in an air tight sealed jar. It can be frozen for up to 3 months. I like freezing them in portions using silicone ice cube trays.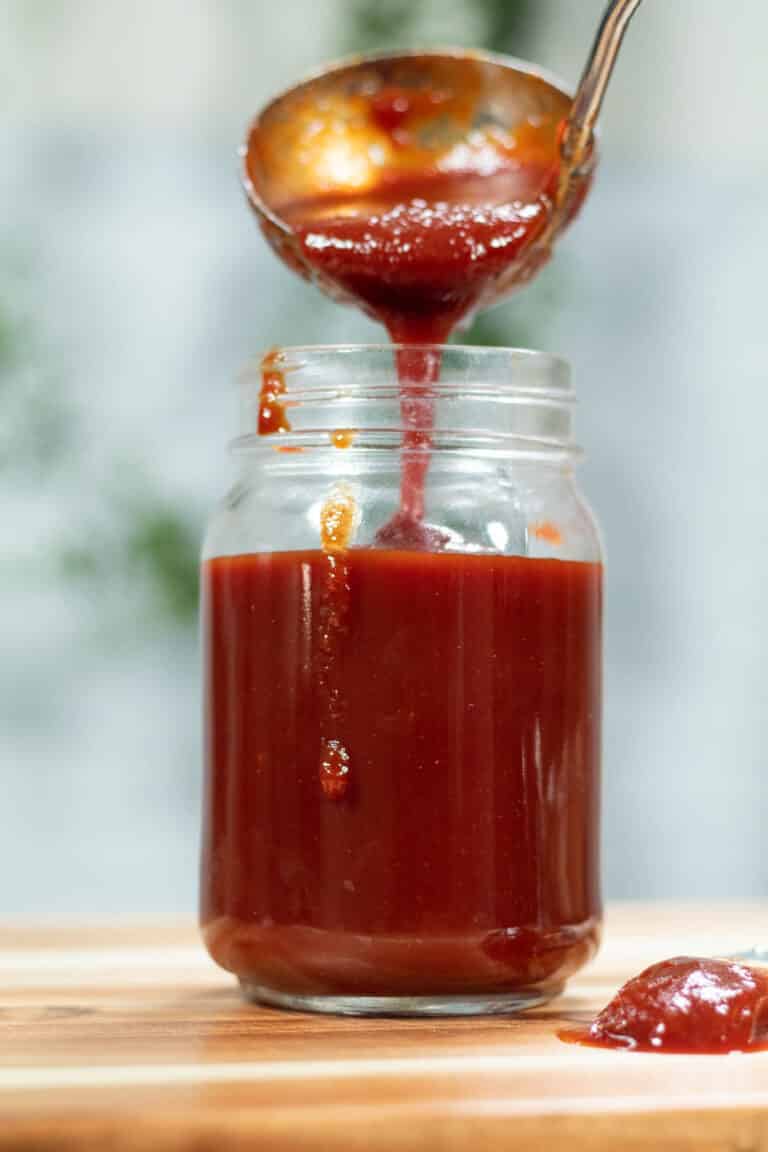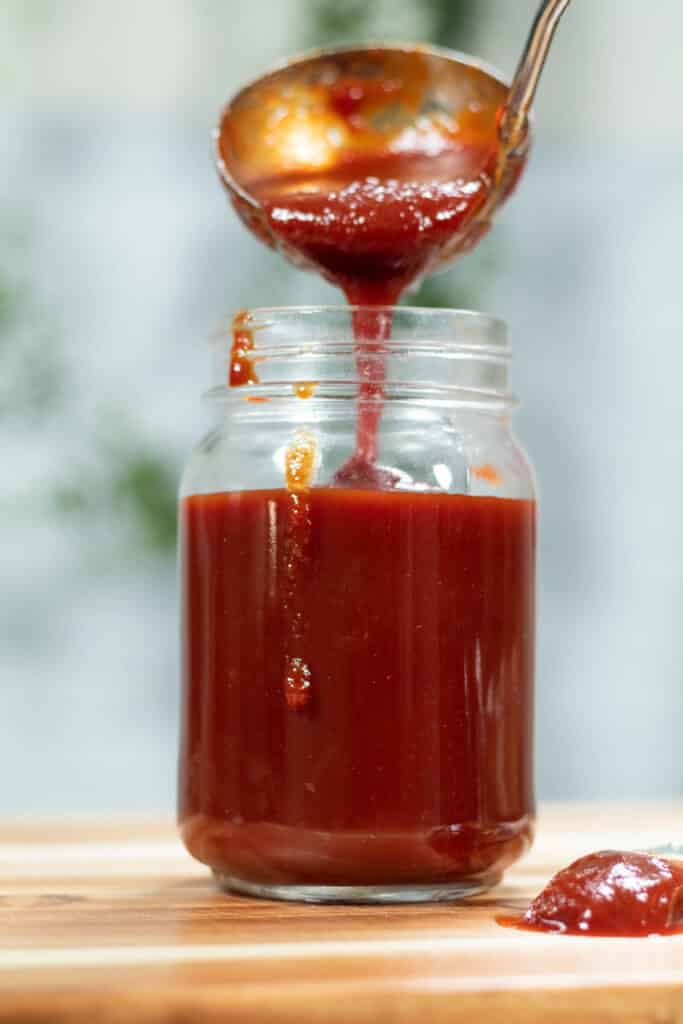 More BBQ Recipes
WANT MORE? Subscribe to my newsletter and follow along on PINTEREST, FACEBOOK, and TWITTER for the latest updates!
Update Notes: This post was originally published on June 17, 2019, but was republished with new photos, updated recipe, step by step instructions, tips, and a video June 4, 2022.
As an Amazon Associate, I earn from qualifying purchases. Please read my full Affiliate Disclaimer.
© Gina Marie Hoskins. Vegan With Curves. All Rights Reserved. Unless noted otherwise, all images, recipes, & content are copyright protected and registered with the U.S. Copyright Office. My images and written content are NOT to be used without prior permission. Read full Copyright Disclosure.