This post may contain affiliate links. Please read my disclosure policy.
With just 5 ingredients, this Protein Parsley Smoothie has over 20 grams of protein and over 400 calories to help with healthy vegan weight gain! No protein powders needed!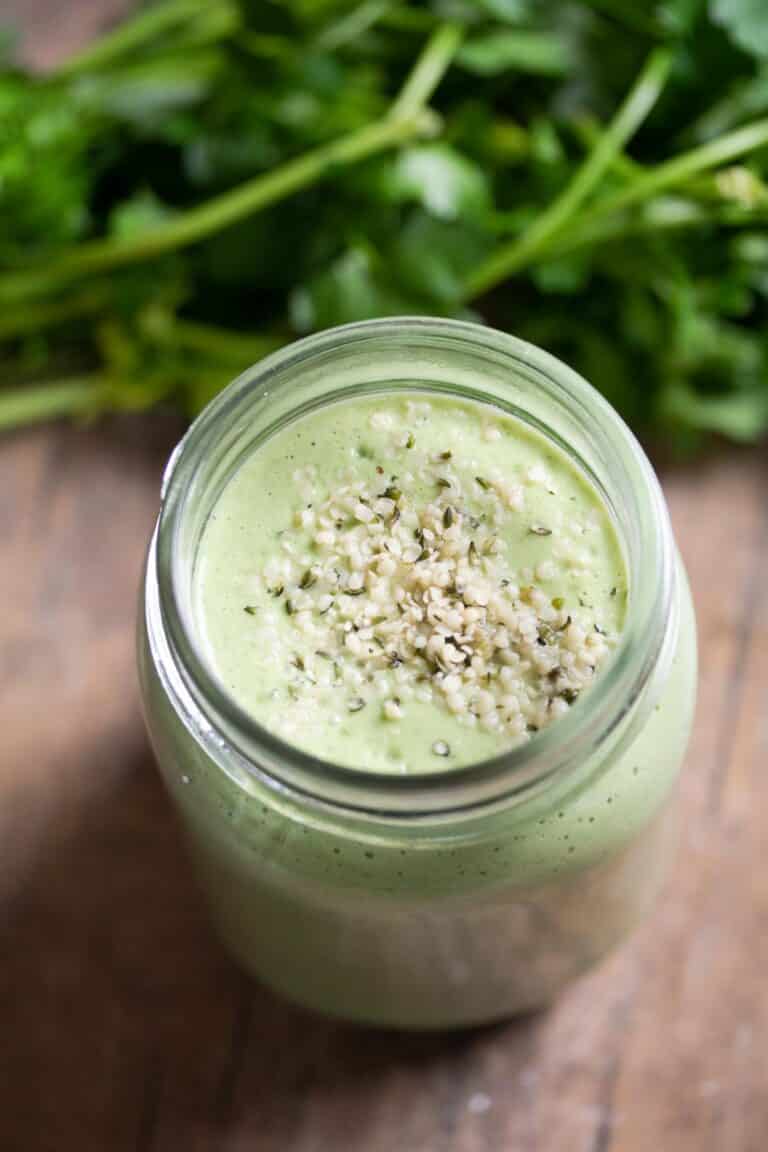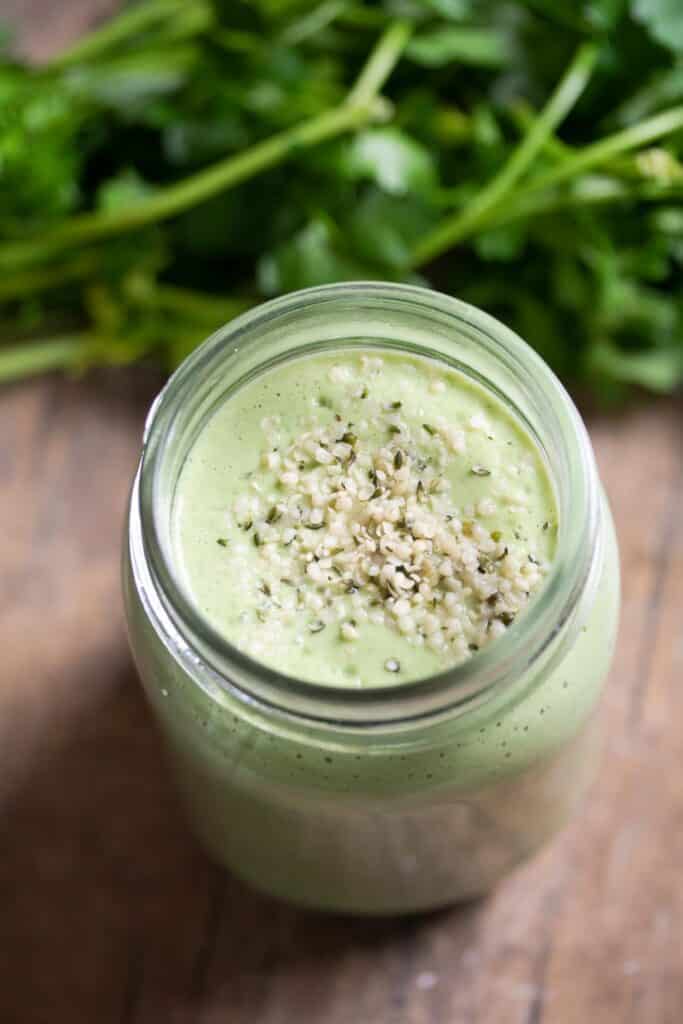 Is parsley good to use in a smoothie?
Yes!
Parsley is typically an afterthought for garnish on recipes. But this herb is a powerhouse of nutrition. Some benefits of parsley are...
Vitamins A, B, C, and K and the minerals iron and potassium.
A natural diuretic, which helps to eliminate excess fluid from the body.
It helps to balance blood sugar, which will help your body with long term weight balance.
To read more about parsley benefits check out 8 Impressive Health Benefits and Uses of Parsley.
To ensure a smooth smoothie, be sure to use a Vitamix Blender or any highspeed blender. It is an investment but so worth it. I bought mine in 2011 and it still works like new!
5 Ingredient Parsley Smoothie Ingredients
For this high protein green smoothie, you only need 5 ingredients:
vegan milk
orange juice
hemp seeds
fresh parsley
frozen banana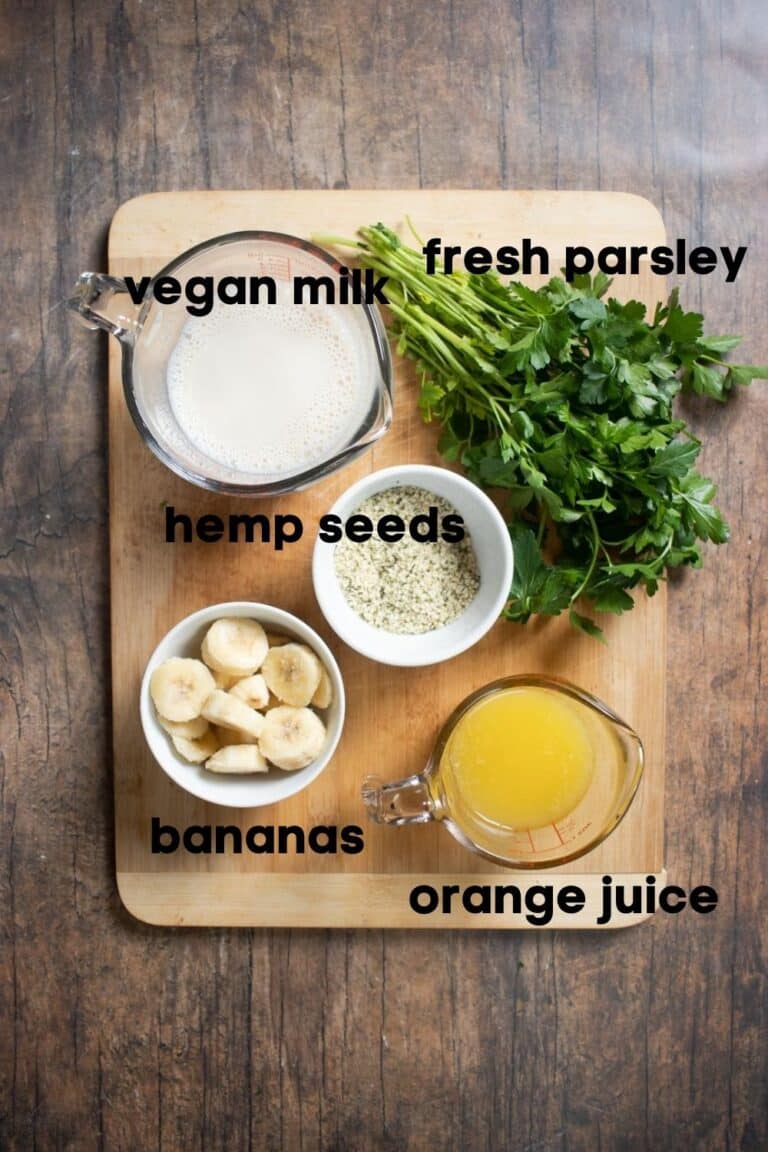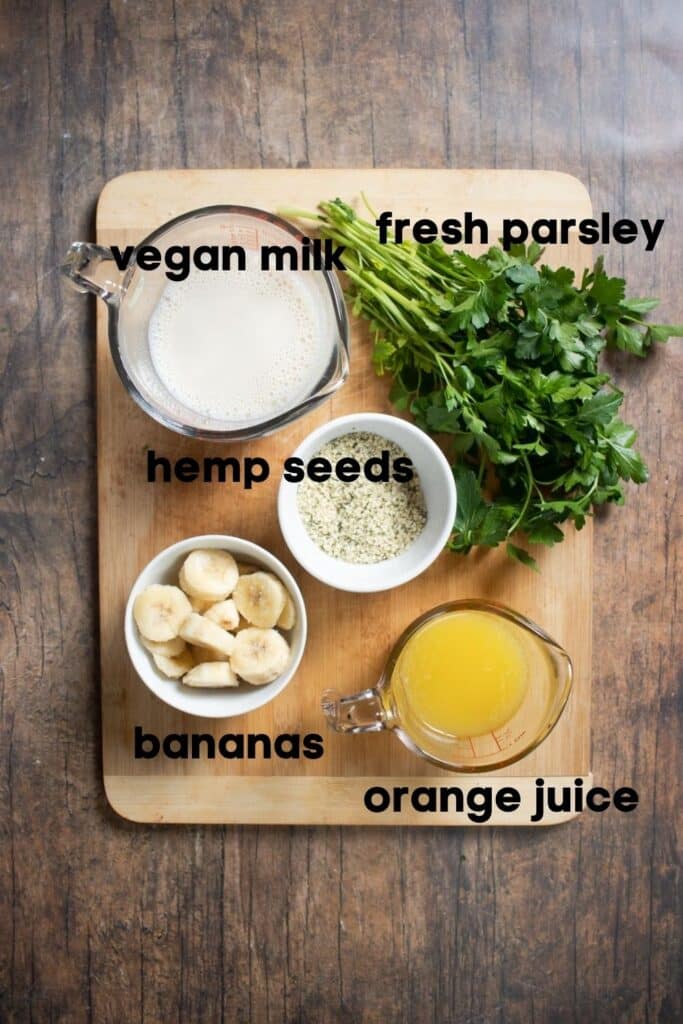 Can You Meal Prep This Smoothie?
Yes!
This recipe is included in my 28 Day Vegan With Curves Meal Plan Guide and it is great for meal prepping. There are 2 ways meal prep and store this smoothie recipe.
Refrigerator Storage Meal Prep
Grab some Reusable Storage Bags (or whatever bags ziploc you have on hand).
Divide parsley into 4 portions and rinse.
Wrap 4 portions in a paper towel and place it in your storage bags.
It will last for up to 3-5 days. When ready to consume, take your parsley and other ingredients and blend until smooth.
Freezer Storage Meal Prep (Making Freezer Packs)
Grab some Reusable Storage Bags (or whatever bags ziploc you have on hand).
Rinse parsley and divide into 4 portions on a paper towel to dry.
Add your divided parsley to each storage bag.
Take out 4 bananas. Add 1 chop banana to each bag
Take out your bag of hemp seeds. Add 3 tablespoons of hemp seeds to each bag.
Seal and pop in your freezer. It will last for up to 3 months. When ready to consume, remove contents from the bag and add to the blender along with liquid and blend until smooth.
Protein Packed Hemp Seeds
I am a fan of protein powders. But you don't always need them to get that protein boost you need after a workout. hemp seeds to the recuse!
One serving of hemp seeds has 120 calories making it calorie dense and 10 grams of protein! Plus, it is packed with omega 3s which is very important on a "curvy vegan" diet.
Now adding hemp seeds to your smoothie won't affect the taste but it will aid in vegan weight gain goals.
Substitution, Cook, & Storage Tips
Both flat leaf and curly parsley will do. You can use cilantro instead if you like the taste. Add other greens if you like such as kale or spinach.
Hemp seeds are there for added protein and calories. They don't affect the taste of the smoothie and can be omitted. (Just remember you will lose calories and protein if you do omit).
This smoothie is best served fresh. However, you can keep in the refrigerator for 24 hours, max 48 hours. You can freeze for up to 7 days. Scroll up to the post to view specific meal prep tips.
How Does This Recipe Help With Vegan Weight Gain?

Add this to your daily regimen by drinking it for breakfast, midday snack, or even better after a strength training workout!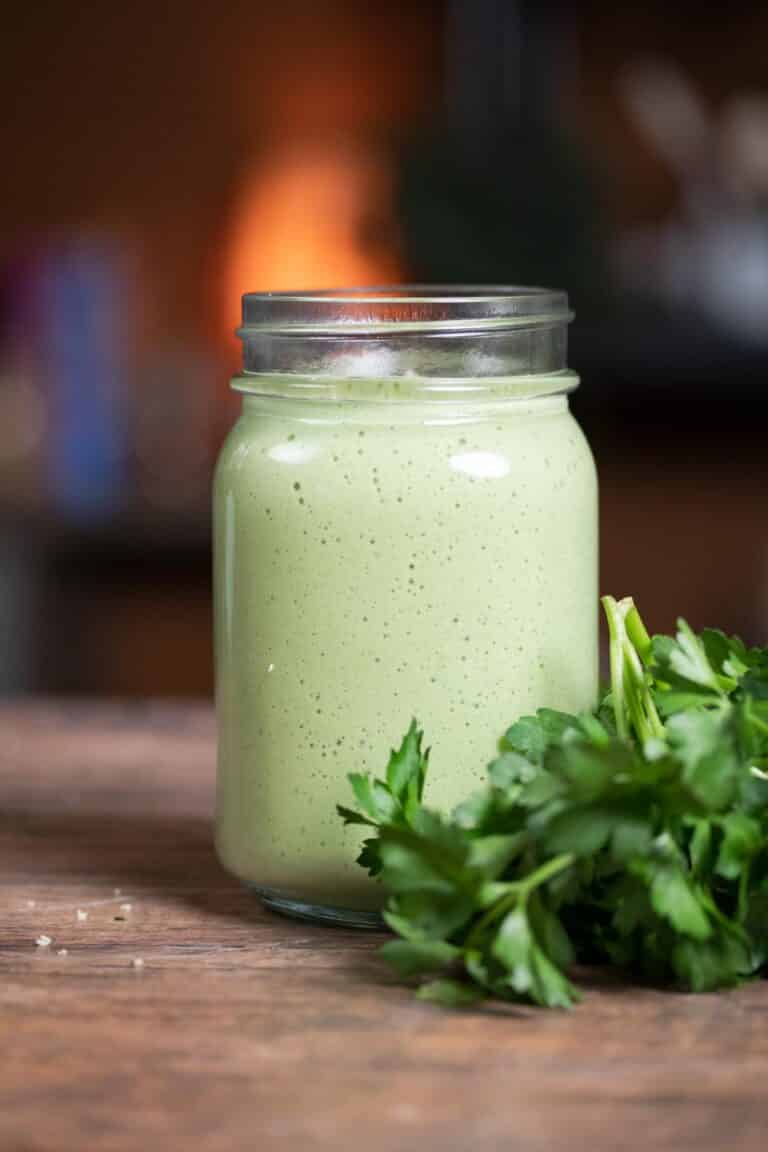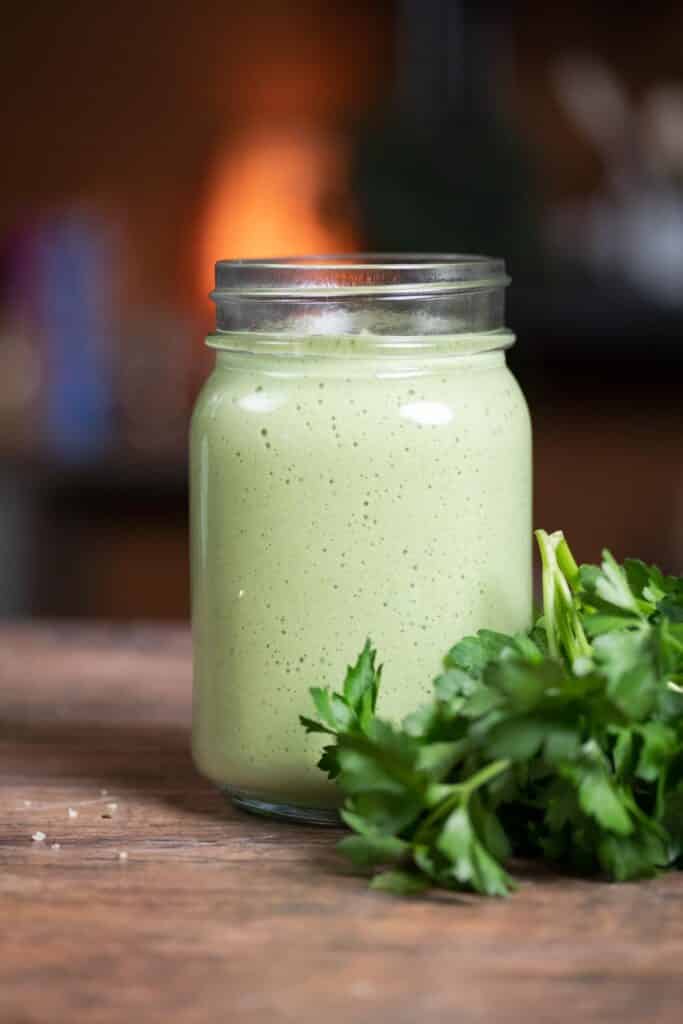 More Vegan Weight Gain Smoothie Recipes You'll Love
WANT MORE? Subscribe to my NEWSLETTER and follow along on Pinterest, Facebook, and Tik Tok for the latest updates.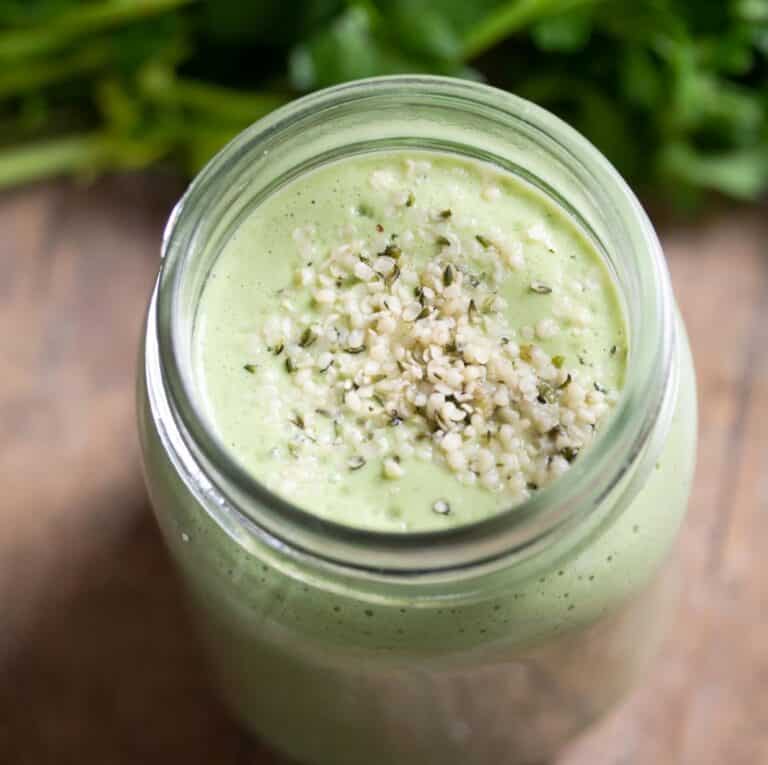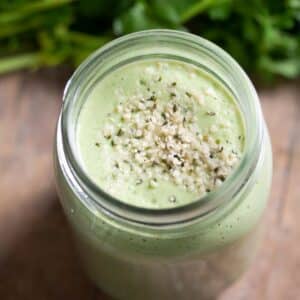 Protein Parsley Smoothie (No powders!)
This Protein Parsley Smoothie has over 20 grams of protein and just the right amount of calories to help with healthy vegan weight gain!
Print
Pin
Rate
Ingredients
1

cup

plant-based milk (any non-dairy milk of your choice that is high protein)

note 1

¾

cup

orange juice (preferably unpasteurized)

note 2

3

tablespoon

hemp seeds

½

bunch of parsley

note 3

1

medium frozen banana

note 4

sweetener (optional)
Equipment
Instructions
First rinse your parsley. Next add your plant based milk, orange juice, hemp seeds, parsley, and frozen banana to your high speed blender. Blend until nice and smooth. Serve immediately for post work out smoothie!
Notes
SCROLL UP TO THE BLOG POST TO SEE STORAGE TIPS, MEAL PREP, AND MORE INFORMATION ABOUT THIS RECIPE!
MILK: Be sure to use a plant based milk that has 8 grams of protein or more. My hemp seed sea moss recipe has 10 grams of protein per serving!
ORANGE JUICE: If you can't find

unpasteurized

squeezed orange juice, you can use whatever brand of orange juice you can find instead. This would even be good with pineapple juice! You can also omit juice and replace it with more nondairy milk.
PARSLEY: Both flat leaf and curly parsley will do. You can use cilantro instead if you like the taste.
BANANAS: If not using frozen bananas add ice cubes. If you don't like the banana taste substitute with frozen mango, papaya, or ½ fresh avocado.
Nutrition
Nutrition Facts
Protein Parsley Smoothie (No powders!)
Amount Per Serving (1 smoothie)
Calories 461
Calories from Fat 180
% Daily Value*
Fat 20g31%
Sodium 132mg6%
Potassium 1735mg50%
Carbohydrates 51g17%
Protein 22g44%
Vitamin A 660IU13%
Vitamin C 115mg139%
Calcium 719mg72%
Iron 8mg44%
* Percent Daily Values are based on a 2000 calorie diet.
DID YOU MAKE THIS RECIPE?
Be sure to PIN IT on Pinterest, leave a comment below, rate it, and mention @_VeganWithCurves using #veganwithcurves hashtag on Instagram so I can see it!
Update Notes: This post was originally published on April 12, 2018, but was republished with new photos, step by step instructions, tips, and a video March 22, 2022.
---
As an Amazon Associate, I earn from qualifying purchases. Please read my full Affiliate Disclaimer.
© Gina Marie Hoskins. Vegan With Curves. All Rights Reserved. Unless noted otherwise, all images, recipes, & content are copyright protected and registered with the U.S. Copyright Office. My images and written content are NOT to be used without prior permission. Read full Copyright Disclosure.