This post may contain affiliate links. Please read my disclosure policy.
Save enough room after dinner for these super indulgent Vegan Easter Desserts! Recipes include hot cross buns, carrot cake, and more!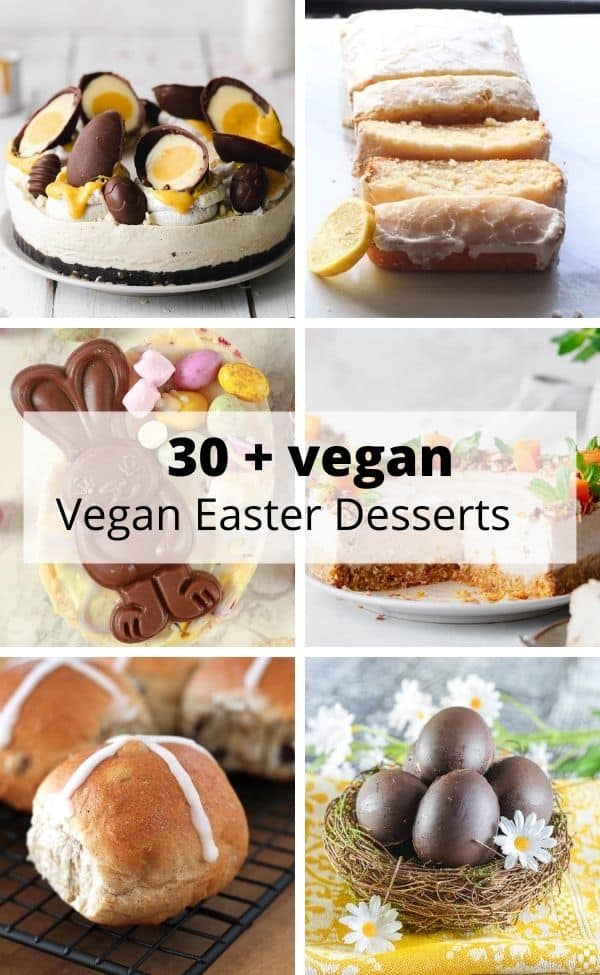 I have already shared some of the best Vegan Easter Dinners in the last post and I hoped you saved some room. Because these Vegan Easter Desserts you don't want to miss out on!
Types of Vegan Easter Desserts
I have grouped these recipes in 8 different categories:
Chocolate
Carrot
Lemon
Berry
Peanut Butter
Cheesecake
Hot Cross Buns
Southern Soul
Feel free to use the table of contents above to jump to the section you desire.
Chocolate Dessert Recipes
No matter what time of year, chocolate will always be a winner when it comes to desserts.
And yes, vegans can eat chocolate!
Carrot Dessert Recipes
You can't have an Easter celebration without signature carrot desserts like these!
Lemon Dessert Recipes
Lemon is the flavor that solidifies that it is Springtime!
Berry Dessert Recipes
These berry desserts add a little bit of a Summer feel to your Spring Easter table!
Peanut Butter Dessert Recipes
Peanut butter desserts are the definition of indulgence and decadence!
Cheesecake Dessert Recipes
There is no need to mess with momma cow this Easter to enjoy a delicious slice of cheesecake!
Hot Cross Buns Dessert Recipes
No Easter holiday is complete without the signature cross bun dessert!
Southern Soul Dessert Recipes
Easter Sunday couldn't be complete without these Southern Soul Desserts to enjoy.
Tips for Making for Vegan Easter Desserts
Have Fun: Vegan desserts are one of the easiest way to introduce plant based eating into your diet. Because after all, who doesn't like sweets!? These desserts are so good, no one will even realize animals by products were not used so have fun making these recipes for you and your family this holiday/
Prep Ahead: Things like the raw vegan cheesecakes, and cupcakes can be prep a day or two in advance saving you time in the kitchen!
Take a Vote: Make everyone feel included in your Easter celebration by voting on which vegan dessert to serve this year!
More Recipe Round Up Collections
See more recipe round up collections →
---
As an Amazon Associate, I earn from qualifying purchases. Please read my full Affiliate Disclaimer.
© Gina Marie Hoskins. Vegan With Curves. All Rights Reserved. Unless noted otherwise, all images, recipes, & content are copyright protected and registered with the U.S. Copyright Office. My images and written content are NOT to be used without prior permission. Read full Copyright Disclosure.