This post may contain affiliate links. Please read my disclosure policy.
Show your love and appreciation with these romantic vegan dinners. Perfect for Valentine's Day, date night, or Self Care Saturdays!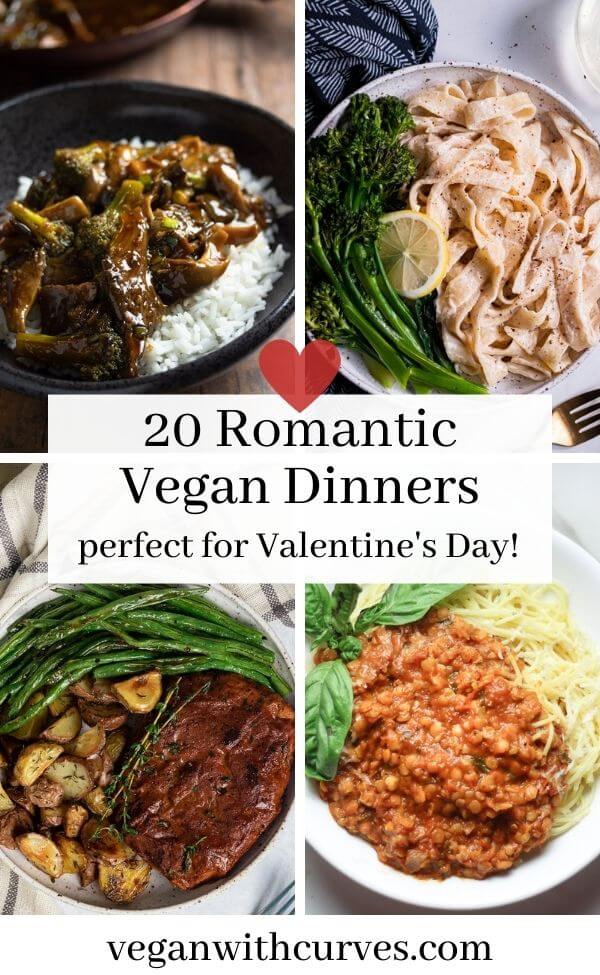 Dating as a vegan can be tough, but dinner does not have to be.
If you're lucky enough to find that special someone to share a plant based meal with, show them your appreciation with these romantic vegan dinners!
Vegan Dinners for Valentine's Day
Valentine's Day is associated with love, romance, and most importantly compassion.
A vegan lifestyle is about being compassionate and showing love to all sentient beings. So not only do these recipes say "I Love You" to your partner, but it said "I Love You" to the animals and planet.
Any vegan recipe would be perfect for this day of love and compassion. But the following recipes below are truly something special and perfect for a romantic evening.
Outside of Valentine's Day, these recipes can also be served on:
a weekend date night
a self love or self care evening for yourself
any night of the week where you want to make something special
These recipes are grouped into 6 different categories. Feel free to use the table of contents above to jump the section you desire.
Top Romantic Vegan Dinners
Mushrooms
Mushrooms are a vegan staple! This healthy earthy ingredient will make any dinner special!
Soups
Soups are comforting and can be made ahead for that special day. They taste better the day after too!
Pasta
We got the best vegan pastas from vegan alfredo to delicious spaghetti. Sure to keep you and your date full and happy!
"Meaty" Entrees
Even if your date is not vegan, they will surely love you and the vegan lifestyle with these "meaty" entrees!
Grain Dishes
Grains are abundant and versatile to use in any recipe whether sweet or savory. These grain dinners are perfect for your romantic evening.
Healthy Entrees
Show how much you care about your partner by caring about their health! These plant based entries are the made for a having a healthy Valentine's Day!
Tips for Preparing for that Special Night!
Know your partner: If this is a new "boo thang", inquire about what ingredients they like or don't like. Are they open to trying a vegan meal. A date is not necessarily the time to try and "force" anything new on someone so make sure they are actually open and excited to try a plant based meal!
Add wine: If you are a drinker (and of legal age), make these dinners super elegant with a nice glass of red (my personal favorite) or white wine.
End with dessert: Don't just stop at dinner! Check out these vegan valentines desserts and end your evening on a sweet note.
Cook with love: While preparing these dishes, put love into it! Put on some of your favorite love or sexy R&B songs (or whatever genre of music), and get yourself in the mood! Might sound a little "woo woo" but I truly believe the energy you come with in preparing food makes a difference in how it taste!
Prep in advance: Some these recipes can be prepped in advance. So save your energy a make dinner a day or two ahead so you can focus on dolling yourself for the evening!
More Recipe Round Up Collections
See more recipe round up collections →
---
As an Amazon Associate, I earn from qualifying purchases. Please read my full Affiliate Disclaimer.
© Gina Marie Hoskins. Vegan With Curves. All Rights Reserved. Unless noted otherwise, all images, recipes, & content are copyright protected and registered with the U.S. Copyright Office. My images and written content are NOT to be used without prior permission. Read full Copyright Disclosure.