This post may contain affiliate links. Please read my disclosure policy.
Find your pot of gold with these delicious cruelty free vegan St. Patrick's recipes! We have Irish Moss, Irish Stew, and so much more!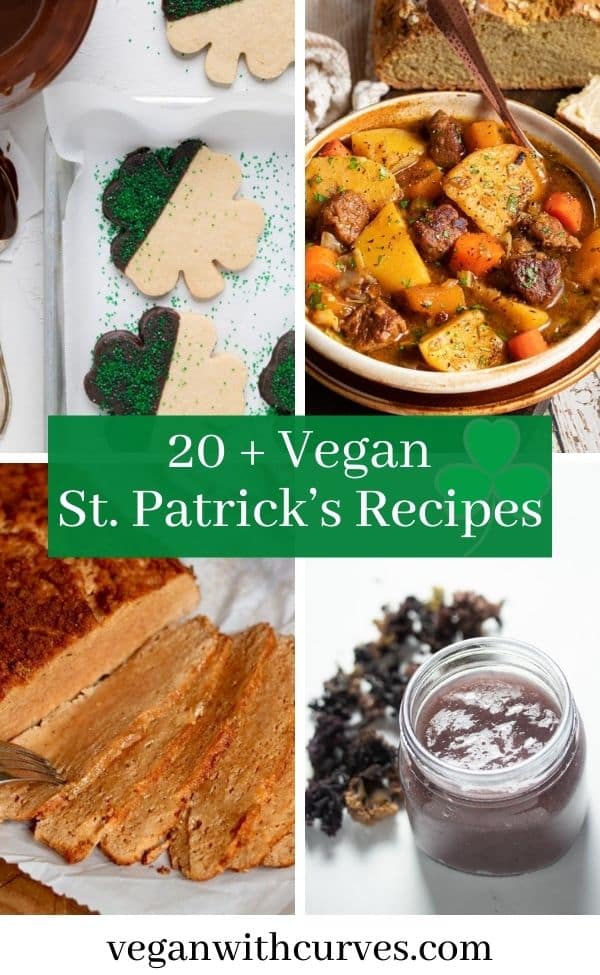 Types of Vegan St. Patrick's Recipes
Whether St. Patrick's Day is apart of your culture or you just enjoy the festivities of this holiday, these vegan St. Patrick's recipes will give you that fun traditional taste in a plant based way!
I grouped these recipes into 6 different categories. Feel free to use the table of contents above to jump the section you desire.
Seaweed
I wrote about this in my Sea Moss vs Irish Moss article. But this seaweed is highly nutritious and grows near the coast of Ireland
Potatoes
Of course we have potato recipes!
Not only are potatoes a staple for healthy vegan weight gain, but they are major staple in Irish cooking as well!
Comfort Classics
Now I had to include some traditional vegan St. Patrick's recipes like corn beef, Irish stew, and cabbage!
Easy Breads
One thing I love about Irish cooking is it's emphasis on simple and humble ingredients.
Baking bread does not have to be a challenge with these recipes.
Green Healthy Smoothies
Though green smoothies are not a tradition St. Patrick's recipe, the green color is and it adds something healthy to the mix!
Fun & Traditional Desserts
You can get so creative with desserts!
These vegan sweet treats are fun and some are even traditional!
Tips for Your Celebration
Learn the culture & history: Making all of these recipes are wonderful but this holiday, try to also learn more history & culture. You may be surprised at what you find out!
Embrace Simplicity: This holiday teaches that the real "good luck charm" is in the the simple things. So if you don't have all the ingredients to make these recipes, be resourceful and shop your kitchen. Make the meal your own.
Energy of Abundance: Green is the color of abundance so on this day, don't only wear the color, but feel that energy!
More Recipe Round Up Collections
See more recipe round up collections →
As an Amazon Associate, I earn from qualifying purchases. Please read my full Affiliate Disclaimer.
© Gina Marie Hoskins. Vegan With Curves. All Rights Reserved. Unless noted otherwise, all images, recipes, & content are copyright protected and registered with the U.S. Copyright Office. My images and written content are NOT to be used without prior permission. Read full Copyright Disclosure.