This post may contain affiliate links. Please read my disclosure policy.
Satisfy your sweet tooth this holiday with the ultimate Vegan Valentines Desserts guide! We have over 36 of the best indulgent vegan treats.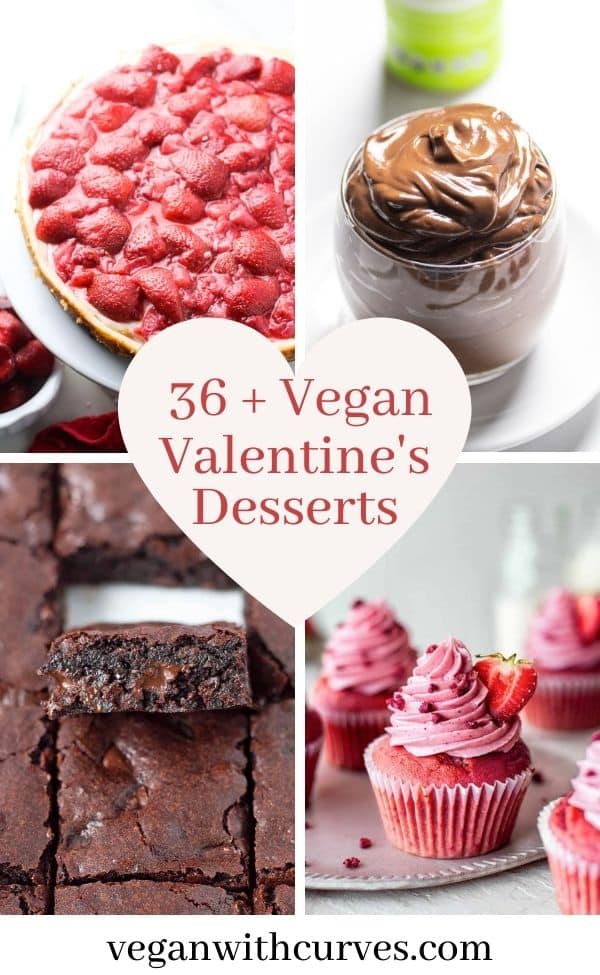 After eating your romantic vegan dinners, you will want to treat yourself to these vegan valentines desserts! This round up features over 36 vegan desserts that are sweet, decadent, and full of love.
Types of Vegan Valentine's Day Desserts
Here you will find your traditional chocolate treats, desserts made with fresh strawberries, vegan caramel sweets, dairy free cheesecake, and even homemade candy!
Not only can you serve these desserts on Valentine's Day, but they are also perfect for:
date night
anniversary
self care day or weekend
anytime you want a sweet treat or to show someone (or yourself) some love
These recipes are grouped into 11 different categories. Feel free to use the table of contents above to jump the section you desire.
Cake
These examples below show you that you can bake the most delicious, moist cake without the need of eggs or dairy.
Cheesecake
Cheesecake is my FAVORITE dessert and these vegan versions do not disappoint!
Cupcakes
Cupcakes are the perfect cute mini treat to give your partner this Valentine's day!
Brownies
Cookies
These cookies are crispy on the outside and chewy on the inside!
Ice Cream
Mousse & Puddings
Truffles & Fudge
Candy & Treats
Syrups & Sauces
Pies, Pastries, & Tarts
If you are a pastry person, these "sweet as pie" recipes are sure to please!
Helpful Tips!
Make ahead: The great thing about bakery goods is a lot of them can be made in advance! Your sweet treat will already be ready while you can focus on gift giving and receiving.
Lose the guilt: Today is not a day to worry about counting protein, calories, and carbs. Allow yourself to full be present and enjoy the holiday desserts.
Try something new: If you always do cupcakes, how about truffles this year? These recipes are here to guide you in every step so you can feel confident your dessert will turn out perfectly.
Add wine...always lol: There are vegan wines out there! Wine just makes any main dish and dessert that much more special! Of course this is only if you are of legal drinking age.
More Recipe Round Up Collections
See more recipe round up collections →
As an Amazon Associate, I earn from qualifying purchases. Please read my full Affiliate Disclaimer.
© Gina Marie Hoskins. Vegan With Curves. All Rights Reserved. Unless noted otherwise, all images, recipes, & content are copyright protected and registered with the U.S. Copyright Office. My images and written content are NOT to be used without prior permission. Read full Copyright Disclosure.