This post may contain affiliate links. Please read my disclosure policy.
Vegan soul food is just as good and these pressure cooker collard greens don't disappoint! Plus it's ready in under an hour!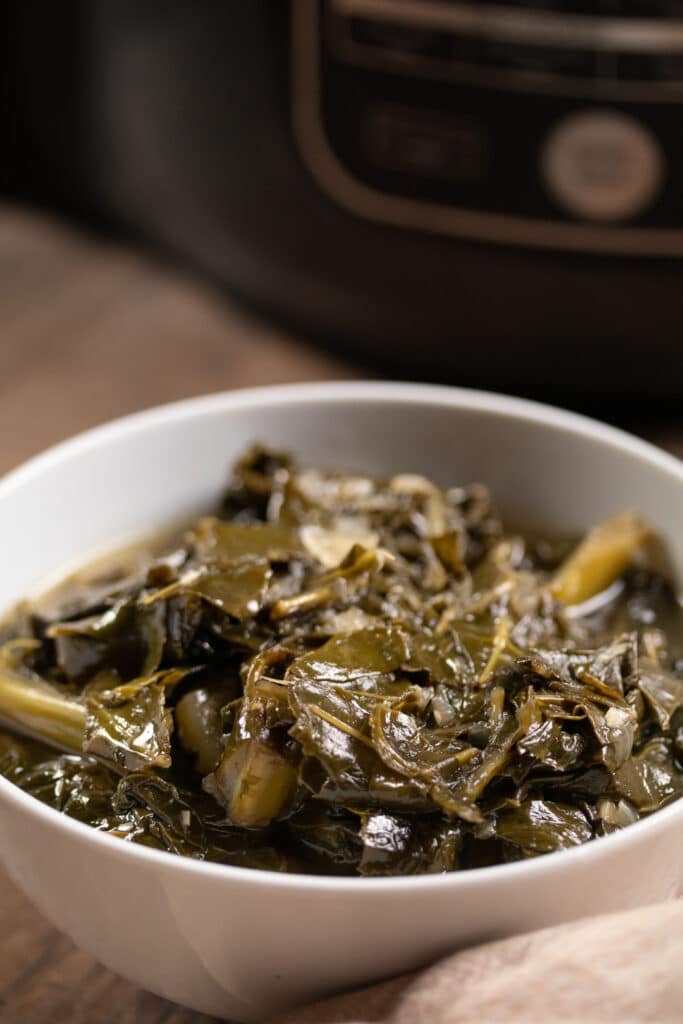 Nothing saids vegan soul food like collard greens!
In my vegan soul food meal prep guide (coming soon!), this pressure cooker collard greens pairs well with red beans and quinoa along side some spelt cornbread.
For Thanksgiving or a soulful Sunday dinner, love pairing collard greens with some dairy free mac and cheese, vegan lentil loaf, and vegan candied yams. Talk about filling and eating good!
Ninja Foodi Pressure Cooker Function
For these pressure cooker collard greens, I'm using my Ninja Foodi Cooker. I LOVE this cooker because, it's an electric pressure cooker, air fryer, slow cooker, oven, stove-top, steamer, and dehydrator all in one!
I use this cooking in appliance in other Soul Food theme recipes like Stove Top Baked Beans, and Oyster Mushroom Jackfruit Pot Roast.
Of course, if you have an Instant Pot that would work too. It does not matter the brand of the appliance, just as long as it can pressure cook.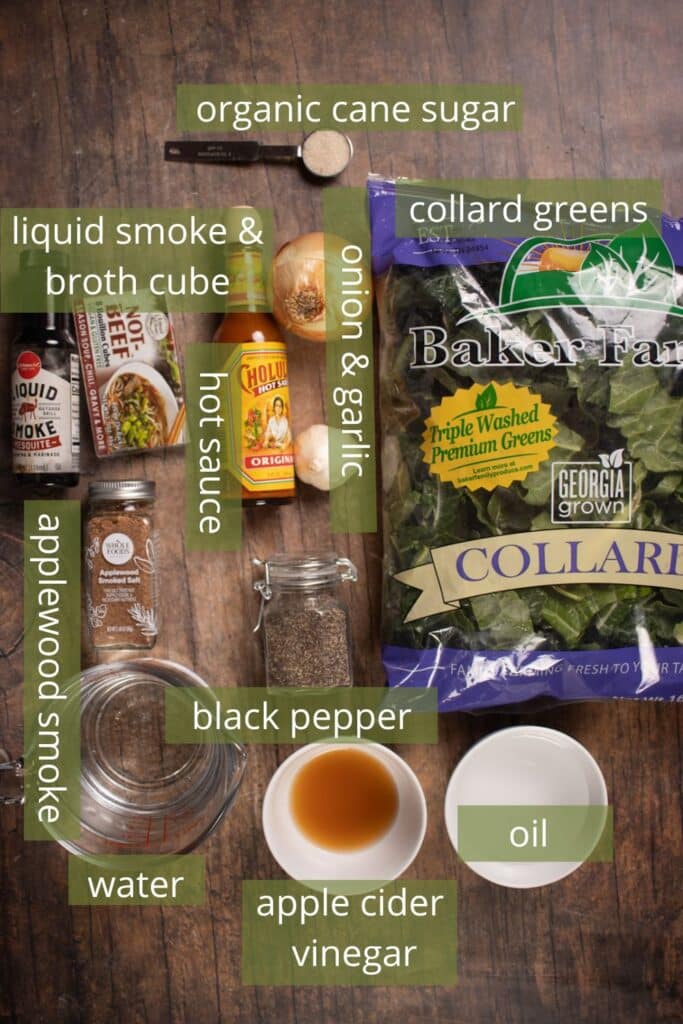 How to Get Flavor in Vegan Collard Greens
A lot of people think you need to use a turkey's leg or some type of pig's flesh (ham hock, salt pork, etc) to give flavor to traditional soul food recipes like greens and beans.
But what really gives the flavor of greens is the taste of something being "smoked" and salty. That can be easily achieve through 2 ingredients:
Applewood Smoked Salt: You can order this online or buy it at Whole Foods. But I encourage you to make this season a STAPLE in your vegan pantry. It is a must trust me. Once you experience it, you will never want to be without it.
Liquid Smoke: This you can find in most local grocery stores. Liquid smoke is a made from condensing the smoke from burning wood and mimics the flavor of something (usually animal flesh) being "smoked." Another great staple to have in your vegan pantry.
How to Make Instant Pot Collard Greens
*Please read detailed and printable recipe card below for full ingredients and instructions.
How to Meal Prep This Recipe
With vegan collard greens, there are 2 ways to meal prep and store this recipe.
Refrigerator Storage Meal Prep
Freezer Storage Meal Prep
You will want to flash freeze your greens to avoid crystallization. Grab a sheet pan and line it with parchment paper.
Line your greens on sheet pan. You can line it up in portions if you desire.
Pop in freezer. Once greens are frozen, portion them (if you desire) and transfer them into Reusable Silicone Bags and store back into freezer.
It will last for up to 3 months. When ready to consume, thaw it overnight in the refrigerator, reheat, and enjoy!
Substitution, Cook, & Storage Tips
To make this recipe quicker and make it suitable for meal prep purposes, I used the pre packaged fresh collard greens. But if you have the additional time to chop destemmed the fresh collard greens, feel free to use that instead!
These recipe can be stored in the refrigerator for up to 5 days or in the freezer for up to 3 months. Scroll up the post to view specific meal prep tips.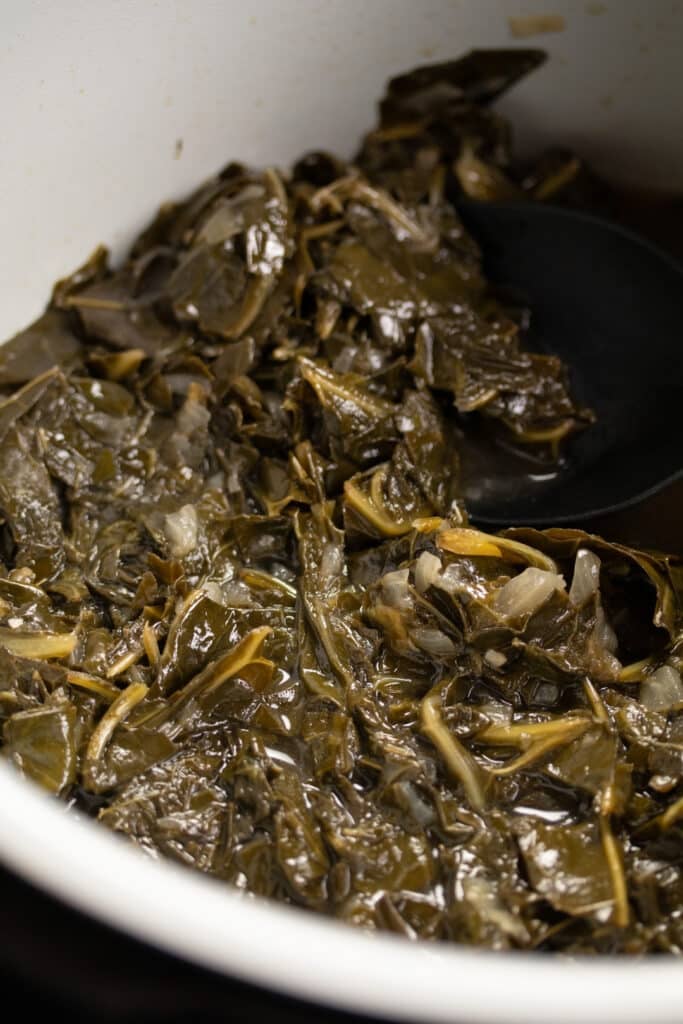 More Vegan Soul Food Recipes You'll Love
WANT MORE? Subscribe to my NEWSLETTER and follow along on Pinterest, Facebook, and Tik Tok for the latest updates.
As an Amazon Associate, I earn from qualifying purchases. Please read my full Affiliate Disclaimer.
© Gina Marie Hoskins. Vegan With Curves. All Rights Reserved. Unless noted otherwise, all images, recipes, & content are copyright protected and registered with the U.S. Copyright Office. My images and written content are NOT to be used without prior permission. Read full Copyright Disclosure.