This post may contain affiliate links. Please read my disclosure policy.
This is the most authentic tasting vegan cornbread dressing online! This dressing will have you thinking you're back at your grandma's kitchen!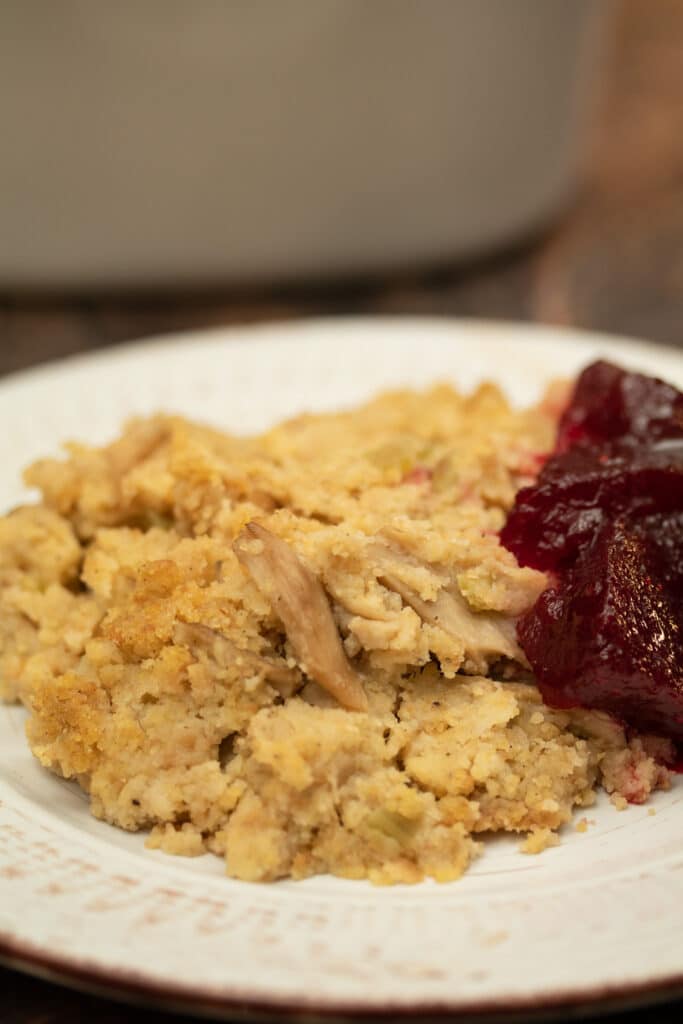 On Facebook I made a status about how I almost shed tear when I tasted this vegan cornbread dressing.
I spent a long time trying to replicate how my grandma made cornbread dressing and I FINALLY was successful! It pairs perfectly with my sea moss jellied cranberry sauce!
Now this is NOT a quick recipe. It is very involved and will need to be made with love, time and care. So I am honored to share this recipe with you to bring to your vegan thanksgiving table or vegan soul food Sunday dinner!
Vegan Cornbread Dressing Key Ingredients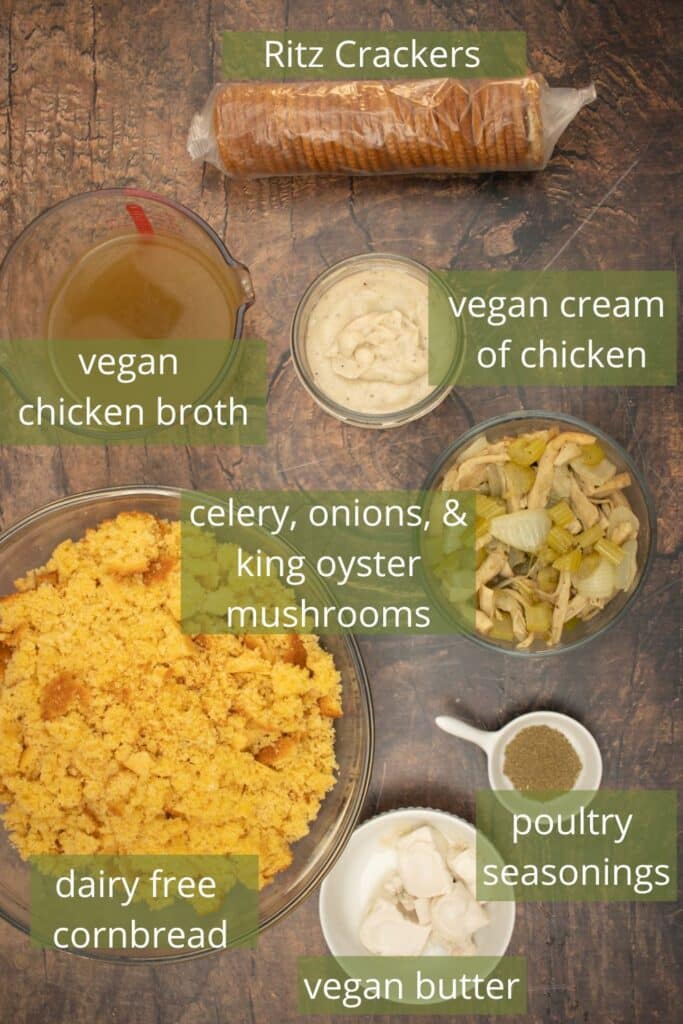 Dairy Free Cornbread: Every good cornbread dressing starts with a good cornbread. I used my day old buttermilk dairy free cornbread recipe for recipe versus my spelt cornbread recipe. Both are good but my spelt cornbread recipe is a little to sweet for this.
Vegan "Chicken" Broth: This broth is out of this world! The recipe is posted in the recipe card but I also made a separate blog post for it because it is so good! I used King Oyster Mushrooms as the "chicken" substitute. So this broth is a similar method just as if you were making chicken broth in a traditional cornbread dressing recipe.
Vegan Cream of Chicken Soup: I made this recipe specifically for this cornbread dressing dish. It takes 10-15 minutes to make and is so worth the additional flavor for your dressing.
Ritz Crackers: Some people use stale bread. Others use saltine crackers. But ritz crackers add an amazing flavor and yes it is naturally vegan!
How to Make Cornbread Dressing
*Please read detailed and printable recipe card below for full ingredients and instructions.
Make the Broth
Make the Dressing
SUBSTITUTION, COOK, & STORAGE TIPS
You can use any vegan cornbread recipe you prefer however, my dairy free cornbread recipe is specifically made for this recipe.
If you don't have time to make your own vegan chicken broth, you can use your favorite store brought brand but I URGE you to make the broth yourself as it is so much more flavorful.
This recipe will last in the refrigerator for up to 7 days and in the freezer for up to 3 months. You can even pre make your dressing and freeze it un cooked for up to 3 months. Just make sure you cover it it tightly in plastic wrap in your pan.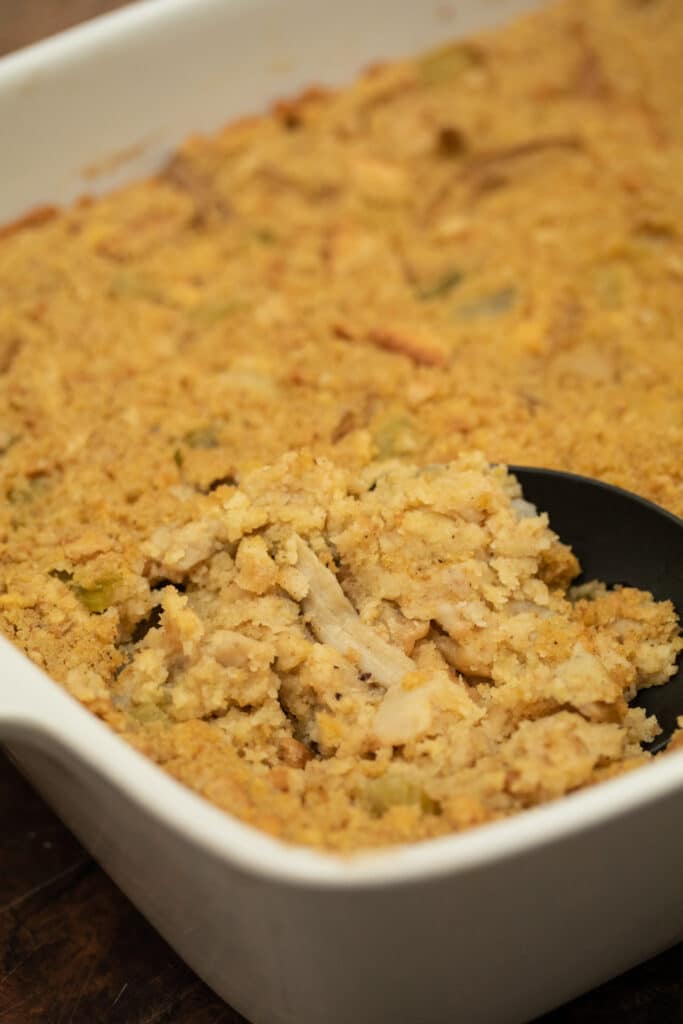 More Vegan Thanksgiving Recipes
soul food thanksgiving menu (coming soon!)
WANT MORE? Subscribe to my NEWSLETTER and follow along on Pinterest, Facebook, and Tik Tok for the latest updates.
As an Amazon Associate, I earn from qualifying purchases. Please read my full Affiliate Disclaimer.
© Gina Marie Hoskins. Vegan With Curves. All Rights Reserved. Unless noted otherwise, all images, recipes, & content are copyright protected and registered with the U.S. Copyright Office. My images and written content are NOT to be used without prior permission. Read full Copyright Disclosure.