This post may contain affiliate links. Please read my disclosure policy.
I can say with pure confidence that my city, St. Louis, MO, has the BEST fried rice in the country! And now you can eat St. Louis Fried Rice as a vegan!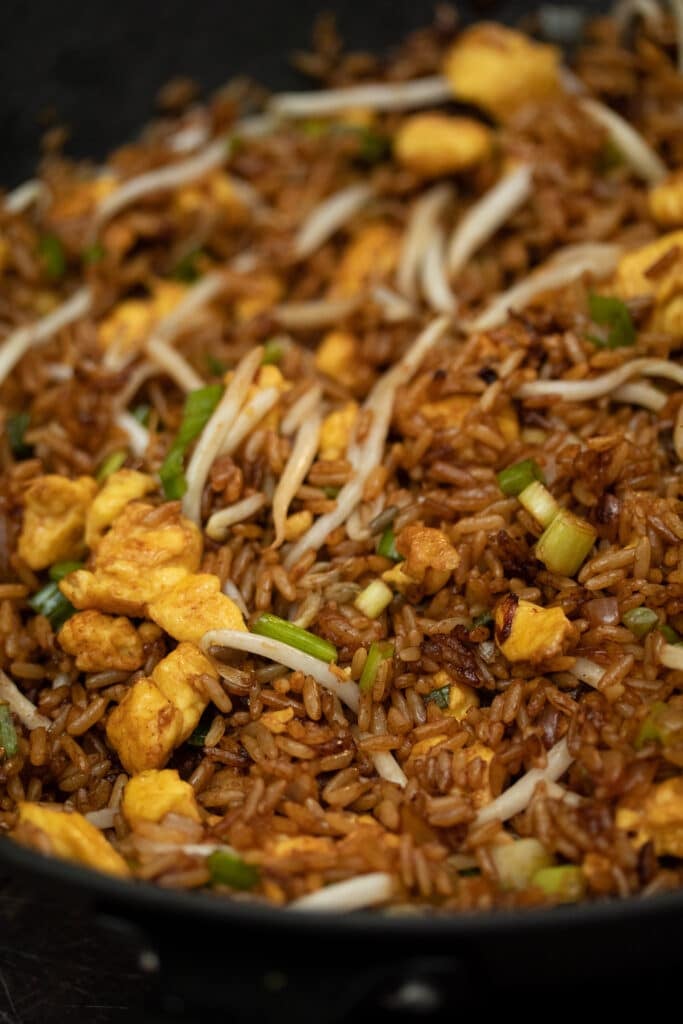 To be honest this recipe is way over due!
As a St. Louis born and raise native where, yes I slur my "Rs", it is only right that I introduce vegan versions of classic Midwestern cuisines I grew up on. Starting with St. Louis Fried Rice or how we say here "Chinaman" rice!
Trust when I say, once you have STL style fried rice, you will never want to eat take out rice from anywhere else! It is hands down THE BEST!
Now this recipe is not to be eaten as a regular part of your healthy vegan weight gain plan as it but it is definitely good to indulge on occasion!
St. Louis Fried Rice Key Ingredients
Day Old Long Grain White Rice: This prevents the rice from becoming too mushy when stir frying your rice.
Dark Soy Sauce: This is NOT an optional ingredient for St. Louis style fried rice! It is what gives our rice that rich dark color we have grown to love so much. You can find dark soy sauce at your local Asian Market or order online.
White and Green Onions: The more onions the better! Now this is optional as some people order their fried rice with no onions but if you like onions, don't hold back!
Accent (MSG): This is a controversial ingredient as some say it's healthy and others argue that it's not. What I can tell you is, it's what is put in a traditional St. Louis Fried Rice if you order from any take out Chinese spot here. But if you are concern about this ingredient it can be omitted. Read Is MSG Bad for You? article.
JUST Egg: Ahhhhhhh fried rice and eggs is traditional everywhere not just St. Louis. JUST Egg (not sponsored), is the most realistic vegan egg product out right now and pairs perfectly with this recipe.
Bean Sprouts: This is another optional ingredient BUT it kind of isn't LOL Unless you really don't like bean sprouts, I highly recommend using it.
Vegan Meat Substitutes: Tho I did not do it for this recipe, you could easily add in your favorite vegan chicken or shrimp substitute!
How to Make STL Style Fried Rice
*Please read detailed and printable recipe card below for full ingredients and instructions.
Peas Don't Go in STL Style Fried Rice!
I want to note that peas are NOT something we add to our fried rice here. I have ate peas in fried rice. And I even in my 28 Day Vegan With Curves Meal Plan Guide (updated version coming soon!), I did a quinoa stir fry rice where I added peas.
Though I love peas, when it come to this version of fried rice, JUST SAY NO!
SUBSTITUTION, COOK, & STORAGE TIPS
Long Grain White Rice is best way to go and the most traditional. It holds it's texture up the most when when frying. But you can substitute for other types of white rice. It is best that it is a day old.
JUST Egg gives it the most traditional taste but if you don't have this on hand (or prefer not to use it), you can substitute for tofu scramble or mung bean scramble.
This recipe will keep in the refrigerator for up to 3-4 days. It is not meant to be frozen. Store in an air tight container to maintain optimal freshness.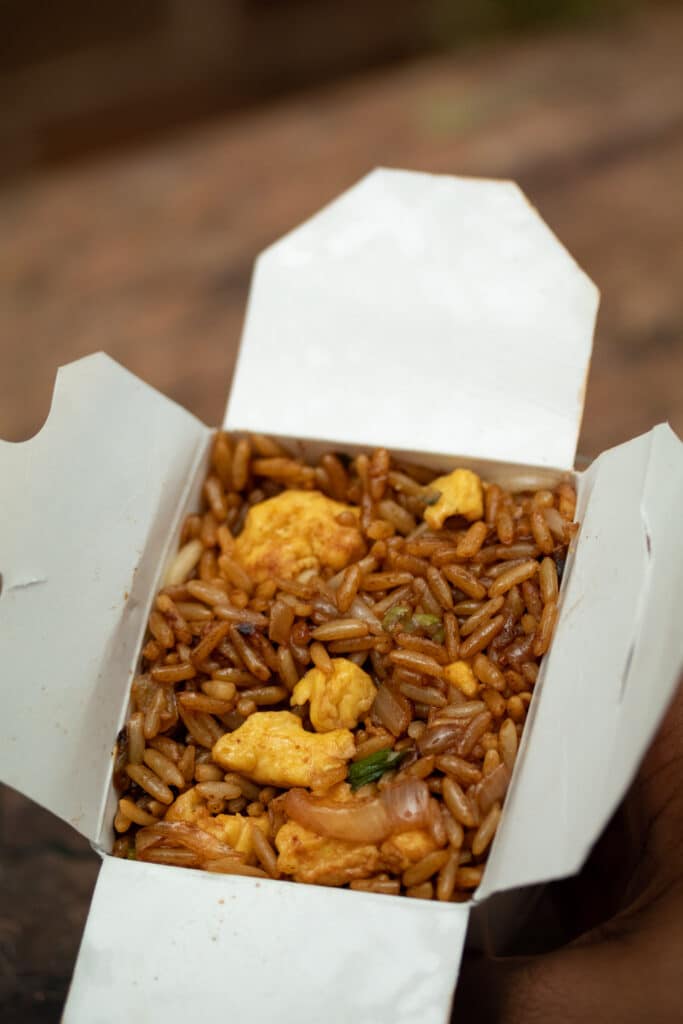 More Vegan St. Louis Recipes You'll Love
As an Amazon Associate, I earn from qualifying purchases. Please read my full Affiliate Disclaimer.
© Gina Marie Hoskins. Vegan With Curves. All Rights Reserved. Unless noted otherwise, all images, recipes, & content are copyright protected and registered with the U.S. Copyright Office. My images and written content are NOT to be used without prior permission. Read full Copyright Disclosure.