This post may contain affiliate links. Please read my disclosure policy.
Summer is officially here. I decided to kick off July with a #HydrateYourself theme. Hydration is a forgotten nutrient in health and in muscle building (curve building). So all through out July and August I will feature an addition beverage recipe every week. Today we are kicking it off with fellow blogger
Amanda Arroyo
from the food blog 
The Shared Skillet.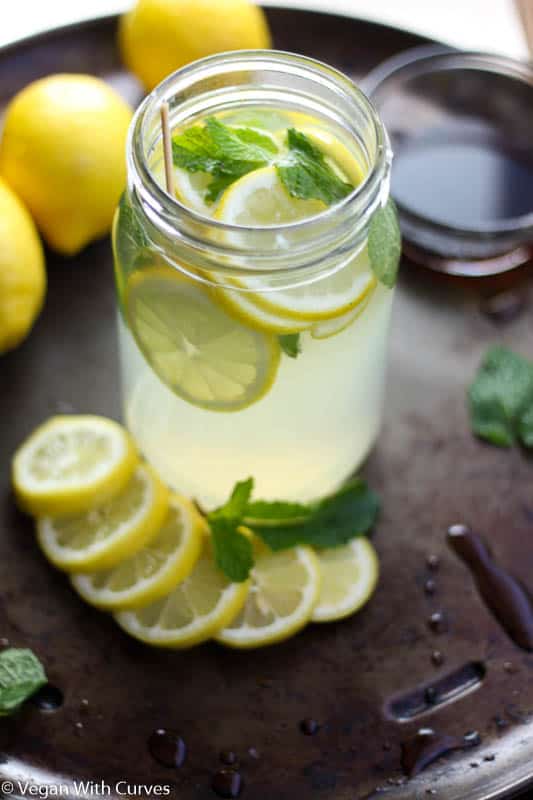 Two reasons this lemonade is better than store bought versions:
Some of them do not even contain real lemons

,

 just lemon "flavor"

.

 Lemons are very hydrati

ng and has an

alkalizing effect on your body. Making homemade lemon juice gives you those benefits.
Most of them contain refined processed sugar. Sugar has a dehydrating effect on your body (increases water loss)

,

 so it kind of misses the point o

f being a hydrating drink.
Because this lemonade calls for Agave Nectar it has an added benefit. What is agave nectar? It is a natural sweetener produced from the agave plant in Mexico.
There have been some controversy in recent news about how agave may not be as healthy as its original claim due to its high level of fructose. But the issue is not the agave in itself. The issue is the processing techniques some companies use by over boiling the syrup.
Agave nectar should never be processed over 118 Fahrenheit otherwise it could contain up to 80 to 97 percent of fructose. That's higher than high fructose corn syrup! But when it is processed under 118 Fahrenheit , it has enormous nutritional value of enzymes and minerals, and is low glycemic.
All brands of Agave are not the same. The healthiest variety of Agave Nectar is Blue Agave Nectar preferably volcanic blue agave nectar. (Great source to find this: GlobalGoods )
So now that you understand how important it is to stay hydrated during the summer, you can do so with this natural homemade lemonade recipe!
Visit HERE to get full recipe and kick off your summer right!
"Amanda is the creator and founder of the food blog
The 

Shared

 Skillet
. Her goal is to make it easy for families of all dietary choices to come together and be able to share a meal. For more 
shared
 recipes be sure to visit her website and follow her on
Instagram
.
PIN THIS IMAGE! HOVER OVER IMAGE BELOW TO PIN!